Imagine waking up one morning, to find that your home, which you thought was safe, was in fact, is in danger. Not just a little danger, either; but one which could destroy your home, wiping it off the face of the Earth. What do you do?
That's the situation which has faced almost 200,000 people in Northern California, as the risk of flooding from the Oroville Dam and Reservoir is increasing. An unusually wet winter has led to the reservoir reaching dangerously high levels.
Erosion damaged the primary spillway, as a 200 foot long, 35 foot wide hole formed in the bottom. Closing this spillway merely caused the water to rise even higher, overflowing the emergency spillway.
However, the emergency spillway only had a concrete lip, with the rest of the spillway being nothing more than an open hillside, leading down to the river below. Not capped with concrete, it was subject to erosion, which the water flowing over it quickly caused, raising concerns about the emergency spillway collapsing and releasing a 30 foot tall wall of water on the towns below.
This prompted an emergency evacuation that touched on four counties, with all the confusion and problems of any mass exodus. People had an hour to get out of their homes and on the road, where they found traffic moving at a snail's pace and gas stations overwhelmed by people who needed to fill their tanks. As gas stations and then cars ran out of gas, people were forced to abandon them and take out on foot.
What's Wrong With Conventional Prepper Wisdom
This is where the average prepper says it's time to grab the bug out bag and put Plan B (for bug out) into effect. While that is a logical conclusion from a near-term survival viewpoint, it may not be the best possible solution from a long-term survival viewpoint. Even if your home is destroyed in such a disaster, there are many things within that home, which you will need as you rebuild your life.
"The clear answer is to bug out to some other urban area, which is far enough removed from the epicenter of the danger your home is facing, to make it a safe haven from the pending disaster."
The problem is, most of us think of bugging out as something to be done in an emergency, with the intent of living in the wild. But that's not necessarily the best solution. Living in the wild is infinitely harder than living amongst our fellow humans, where we have the entire infrastructure of modern society to support us. It really only makes sense to bug out into the wild when we need to escape from our fellow man, such as in the case of a breakdown of society.
In those cases, we're usually referring to a nationwide catastrophe which has led to the breakdown of society. There is no safe populated place to go, leaving us with heading into the wilderness as our only viable option.
On the other end of the scale, we have bugging out to a refugee relocation center, often referred to as a FEMA camp. That option works for those sheeple who expect the government to care for them from cradle to grave, but it doesn't work for us. Most of us don't trust the government all that much and definitely don't want to put ourselves and our families into their hands.
So if prudence dictates that we bug out, but it doesn't make sense to either bug out to the wild or bug out to a FEMA camp, what are we to do?
It is easier to find the things you need to have in order to survive, if you're in an urban area, than if you're in the wilderness. Not only that, but if you have to rebuild your life somewhere, it's also easier to do that in the company of others, than out in the middle of nowhere.
We have to understand that not all bug-outs are equal. There's a huge difference between bugging out due to a natural disaster, than bugging out due to a breakdown in society. Because of this difference, we need to adjust our plans accordingly and not use a "one size fits all" style of prepping. The bug out bag might be the only thing we can take with us so make sure you have your bug out bag ready to go.
Planning for an Evacuation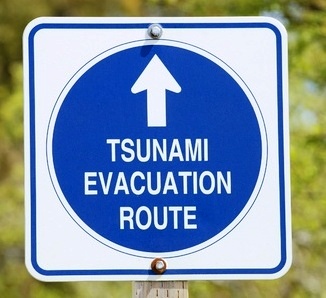 While mandatory evacuations are by no means common, they aren't unprecedented either.
There was a mandatory evacuation ordered before Hurricane Katrina hit New Orleans and the Gulf Coast. A similar order went out for Hurricane Sandy.
If a tsunami was ever to head for any of our shores, you can be sure that a general evacuation order would go out.
But the most common evacuation orders are those that happen for floods and forest fires. This evacuation in California falls into that category.
If we accept that such an evacuation is different than bugging out due to social unrest or a breakdown in society, then we need to determine what we should do differently. More than anything, this affects the things we should being with us.
Since we would not be heading off into the wild, we wouldn't need a massive amount of wilderness survival gear. Oh, we'd need some, as there would always be the possibility of being forced to abandon our cars and take out on foot. In such a case, it would probably be wise to avoid the roads and head cross-country, especially if a lot of other people were caught in the same predicament.
The simple fact of being prepared makes you and I too good a target for mooching and stealing, for us to stick around others who have had to abandon their cars as well.
In that case, the bug out bag might be the only thing we can take with us. But if we work things right, we won't have to abandon our cars. In that case, we can take a whole lot more with us. Specifically, we can take the things we'll need to have in order to rebuild our lives.
So, what are those things?
Clothing: both rough clothing for the wilderness and professional clothing for seeking a new job.
Valuables: there's no sense leaving valuable jewelry behind to be looted or buried in the mud. Better to take it with you, so that you can use it. If nothing else, it can be sold to provide you with food.
Cash: whatever cash you have on hand will be needed to keep your family going, wherever you are going to end up.
Photos and other important memories.
Professional tools that you would need to have so that you could continue working or working a new job.
Important documents: birth certificates, professional degrees, marriage license, certifications, car titles, property deeds, medical records, kids school records.
Computer: today, so much of our lives and our work is on our computers, that we will need them to help us rebuild our lives, if our homes are destroyed.
Get your FREE easy to use and safely concealable Smith and Wesson Tactical Folding knife! 
The thing is, with only a few hours to pack up and leave, or even less, chances are that you won't be able to pack those things up, or even that you'll think of them all. That's why you need to have a checklist of things that you should take with you, besides your bug out bag.
In fact, you probably need several different checklists, based upon different scenarios. That way, you'll be able to choose the checklist that's most appropriate to the situation.
It's much easier to think through what you need to do, when there is time, and things are calm. In the moment of crisis, the mind tends to go blank; so don't wait for that moment to come. Prepare your lists and note where those items are kept. That way, you won't need to waste precious time looking for it.
Lessons to Be Learned
As with any such disaster, there are lessons for us to learn. Professionals who deal with disasters and crisis situations always do an after-action-review, to see what they can learn. It doesn't even have to be a situation that they were involved in; they'll review other actions, so as to find what lessons they can learn.
We can do the same thing, simply by looking at what happened and putting ourselves in the place of the families who became victims of this potential disaster. In doing so, we can see what went wrong and what remedial action needs to be taken, to make sure that it doesn't happen to us, as it did to them.
Know Your Area
The people living downstream of the Oroville Dam should have known that they were living in an area with a high risk of flooding. It doesn't matter that there has never been any problem with that dam before, the very fact of its existence creates risk, especially in earthquake-prone California. Knowing that, they should have planned what they would do if anything ever happened to the dam.
Granted, their problem isn't yours or mine, but we need to ask ourselves what risks we have overlooked. It's easy to look around us and totally miss the most dangerous things in our area. As preppers, we need a good handle on every risk that exists in our area and we need to know if something happens to increase the risk from any of them.
Keep Your Ear to the Ground
One of the most important elements of an effective bug out is knowing when to bug out. Most survival instructors teach that it's best to shelter in place as long as you can; but there are always cases that go against that advice. The situation in Northern California clearly fits that description. In that case, getting out sooner is clearly better than getting out later. If nothing else, it helps you to avoid the traffic.
But that requires knowing what's coming, before it becomes public knowledge. In other words, you need good, solid information about each and every one of the risk elements that can affect you. That way, you can take action before it is too late.
Don't just depend on traditional sources of information. The news media has proven that we can't trust them; so why should we trust them for this? They could easily avoid telling of a pending disaster, just to further some political point that they feel is more important. To the left, we are nothing more than pawns in their power game, so they don't really care what happens to us.
In the case in point, the knowledge that they had just passed through an extremely wet winter should have been a warning to anyone who recognized that dam as a threat. That would then lead to further investigation, finding how high the water was. From there, they would want to keep an eye on the water level, seeing it continue to rise and the mounting risk that it was creating.
Don't Trust "Expert" Analysis
While experts have their place, we shouldn't put all our trust in what they say. In this case, experts had said that the emergency spillway was safe for much more water than what was pouring over it. Yet they quickly found that their analysis was incorrect. Hey, they're human, they can make mistakes too.
Those experts were even faced with complaints, filed by various organizations, which stated that the design of the emergency spillway was inadequate and not up to government mandated standards. Yet, bowing to the pressure of their own senior management, who didn't want to pay the expense of capping the emergency spillway with concrete, they stood their ground, saying that it was safe.
So listen to what the experts say, but don't put all your eggs in one basket. Make your own analysis, based upon the knowledge you have and logic. If something doesn't look right to you, there's a good chance that it isn't.
Trust Your Gut, Don't Wait
While the people weren't given much notice, I'm sure there were one or two who had developed their own idea of what was happening. Knowing that, I would be surprised if they didn't have thoughts of bugging out early. Had they followed their instincts, they would have been the safest and most comfortable people out there.
I understand that we don't want to disturb our lives for nothing. That makes sense. At the same time, there are situations where we need to disturb our lives. This is such a situation. Maybe nothing will happen; but maybe it will. With that being the case, it's better to be safe than sorry. You can always call it a practice drill.
Have Gasoline on Hand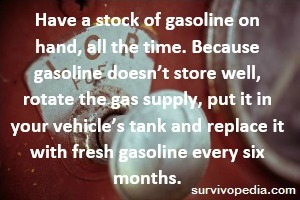 Unsurprisingly, one of the problems the evacuees faced was that the gas stations ran out of fuel, leaving them without enough gas to get their cars to where they were going.
Gas stations don't stock fuel for an emergency, but rather to meet their daily sales. There is no way that they can meet the needs of a mass evacuation.
In this evacuation, as in any other, a large number of vehicles ended up parked on the side of the road, when they ran out of gas.
When you consider that most people run their cars on the bottom half of the tank, that's not at all surprising. I've got a shocking message for those people, it doesn't cost any more to keep the top half of the tank filled, than it does to keep the bottom half filled.
More than that, you should have a stock of gasoline on hand, all the time. That's a bit tricky, because gasoline doesn't store well. But if you rotate that gas supply, putting it in your vehicle's tank and replacing it with fresh gasoline every six months, you'll always have a good supply of gasoline for bugging out with, should the need arise.
Have Alternate Escape Routes
Not only are the gas stations inadequate for a mass evacuation, the highways are too. Highways are expensive to build, so they build them based upon actual and projected traffic. Adding enough extra lanes to handle a mass evacuation is impractical.
This means that the highways are going to be overcrowded and that traffic will slow to a snail's pace in any evacuation. But in most cases, the side streets and back ways will be totally devoid of traffic. There will be ways that will be open, especially country and farm roads that aren't used a whole lot. Learn those routes and make sure that you have maps to use in figuring out alternate ways to get out of Dodge.
Have a Destination
Finally, make sure you have somewhere to go. I don't know about you, but the last place I'd want to go is some overfilled school gymnasium, which had been turned into a refugee center. I'd much rather pitch a tent outside and have a modicum of privacy.
Most people will only go as far as they have to, in order to avoid the disaster. So, you can easily get away from the crowd by going a little farther. Don't stop in the first town you get to, go on through and stop in another, on down the road. There will be less people there competing for hotel rooms and other necessities.
Better yet, scout out some good locations to go to in the case of an emergency. Take a few weekends off and do some traveling, visiting other cities and finding the resources that you'd need to have, if you have to abandon your home. That way, you have some idea of where to go.
Be Prepared
Emergencies can happen at any time. I'm sure that the majority of the people living downstream of that dam had no idea that they were in danger. Their first indication that there was a serious problem was when they were told to evacuate. Since most of them were unprepared, they ended up leaving with whatever they could grab.
The truly sad thing is that they could have received adequate notice, if the authorities were willing to share information about what was happening. But they didn't.
While they gave a flash flood warning to Sacramento, miles downstream, they didn't say a thing to the people who lived closer. Those were the people who ended up having to evacuate with a one hour notice.
That's the way we can expect things to happen. That's why it's a good idea to be prepared. We never know when an emergency will happen, how much information will be withheld from us or how much time we'll have to evacuate, but we can prepare to deal with a disaster.
Having a good knife makes part of your preparations. Here's a great offer for you, click the banner below to grab it at once!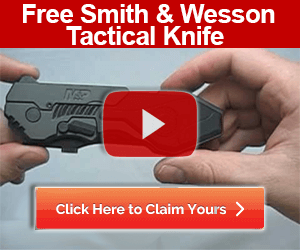 This article has been written by Bill White for Survivopedia.