Old-Timey Gear Just Got Better!
One look at the packs and pouches from The Hidden Woodsmen line-up, and there is something familiar, possibly seen in movies, reenactment events, diagrams in old books, or even museums, but with a modern take.
Historic New England
The Hidden Woodsmen is a small gear shop based in Massachusetts, run by Malcolm Coderre. All products from Malcolm are designed and handmade in the United States of America. His goal is to outfit the modern adventurer with 18th and 19th-century "old world" gear but handcrafted with modern materials. The hidden Woodsmen uses military-grade fabrics and webbing for extreme durability and long life out in the field. Each piece of gear is made individually and is made to last. Malcolm said, "I started this gear line to make handmade durable camping & hiking gear, build relationships, and provide great customer service."
I have been hearing about the gear from Malcolm for a long time now. After meeting him at a large cutlery convention in Atlanta, Georgia, he agreed to outfit me with some of his more popular gear for wilderness travel. He sent me a Belt pouch, Signaling Panel, and a Haversack.
Haversack
A Haversack has been around for a long time, especially used by hikers and soldiers of yesterday. Haversacks were in use during the American Civil War. In addition to the supplies transported by boat, the men were to carry forty rounds of ammunition in the cartridge-boxes and four days' rations in haversacks. The pack is essentially a sheet of rugged canvas that folds around its contents (bedroll, clothing, daily rations, and assorted personal items). It is held together by flaps and adjustable buckle straps. About 150 years later, not much has changed as far as haversacks go. Malcolm did an amazing remake of the time-tested Haversack design.
The dimensions of the Hidden Woodsmen Haversack are as follows: 12″ x 11″ x 4″ in what Malcolm calls earth brown color. Unlike the canvas material once used, Malcolm uses 1000 Denier (1000D) Cordura for the main construction and 500D and 420D liners on the inside. The Haversack is double-walled, with a front zipper pocket, two heavy-duty buckles, a Velcro front panel, MOLLE webbing on either side of the bag, and a wide adjustable shoulder strap. The MOLLE webbing loops will most likely be compatible with most modern-day gear in the tactical or military vein. The webbing can also be used to attach carabiners, small lights, whistles, button compass, or hold sunglasses. Other outstanding features of the Haversack are the inside colored pockets, which can be used to help stay organized. The Haversack back has a heavy-duty loop that stores a hatchet or tomahawk while out and about.
If the Haversack is slung over the shoulder and kept to the left, adjusting the shoulder strap is easy while walking. However, when the position is switched, it has to be taken off to adjust. I walked about 6 miles the first trip with it, and the Haversack seemed comfortable until I filled my 2L water bladder that was kept inside the Haversack. The extra 4 pounds of water resting on one shoulder was noticeable. I think for a lighter weight load in general and shorter distances, the bag would be fine. However, it was comfortable on shorter jaunts with less weight due to the wide nylon strap, which is very robust. The inside consisted of a main pocket with flaps covering it that were also attached via Velcro strips, a smaller mid pocket, and a front pocket with a zipper. I was able to stash a small Boy Scout mess tin w/lid and Signal Panel inside of the mid pocket, but it would also be perfect for a map or GPS. The zippered pocket was good for stashing important things like money, identification, and keys. The Haversack was a good compromise between utility and mid-weight carry at about 1 pound empty.
I am looking forward to more trips with the Hidden Woodsmen Haversack!
Belt Pouch
Although Malcolm has an item called a Possibles Pouch, the Belt Pouch he offers is more of a Possibles Pouch, according to many published photos and early diagrams. Still, these things are usually up for interpretation and intended to be used as the individual wants. An 1800s early 1900s Possibles Pouch is known as a small bag made of animal skin, either slung over the shoulder or attached to a belt and kept easily accessible. Inside, one would find tobacco and pipe, a tin cup, flint & steel, tinder, tools for one's muzzleloader, matches, compass, etc., or maybe some jerky or other edibles.
The Hidden Woodsmen Belt Pouch is 8.5″ x 6″, also made of 1000D (double-walled), and has a large plastic buckle on the front. It's simple and durable, perfect for hip carry on a belt. I like that it's free of zippers and extra pockets, everything is right there in plain view, and little searching is necessary. The belt loops are spaced apart just enough to fit a tomahawk in between them when attached to a belt but may impede the opening of the pouch depending on the head size of the tomahawk. I used this on my belt while hiking in the Northeast wilderness and found it on the larger size for what I was carrying, but it only weighs about 3 ounces empty. I like the idea of having some extra room inside, this way it's easy to find what I need. The alternative is to have it stuffed and then risk losing something while sifting through the pouch, which often happens when any bag/pouch is full to capacity. The tough, abrasion-resistant material can be used to put items that may otherwise tear up soft materials from other pouches. I keep a small stick of fatwood and a triangular ceramic hone that can easily wear a hole in fabrics over time.
With the 1000D materials, this won't be a problem, ever!
Signal Panel
Malcolm also sent me a very multi-use item. It was a bright orange, 28″ x28″ 420D signaling panel with four nylon webbing tie-outs. The panel makes a good mat or firewood carrier in camp. I can see it used as a sling for one's arm or even a kitchen mitt to move hot containers off the fire. I used it as a collection cloth for a carving project and gathered excess wood shavings and small sticks for use as kindling. I never worried about it tearing or getting worn out.
Signaling for help in an emergency is the least addressed skill in every wilderness survival school program. I am a huge advocate of being able to make yourself seen and heard, especially if lost. The Hidden Woodsmen Signal Panel is perfect for the color, contrast, and movement criteria of signaling. It can easily be lashed to a long stick and waved up high over brush or stuck in the ground to get attention. If you are a lost hiker, hiking with the Signal Panel tied to your backpack or Haversack wouldn't hurt. Another passive signaling idea is to make the Signal Panel seen at the top of your shelter, be it a tarp, tent, or natural shelter. When selecting gear, I know many woodsmen, bushcrafters, and survival guys who swear by earth tones and camouflage. However, those colors won't help get you or your group out of a dire situation if you can't be seen. I believe a whistle and some colorful item of clothing or accessories like a bandana, shirt, or hat need to be a necessity for people who travel into the wilderness. Unless you are on a covert operation or stealth camping—be seen. Especially for hikers, campers, and backpackers. There is no point in being so camouflaged that nobody can see you if you fall, get lost, or are injured. The Hidden Woodsmen Signal Panel covers these issues and offers another lifeline.
Conclusion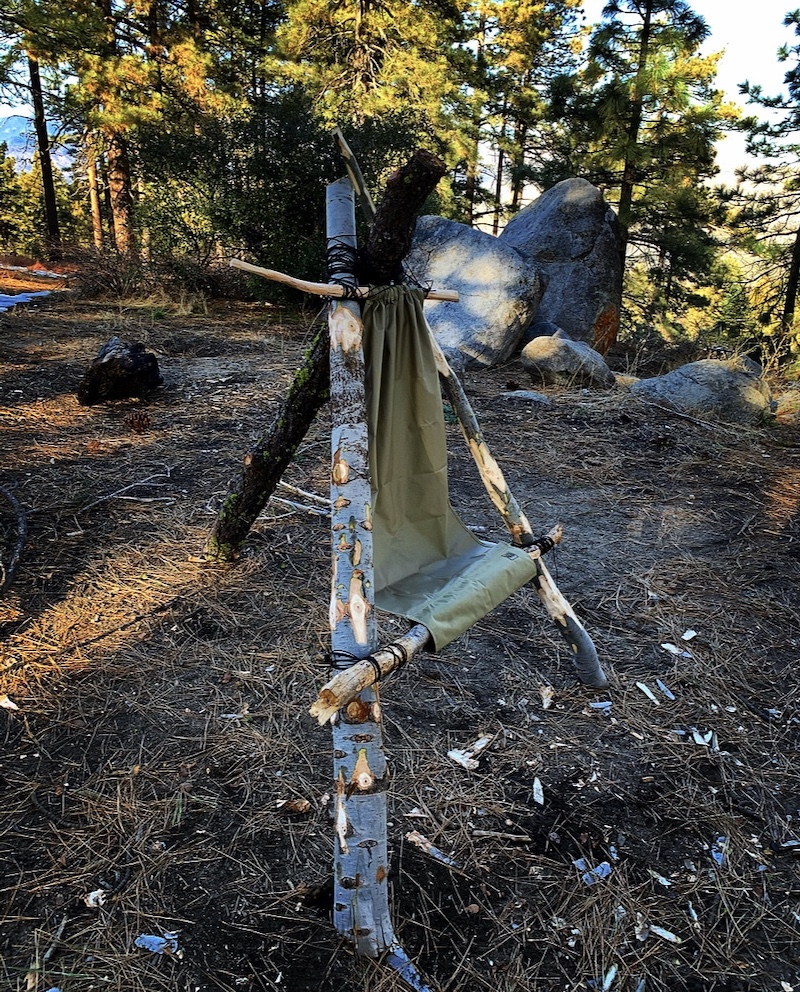 Products from The Hidden Woodsmen also include various Rucksacks like the Day Ruck and a large 35L Deep Woods pack. There's a Tropical Lightweight Rucksack and an EDC Rucksack, with a hidden gem called the French Trade Satchel. Various pouches beside the Belt Pouch are also available, like their Canteen Pouch (MOLLE friendly), a small Fire Craft Pouch, and their ever-so-popular Possibles Pouch. You'll also find camp and trail comfort accessories, like the Wilderness Camp Chair and a Bed Roll Strap set. The Hidden Woodsmen products emit quality and a sense of security knowing whatever you are carrying and wherever you may find yourself, the last thing you need to worry about is your gear!
Sources
The Hidden Woodsmen
Malcolm Coderre