As I sit here writing this, there are somewhere over 5,000 Hondurans and other Latinos on the march towards our southern border.
The news media is referring to it as a "migrant caravan," but the people are mostly on foot and they aren't acting like migrants. Rather, they are acting like an army of invasion. If they are actively seeking asylum, why are they carrying the Honduran flag and signs protesting Trump, rather than carrying the American flag? They don't seem to be armed to be an army, their lack of arms just makes them a poor army of invasion.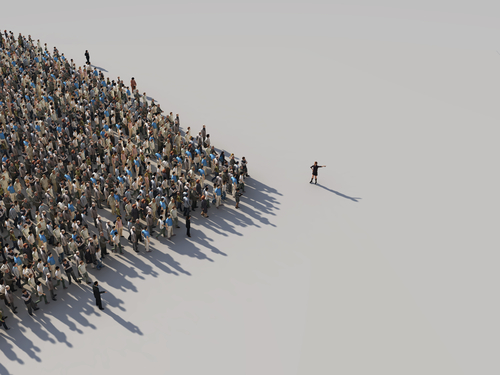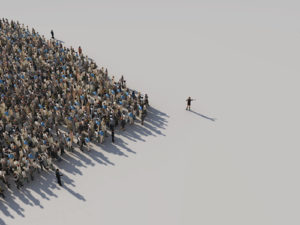 The invasion force has been growing and will probably have even more people when you read these words. From a beginning of 150 people, plus cameramen and support personnel, the group has grown to its current size, stretching out over a mile on the Mexican highways, in less than a week. There's no saying how much more it might grow, with Mexicans and others joining their ranks along the way.
At the time they reached the southern border of Mexico, this group numbered 3,000. The fence along the border and the border checkpoint didn't faze them. They marched right through, tearing down the fence and overwhelming Mexican border security along the way.
The next obstacle was the Mexican Federal Police. Two plane loads of SWAT officers from the Mexican Federal Police force met this invasion force, with the apparent intent of stopping them. The invasion force beat the police senseless and kept on marching. I have no idea at this time if the police fired a shot, used teargas or used any other technical means to slow the invasion's advance, but whatever they did, it was ineffective.
Part of the problem police forces face in this sort of case, is that officers would find themselves firing on unnamed civilians. I don't know what the laws in Mexico are regarding this, but I know that here in the United States, our media would roast the police alive, calling for investigations and arrests of the police officers who were suspected of doing such a thing.
The same problem faces our border patrol, which is a federal police force. They are not prepared to defend our country against a large invasion force of this kind. Realizing this, President Trump has declared that he'll send in the military to seal the boarder before they get here. But what are they going to do? Is our military, which is trained to fight wars, not to seal the border, going to start shooting at unarmed civilians, even if they are an invasion force? That won't play out well.
If They Fail
There are things the military and Border Patrol can do to stem the flow of this invasion force, without resorting to deadly force. But it will be ugly nevertheless. One such action might be the widespread use of tear gas. Another is to use non-lethal rounds in riot shotguns. While I am sure the military will not broadcast their plans for the invasion force to find out, I'm sure that planners are hard at work, figuring out a way to stem the tide.
But what if they can't? What if this invasion force grows to the point where the military can't stop them without resorting to wholesale slaughter? What if this invading army actually does make it across the border and starts to invade our cities?
There are some who are calling for the military to shoot on sight, killing the invaders. But that's not the American way. I was in the military and we don't kill civilians. Even though those people are participating in an invasion, they are still civilians. They've just been duped by people who have set this invasion up for political purposes and who don't really care about what happens to the invaders.
I live along the border so this is of real concern to me. If the invasion force dissipates once they make it across the border, they will pose little danger. But if they stay together as a cohesive force, they have the same potential for destruction as any other mob. We've already seen what they did to armed and armored SWAT officers in Mexico, why should we think they'd do any less here?
While not a conventional war, we need look no farther than previous wars to see how dangerous this situation is. When invaders come in, the options open to the inhabitants are limited. In fact, there are only two possible options: flee or hunker down. Both of those options have their problems.
Fleeing the Invasion
To flee such an invasion is the classic bug out scenario. Much of what I and other survival writers have said about bugging out involves scenarios where there is a breakdown of society. What that really means is a breakdown of law and order. This invasion force carries that with them, just because they are large enough to overwhelm any efforts by law enforcement to stop them.
People in towns along the border need to be looking to their hole card and polishing up their bug out plans now, just in case. Gas tanks should be kept full and a few extra cans of gas on hand. Miscellaneous supplies and scattered equipment should be gathered up and everything prepared so that you can load up and get out in short order, should the need arise.
But there's one thing that anyone bugging out should realize; that is, chances are that the invading army will occupy your home, stealing your possessions and destroying your home. This is common in an invasion and there's no reason to expect this one will be any different. In fact, considering the poverty of the people who are in the invasion, I would say that it's highly likely that they will start looting as soon as they make it across the border.
So you won't be able to count on your home being intact when you return. Oh, the house will probably be there; but it will also probably have sustained some damage. There's no guarantee that any of your possession will still be there though and those that are, may very well be damaged as well.
What this means is that if you're bugging out, you will want to make sure that you take anything of value with you. Either that, or find yourself someplace very secure to store it; perhaps in one of the many self-storage mini-warehouses that are scattered through our cities. Those are unlikely to be bothered, because they don't have anything like that in the countries the invaders are coming from.
Hunkering Down and Riding the Invasion Out
Hunkering down or bugging in is a more dangerous option to take; but it does provide you with the opportunity to protect your property. It is hard to say how the invading force will act, once they cross the border. If they try and take over your neighborhood, there are enough of them that there is little you could do to stop them.
This is the classic situation which some preppers see as a reason to build a bunker. A mob like this one has little capability to do something against a bunker. They can't even do much about the air supply, the most vulnerable part of most privately owned bunkers. Without vehicles, they can't pump carbon monoxide into the bunker, through the air intake, to kill you.
You may not need to go as far as a bunker, in order to be able to hunker down effectively and ride out the invasion. Unarmed and unequipped, the invading army has little to use, in order to break into your home, other than brute force.
The key here is to harden your home's exterior, so that they can't kick in the door or throw a rock through a window. The average deadbolted door can be kicked in with a booted foot, and we all know how easy it is to break a glass window. But there are things that can be done to that door and that window, making it a real problem for the invaders to break in.
The Many Problems with Fighting it Out
I ran into a meme in my Facebook feed this morning, encouraging those of us who live along the border to be ready to protect our country from this invasion force. While I can definitely understand what would drive someone to post such a meme, I have to question the wisdom of it.
If the US Border Patrol and the US Army can't stop the invasion, what can I, as a private citizen do to stop it? Even worse, what can I do which will not be breaking the law? That's where things get real sticky; for it seems that the person who posted that meme expects me to be willing to break the law.
Last I checked, shooting an unarmed person is still considered murder, and murder is still illegal under any jurisdiction that I am aware of. Without committing mass murder, I don't know anything that I or any other person living along the border can do to stop this flow of humanity. I'm not a martial arts expert, so I can't go out there Jackie Chan style and lay out bodies all over the place.
Even if I do choose to break the law and commit mass murder, what good will that do?
I would not be surprised if the invasion force exceeds 10,000 people, including women and children, by the time it reaches our border. Let's say that I've got a bit over 1,000 rounds for my AR-15 and another 1,000 for my sidearm. Does anyone think that I could take out roughly 2,000 people by myself? It's just not possible. Either the mob will leave my area or they will overwhelm me long before I run out of ammo.
The only way that we, as private citizens, can do anything to stop this invasion is to organize ourselves as militia and stake out an area of ground to defend. But that is no guarantee that we will accomplish a thing. Unless we are able to cover the entire border with armed militia, all the invaders will have to do is find a way to go around us.
We won't be able to stop them.