Everybody loves chicken meat and eggs and many preppers have taken to chicken ownership, so we thought that some DIY projects for feeding chickens would be of interest to you.
These will be particularly useful if you're a chicken owner looking for cheaper ways for feeding your, ahem, "livestock", and who isn't?
Chickens? Why?
For those of you who haven't jumped on the chicken train, yet: Why raise chickens, you may ask? Well, home-grown chicken meat is healthy and it tastes good, and besides being a great source of food (eggs included), they're fairly easy to raise and they're also good fun (as in entertainment).
Are you sold yet? If not, keep reading!
Chickens can be grown in small, even portable, coops which are nicknamed chicken-tractors. These are excellent to use if you have a smaller backyard. Chickens are not picky when it comes to food, and they eat some of the stuff we eat regularly (bread, grains and stuff like that).
In the best of worlds, you should let them feed themselves, as in "free range chickens", but in our modern day and age, that's often difficult due to space restrictions or local laws. Many city ordinances don't even allow chickens, let alone free-range ones. There's also the safety of the chickens to be considered; if you live beside a person who has dogs or cats that run loose, your chickens are going to be considered dinner!
So, today's article is about how to DIY chicken feeders. You may enjoy feeding them by hand, but this projects will free up some time in case you're too busy to throw scratch every day.
Ask around and you'll find out that chickens regularly spill the food in the feed dish or even poop in it, so go for a fresh and clean start with your chicken farm project by building a feeder which does not allow them to get inside the feeder and waste the food.
I know, chicken-chow is relatively cheap, but that doesn't mean you must lose half of it to waste on a daily basis.
Are you ready? Let's get it on, right after the break!
Project 1: PVC Chicken Feeder
PVC is almost a panacea for your homestead. I mean, if you can build entire underground watering systems from PVC piping, chicken feeders are child's play! So, if you want to say goodbye to chicken feed waste and trampled grass, build your own chicken feeder using plain-old PVC piping.
The simplest design is a T-shaped system which can be easily built using 90 degree elbows along with PVC piping. The beauty of this chicken feeder is its simplicity and effectiveness. Also, this baby can be used for both feeding and watering your chickens, making it an absolutely must-have for your coop.
In terms of materials required, you'll only have to go shopping for a 5′ long PVC pipe, a "T" joint, two 90-degree elbows, a cap and a jar of PVC cement. The idea is to cut off two 3" pieces from the PVC pipe which are required to join the "T" and elbows together.
The PVC cement must be applied in each one of the two holes of the "T" and, as quickly as possible, both of the 3" long pieces of PVC pipe must be firmly secured into the respective hole. I say quickly because PVC cement dries in a matter of seconds and it becomes rock-solid. Basically this is a two step process, repeated for each side hole of the "T".
Next, the elbows must be dry-fitted onto the 3" pipe stubs. After you have them on, make a mark on the elbow pieces across to the joining parts of the "T" using a sharpie, to help you later when you'll be gluing them together.
After you mark them, glue these parts together with PCV cement. The long pipe must be also glued in the top hole of the "T" piece and that's about it; you've ended up with a T-shaped chicken feeder which can be placed basically anywhere and it can be used for watering your chickens too. For keeping it fixed firmly in place, you can use wire or something similar. Then, all you have to do is to fill the tube with whatever chicken feed you're using, and place the cap on top.
This is how the two-sided gizmo looks in the end; the finished product and some complementary chickens, for your viewing pleasure: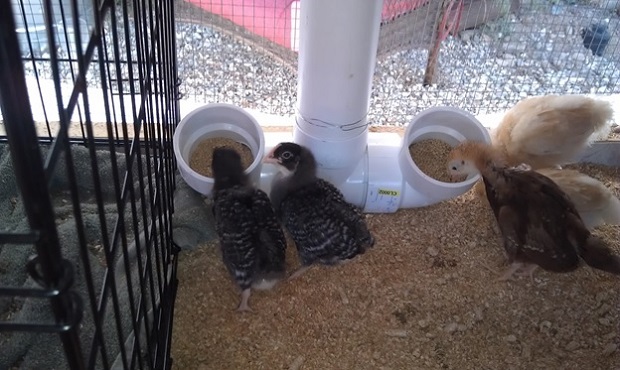 Photo source: Backyard Chicken Lady
And here's a video tutorial depicting all the details for making a simple chicken feeder from PVC pipes.
Video first seen on Specific Love Creations
Actually, there are three different models along with the first T-shaped one, so go ahead, take your pick. There's this next one:
Video first seen on Hobby Farms
And then these other really cool ideas:
Video first seen on Green Power Farm
Video first seen on Carolina Coops
Project 2: The Rodent-Proof Chicken Feeder
If you're having a pest (read rats) infestation problem in your backyard where your chickens march gloriously enjoying the spring breeze, what are you going to do? You can't just let the rats spread disease and eat you out of house and coop. Call pest control?
Well, that could work too, but the elegant, more permanent, chemical-free solution would be to build a rodent-proof chicken feeder. By rodent-proof, I mean the rats will be unable to get inside and grab a free meal on your dime whenever they want.
Enter the Chicken Feeder 9000; check out the video below and don't worry because the door shuts in slow motion so that the chickens are safe and in a couple of days, even the oldest and stupidest hen will learn how to use it. And yes, it works folks. You can see the desperation in the little grey fellow's misty eyes, can't you?
Video first seen on East Bourne Diver
Here's a video that will help you with the DIY job if you're into trolling rodents!
Video first seen on TCSRock78
Project 3: The Wooden Chicken Feeder
This falls into the "high end" category of DIY chicken feeders and it requires excellent skills in terms of wood cutting and assembling. However, if you're good with tools and wood, this project will fit you like a glove and your chickens will be happy. As you know, happy chickens give more eggs, so go for it.
In the photo source you can find detailed information about the respective job, including parts list, tools list and schematics. Materials required are screws, plywood, redwood plant stakes, veneer and miscellaneous materials (washers, sandpaper etc.). And here's how the end-product should look in the end. Beautiful, isn't it? On top of its astounding looks, this high-end feeder is bird/pest-resistant and, not counting the labor, it will cost you about 40 bucks tops.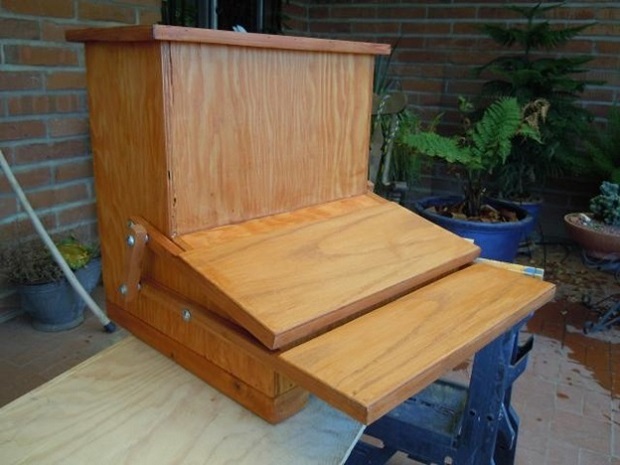 Photo source: Back Yard Chickens
Project 4: Zero Waste Chicken Feeder
Here comes a similar project, the zero waste chicken feeder, which also requires moderate carpenter skills, but don't worry, here's a video which will help you a lot with the DIY job. It looks easy and simple, right? What are you waiting for?
Video first seen on Stan Sullivan
Project 5: "The Best" Automatic Chicken Feeder
I don't know if this one's the best, as the ad says, but it certainly looks pretty good. The gizmo will provide your chickens with enough food to last 10 chickens for 2 weeks and it can be built for less than 40 bucks. It works very nicely and helps reduce food waste a lot. You can fill it with both pellets and crumbles and here are the detailed instructions.
Video first seen on Shawn Whetsel
Project 6: The Bucket Feeder
If you're on a tight budget or just looking for the best deal in town, the bucket feeder is the answer to your prayers. This project will cost you 15 dollars tops and I think it's the best idea that's been created for a chicken-lover since immemorial times, or at least since plastic buckets were invented.
So, all that you'll require for this bucket feeder/waterer (it works both ways, check that out) is a 5 gallon plastic bucket with a lid, an oil pan, washers, a nut, adhesive and some screws. I bet that most of you already have them around your homestead somewhere, right? So you may end up with 0 costs after all. Here are the detailed instructions.
Project 7: The Bulk Chicken Feeder
For this project you'll require a drum, a flanged elbow and some basics tools, like a ruler, a pen, hacksaw or something similar for cutting the hole. Total building time? 10 minutes. Budget? 20 bucks. Satisfaction? Infinite!
Here's the video tutorial, so check it out.
Video first seen on Rob Bob's Backyard Farming
Project 8: The Three Bag Easy Automatic Chicken Feeder
Almost last but definitely not least, ladies and gents, I present you with the 3 Bag Easy Deluxe! This project requires a thirty gallon trash can (go for the least expensive one), six 3" pipe elbows and six 3" pipe end caps. The end result will be an automatic chicken (and duck) feeder which is fairly easy to make and works like a charm.
And here's the video tutorial, folks. Life is great with chickens, isn't it?
Video first seen on J&J Acres
Project 9: The Absolutely Free Gravity-Operated Chicken Feeder
The best things in life are free, including gravity operated chicken feeders. This project is at an 8-year old level of skill, it requires $0 and it can be built in 10 minutes or less. All you need is a PVC bucket, some thick wire, a knife and a few spare minutes to build it, so check out the tutorial.
Video first seen on Anže Rogelja
I hope this article helped and if you have suggestions, comments or other ideas about feeders, feel free to express yourself in the dedicated section below.

This article has been written by Chris Black for Survivopedia.