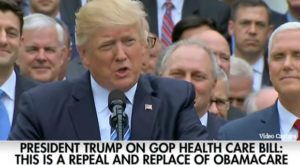 Obamacare has been a thorn in Republicans' sides ever since the then-Democrat controlled Congress passed the law in 2010.
There have been several reasons why Obamacare hasn't been popular with the Republican Party and their voter base. Its great unpopularity is based upon it being seen as just one more tax on the middle class, so that the Democrats can give freebies to the lower class.
Originally passed as a purely partisan bill by the Democrats, the originally titled "Affordable Care Act" (ACA) was more about giving freebies to Democrat constituents, than anything else. But then, that's what a lot of the bills out of the Democrat Party are.