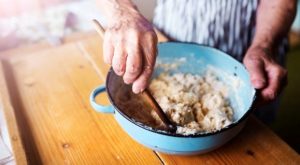 If there's one thing that I absolutely take pride in, it's my baking. I was raised eating biscuits. Baking and cooking skills were a source of pride, and insulting somebody's pie crust was akin to fighting words.
It was scandalous if you showed up to a gathering with a store-bought pie or cookies; I'll even go so far as to say that a girl would be bake-shamed if she had the nerve to do that.
So I admit that I was socially conditioned to keep my kitchen skills honed, but it's always been way more than that for me. I love it when somebody groans when they bite into my apple pie, or ask for the recipe to my key lime-pie cupcakes. It's just what I do.
I was blessed enough to be raised by women who had mad kitchen skills, and I've honed my own over the years, picking up lots of tips and tricks of my own along the way. Now I want to share them with you!
If the article you're reading provides less than you need about this old skill, grab my book – Forgotten Lessons of Yesterday – for more!