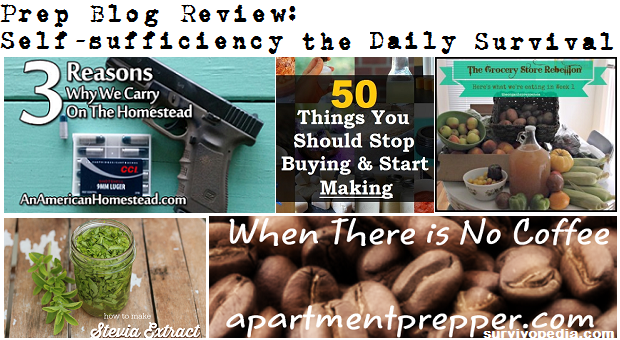 Not a day goes by without news on a new attack on some other country, a new war looming or a pandemic starting to burst… so your fears are perfectly legit!
And both you and I know that the first and best thing we could do is be self-sufficient… and thankfully there are many others that gladly share their experiences with us and we should learn from. Here are the best we found this week!
Please share your experience with us on the comment section below!
1.  3 Reasons Why We Carry On The Homestead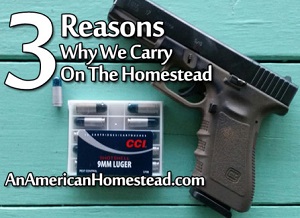 "You will probably encounter someone carrying a firearm if you visit An American Homestead.
This can be a bit different than your normal face to face encounter in regular everyday life. But on the homestead, there are many reasons to have firearms and to actually wear them most of the time.
Everyone on the homestead has access to or wears a firearm. Usually the first thing I do when getting dressed in the morning before breakfast is tie on my Glock 17 9mm. Wearing a firearm is just something that most people do in this county."
Read more on An American Homestead.
2. When There is No Coffee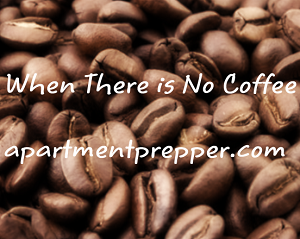 "I've had a splitting headache since this morning.  I've tried natural cures, then taken Excedrin for Migraine, then later Aleve, but nothing has helped.  I was thinking "Why do I have this headache?," then I realized I got busy and didn't get my coffee this morning.  I always have two cups.  Now I am paying for my oversight.
This got me thinking, if there is a disaster and we can't get our morning coffee, there would be a huge number of sufferers like me.  Mr Apt Prepper keeps telling me it's time to wean myself off, but I am not ready.  What are our options?"
Read more on Apartment Prepper.
3. How to Make Homemade Stevia Extract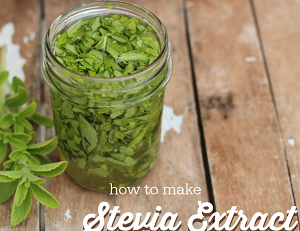 "There. I said it.
As much as I would like to be one of those people who can happily chug black coffee and has no problem passing up dessert, I'm just not.
Now, as my real-food journey has progressed, I have gotten much better than I used to be. White sugar is pretty much banned from our house, and I don't even use as many unrefined sweeteners as I used to. Eating a piece of fruit generally satisfies my cravings for sweetness (which have lessened considerably), and I'm pretty darn creative about using small amounts of maple syrup, honey, or stevia to sweeten stuff instead."
Read more on The Prairie Homestead.
4. 50 Things You Should Stop Buying & Start Making
"You might be realizing that most of the products out there that aren't made organically or naturally contain a lot of toxic chemicals.
Not only that, many of these products can be harmful to our environment in a number of ways.
Making things yourself not only saves you money and helps the environment, but it lets you know where your products are coming from and exactly what's in it.You can make anything from food items to personal care and cleaning products all in very simple ways."
Read more on Ready Nutrition.
5. The Grocery Store Rebellion: Here's What We Ate During Week 1
"My family and I decided to embark on a revolution.  We have banished the grocery store from our lives for the next 3 months.  Our Grocery Store Rebellion began on August 1, and this is an update on our first week.
The week began with two major upheavals. Our SUV went into the shop, and the cow in which we have milk shares died.
Luckily, we had some extra milk on hand, frozen, while our dairy farmer works on getting a new cow. We have about a 2 week supply of milk left, so we're either going to have to wait, find a new source, spend a whopping $18 per gallon at the local co-op, or go without."
Read more on The Organic Prepper.

This article has been written by Brenda E. Walsh for Survivopedia.