Many of us are still spending a lot more time at home, as stay-at-home orders start to slowly lift.
It is likely that being at home more will be part of our lives for the foreseeable future. By now you may have gotten into a routine but may be looking to up-level your health and well-being.  Luckily, even at home, there is a lot you can do to continue to take care of yourself mentally and physically. 
Taking Care of Your Mental Health
2020 has been a stressful year, to say the least. Taking care of your mental health has never been a bigger priority. Being isolated at home is adding to the stress and mental health problems. A 2015 study found that loneliness and lack of connection can negatively impact your health as much as smoking 15 cigarettes per day. 
Several studies of previous quarantines found rates of substance abuse, anxiety, depression, and other mental health problems all increase during times of isolation and lockdown. This is why mental health needs to be a priority during this time.
Here are a few ways you can protect your mental health, even while remaining at home:
Stay connected. Communicate regularly with friends and family. Schedule video chats and phone calls with loved ones. It is critical not to be isolated during this time.
Stick to a schedule. The lack of routine can make us feel a little bit lost. If you stick to a daily schedule for waking up, working, and eating meals this can help you stay on track and make the days feel more "normal".
Consider a meditation practice. With so much stress and anxiety in the world, meditation is a great way to stay grounded. Start with 5-10 minutes a day and work your way up.
Stop the information overload. The news can significantly exacerbate your stress, so limit the time you spend listening to the news or scrolling social media. Consider checking in once or twice a day just to stay informed.
Read supportive articles or inspirational material. Whatever makes you feel inspired or calm is a great place to start.
Consider asking for help. If you are truly struggling with anxiety or depression during this time, many therapists are offering virtual sessions, so don't be afraid to reach out.
Maintaining Your Physical Health at Home
Now is a critical time to stay healthy and support your immune system. There are many things you can do at home to keep your physical health in tip top shape. In addition to the mental health aspect we already discussed, your focus should be on healthy diet, regular exercise, and getting enough sleep.
Eat Healthy
During times of stress or boredom, many of us turn to food. This is a natural response, as our bodies are just trying to store calories in case of emergency. In times of stress, rarely do we cope with broccoli, it is usually refined carbohydrates like chips or cookies that we turn to for comfort.
But realize this is a time when your body needs balanced nutrition. Start by creating a plan for your meals. Make sure to base your meals on protein, vegetables, and healthy fats. You can enjoy a treat from time to time, but you should always try to focus on good nutrition first.
For example, start your day with a shake made with keto protein powder which contains all the amino acids your body needs to make more immune cells and no added sugar. Lunch should be a large bowl of vegetable soup or a salad with protein. Snack on fruit, nuts, or yogurt to keep you satisfied and well nourished. Aim for a healthy dinner with plenty of protein and veggies. 
Although we can all enjoy a treat, a little bit of awareness around what and how much you are eating can help you stay healthy and keep your immune system strong.
Exercising at Home
Regular exercise is one of the best ways to support a healthy immune system and your mental well-being. If you are finding yourself with more time these days, since you no longer have to commute, it is a great time to start an exercise routine.
The easiest thing to do is to begin walking. All you need is a pair of comfortable tennis shoes and you can get moving. If you want a more structured workout, there are many websites that are offering free trials of their fitness programs, such as Peloton or Daily Burn. You can also always find free fitness videos on YouTube. Whatever you choose, aim to be active for at least 30 minutes per day.
Get Enough Sleep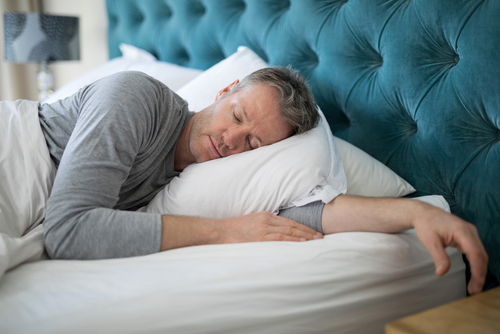 Sleep is one of the most neglected health habits. When you don't get enough sleep, the body makes fewer immune cells to fight infection. Unfortunately, stress and anxiety can make it difficult to get 7 to 9 hours of sleep a night.
A nightly routine can help you get better sleep. About an hour before bedtime, dim the lights, put your phone away, and pick up a good book. Or consider taking a warm bath and relaxing into bed. Doing the same thing nightly will help your body start to feel tired at a specific time.
It is also important to always go to bed and wake up at the same time every day, no matter how tempting it might be to stay up late or sleep in. Limit caffeine, smoking, and alcohol before bed because they can disrupt quality sleep.
If you are struggling with sleep, consider speaking to your doctor, as there are many underlying health conditions that can make sleep difficult
Do what you can to focus on your mental and physical health during this stressful time. If you prioritize your health, you can better help others cope and keep your immune system strong.