Everyday carry (EDC) is all about being ready for whatever the day might bring.
But I'll have to say; most people don't take their EDC far enough or serious enough. All it is for them is the things they carry in their pockets. What I mean is that they really haven't made sure they have whatever they are likely to need in case something goes wrong; they just have the things they are likely to need.
Granted, carrying your wallet, keys a folding knife and a flashlight are all useful. But that's not enough. That might help you out with your day-to-day activities; but how much will it help you out if there's an earthquake and you're having trouble getting home?

To me, an EDC has to cover any likely catastrophe that's likely to come into your life, such as whatever type of natural disaster your area is known for. If you live in the north, you need to be ready for a blizzard. If you live in California, you need to be ready for an earthquake. If you life in the Midwest, you need to be ready for a tornado. It all depends on what you're likely to encounter.
This clearly means carrying more than you can fit in your pockets.
It means having some sort of EDC bag as well. I keep one in the trunk of each of my cars, along with a trauma first-aid kit, jumper cables and other emergency gear for both me and the car.
But I also put more practical things in my EDC bag; things that will help me with day-to-day tasks, which aren't associated with an emergency. Who doesn't need stamps, a pair of scissors or a rain poncho every once in a while? Keeping these in my EDC ensures I have them with me, just like the high-energy food bars, fire starters and emergency blankets.
My EDC bag itself has enough survival gear that I can use it to get me home in the case of a disaster that shuts down the roads, as well as using the paperclips and stamps for more mundane uses. The key thinking behind this is that I really don't separate my survival life and my day-to-day life. As far as I'm concerned, being ready for one, means being ready for the other as well.
But Guns?
Some might ask where guns fit into that mix. I suppose that's a legitimate question, especially for those who don't already carry a firearm as part of their EDC. I can't blame these people for their viewpoint, as many of them have never thought it through from the same viewpoint I have. For that matter, that sort of question is most likely to come from someone who doesn't have a gun.
I have to say that we are a little too quick to dismiss the concerns of these people. While it can be fairly argued that their fears are often based on ignorance, that doesn't eliminate the fear. Since fear is always irrational, someone having a fear of guns, is not really any different than having a fear of spiders, snakes or rats.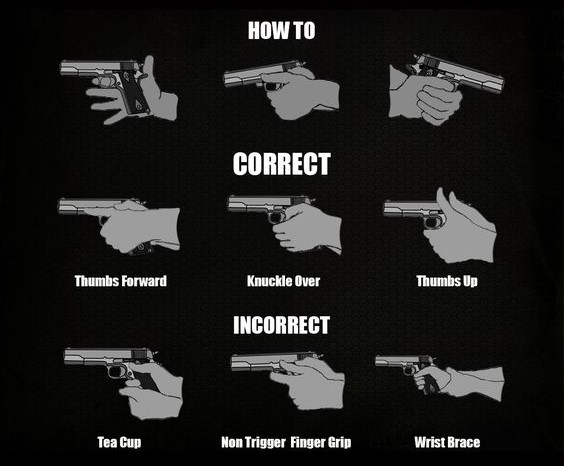 The good news is that those fears can sometimes be eliminated by educating the person who has the fear. I have done that with left-leaning family members who are anti-gun, when they tried to say that it was wrong for me to carry. In each case, I was able to overcome their fears and show them where it was to their benefit for me to be carrying.
Let's start with the big statistic. According to a report by the Bureau of Justice Statistics[1], there is an 83% lifetime chance of being victimized in a violent crime, sometime in your life. While the chances of being victimized for any particular crime during one year are extremely low, this number can't be ignored.
Here's where people make the mistake, in looking at annual rates. Take rape for example. According to the same report, 16 out of every 10,000 women are raped in any given year. That makes it only a 0.16% chance that any one woman will get raped in that year. While that is still too much, it's a number low enough that it can be easily ignored. Even the lifetime likelihood of a woman being raped is only 8%[2], still not a huge number. That still leaves the odds in most women's favor, as it works out to 1 in 12.5 women being raped sometime in her life.
But 83% means that more than 4 out of 5 people will be victimized sometime in their life. If society as a whole is so concerned about the 1 in 12.5 women who get raped, shouldn't we also be concerned about the 4 in 5 people who are victimized in some other crime?
Personally, I have been involved in five violent crimes; two in which I was the intended victim and three in which I aided someone else who was being victimized. In two of those cases (1 of each) my being armed with a pistol was the deciding factor. In the other incident being perpetrated against me, the weapon I used was a sword (I was in costume). But in one of the other cases where I tried to help someone else, I was unable to help the victim (a woman), because I was unarmed and the other man was bigger and stronger than me. The last case didn't involve any weapons, as enough men converged on the scene to make the potential attacker realize the need for caution.
While this is merely anecdotal information, what I can derive from my own experience is that being armed or unarmed made a difference in 80% of these potential violent crimes. That's significant. If anyone asks me why I carry, this is my reason. I don't want to be the next victim; nor do I want my family members to be.
A Social Responsibility
Although not everyone sees it this way, I see carrying a pistol as a social responsibility.
There is nothing wrong with carrying a pistol for self-defense or defense of your family. Concealed carry laws don't give you any responsibility to protect others. Not only that, but I have to say that protecting others can be dangerous. Not only there is the risk of getting hurt by putting yourself into a violent situation, but there is also the risk that you will shoot the wrong person and go to jail for it.
Many experts recommend that even if you do carry, don't use your gun to help others. The risks are too high.
They are especially high if you enter into a domestic or family dispute of any sort. There is absolutely no way of determining who is the good guy and who is the bad guy in such a situation; mostly because there isn't a "bad guy" in the sense of a criminal. But even in a criminal situation, the person you may think is the aggressor could very well be someone else who carries concealed and is trying to defend themselves.
Obviously there is a lot of this that has to do with how much you know about the situation that is unfolding in front of you. Walking into an ongoing situation is always worse than seeing it from its beginning. But even if you see it from the beginning, there is always a chance of misinterpreting what is happening and what part the various players have in the situation.
Having said that, I still see carrying a pistol as meaning that everywhere I go, the people there are protected, as long as I am there. The very act of being prepared to protect myself and my family, also means that I am protecting others who are in that same environment. If I'm in the bank, a store or a restaurant and someone tries to rob it, protecting myself protects others as well.
This is the argument that I have used to win over my non-gun-owning family members, who couldn't understand why I carry. None of them had ever been presented with the idea that carrying a pistol could help society at large. They had only heard what it is said in the liberal echo chamber, which doesn't have any understanding of using a firearm for self-defense.
It's Your Decision
Let me say that nobody should ever force another to carry a firearm for self-protection.
I have worked to convince others of the value of it; but the decision was always theirs. I don't want to see people carrying on our streets who are not psychologically able to handle the responsibility. Shooting another person, even in self-defense, is not something one gets over lightly.
On the other hand, if you're serious about taking care of yourself and your family, then carrying concealed should become part of your EDC. As we've seen, the chances of needing to protect yourself or a family member from violent crime as too high to ignore; much higher than many of the disasters we regularly prepare for. With that in mind, why wouldn't you carry?

Resources
[1] www.bjs.gov/content/pub/pdf/llv.pdf
[2] Statistics for black women are higher, at 11%, than for white women who are at 8%. No other ethnic groups are mentioned in the report.