The new Democrat controlled House of Representatives has made gun control a priority.
They are beating the old bandwagon of universal background checks as their first attack. While there is literally no chance of that bill passing into law, it shows us what we can expect for the next two years.
Actually, we can expect it for the foreseeable future. There are those in this country who will not be satisfied until we are an unarmed population, even though reports out of the Department of Justice (DOJ) show that 90% of criminals get their guns illegally and countless studies show that arming the general population is one of the best deterrents to crime.
Yet there is a push to enact "red flag" laws across the country, which will disarm law-abiding citizens, not for crimes that they have committed, but because someone… anyone, thinks they might be a danger. Should these laws pass, law enforcement will be able to invade anyone's home and take their guns, based upon nothing more than an accusation from a disgruntled family member, neighbor, co-worker or activist.

There is always a risk that at some point, these politicians may win and the government starts confiscating firearms. Of course, that requires the government knowing who has the firearms in the first place, which is why gun registration is always a precursor to gun confiscation.
One of the keys to protecting ourselves from this, is to ensure that we have guns which are not registered. That's why states which have enacted gun registration laws are having such poor turnouts for registration. As long as they don't know who has the guns or what guns they have, we can hide our guns and keep them from being confiscated.
There are many ways of making sure that the government doesn't know about the guns you have. The best of these is to buy them through private individual sales, the very thing that universal background checks is supposed to do away with. Another way is through ghost guns.
What is a Ghost Gun?
The term ghost gun might be a touch misleading, but it's the term everyone uses. These are guns that are invisible to the government, because they were not manufactured by a licensed arms manufacturer and doesn't carry a serial number. It is legal to do this, as long as you are manufacturing it for yourself.
Please note that it is not legal to buy or sell a ghost gun; you've got to make your own. But making one isn't really all that hard, if you have some basic handyman knowledge and the right tools to work with.
Let's Talk Legalities
The law is very technical about firearms, providing us with the ability to make these ghost guns. First of all, only one part of the gun is technically considered the gun. This is usually the frame, whichever part houses the trigger and firing mechanism. In the case of the AR-15 and AR-10, the lower receiver is the frame which carries the serial number.
The serial number doesn't have to be applied by a manufacturer to the frame or lower receiver until it is more than 80% complete. So, if you can buy a frame or lower receiver that is only 80% through the machining process, you can buy it without the serial number attached. These are readily available, online, from a number of suppliers. They are listed either as "80% lower" or "80% frame" depending on what model firearm you are trying to buy it for.
No other gun parts have a serial number on them, except parts which are used to make guns able to fire full automatic. Those are not widely available and require having the right permit from the Bureau of Alcohol, Tobacco and Firearms (BATF).
Not all guns come as an 80% frame or lower receiver; however, their number is growing. In addition to the AR-15 and Colt 1911, you can now buy 80% frames for Glock pistols, the MP5, AK47 and a number of other gun models.
Turning the 80% frame or receiver into a fully-functional part will require finishing the machining of the part. You must do this yourself to keep your gun legal. You can't hire a machine shop to do it for you. You can't even send it out to be anodized or laser engraved, unless you do it before doing anything else to the frame or receiver.
Keeping the Government Out
While 80% lowers and frames aren't serial numbered, the manufacturer you buy the parts from will have a record of the sale. A couple of years ago, government officials in California raided one such vendor, taking those records. So anyone who lived in California and bought from them doesn't have a ghost gun that's as invisible as they think.
To mitigate against this, you can buy your 80% lower or frame using a prepaid debit card, which isn't connected to your bank account. Then, have the parts shipped to an address other than your home, such as your work address or a rental mailbox.
Turning the 80% Frame or Lower into a Working Gun
There are two stages for turning your 80% frame or lower receiver into a working gun:
Finish machining the frame or lower receiver – This is the other 20% of the process, which the manufacturer didn't do.
Build the gun – Add all the other parts, turning the frame or lower receiver into a usable firearm.
Tools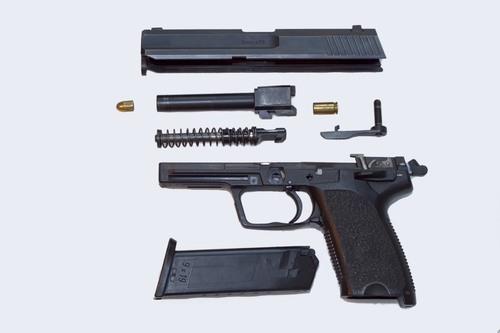 I've built a couple of these; specifically an AR-15 and a 1911. Based upon that experience, I would highly recommend buying a decent quality drill press, if you are going to attempt to do this. I'm not saying that you have to buy an expensive drill press, just one that is sturdy and has a decent sized motor. I did mine with a 13" bench mount drill press from Harbor Freight.
I'd also recommend in investing in a milling vice, otherwise known as an X-Y vice. This allows you to precisely locate the part you are working on, in relation to the drill press' spindle. As you will be machining the part, needing to move it in relationship to the spindle, this gives you a very controlled way of moving it, so that you will get straight cuts.
One other thing you'll need is a template. The same companies which manufacture and sell the 80% frames and lowers also sell templates. Please buy the template from the same supplier that you buy the frame or lower from. In some cases, like with the 1911, different manufacturer's products don't work with each other's templates. The same problem exists whenever you are working with a polymer frame, as they are made differently and need their own templates.
There will be several smaller tools you will need, like a digital caliper, some drill bits and some end mills; but these are the major tools required.
Machining the 80% Frame or Lower Receiver
The actual machining varies, depending on the gun model you are trying to complete. For the popular AR-15, it consists of machining out the trigger control pocket, making the slot for the trigger to mount through and drilling three holes through the lower receiver.
The biggest mistake you can make, in machining your frame or lower, is to hurry. You are not using a commercial grade milling machine, but rather a drill press. Expect the part to chatter as the end mill cuts the metal. Ideally, you want as little chatter as possible. The way to have that is to make extremely small cuts, cutting off only a little material at a time. This is time-consuming and tedious, but you'll end up with a better job when all is said and done.
When I did mine, I was literally shaving off pieces of metal that were only a couple of thousandths of an inch thick. It takes a while to cut it at that rate. But you can take a break and come back to the job, if you find yourself getting bored. That's better than rushing it.
Another important point, which many people don't realize, is that you need to use oil, when drilling or cutting metal. Ideally, this should be a cutting oil, formulated for the job. But if you don't have any cutting oil, you can use regular motor oil. Put a couple of drops where you will be drilling or cutting, to help lubricate and cool the cutters.
You will need to check the final dimensions of your cut, before calling the part good. That's what the digital calipers are for. I would also recommend test fitting the parts that need to be installed in the part you have machined out, to verify that they fit properly. These parts are usually machined to tight tolerances, so you may find that your parts don't fit together, even though you think you have them machined properly.
I went ahead and put my own logo and serial number on my lowers and frames, just so that they would not stand out so much at the shooting range. There is no requirement to do this, but I felt that it would help me hide my ghost gun in plain sight, so to say.
Assembling the Firearm
The easiest part of the process is to assemble the gun, once you've finished machining the lower or frame. You can buy parts kits or buy the individual parts. If you want to make sure there is no record of those purchases, buy the parts for cash at a gun show. There always seems to be one or two vendors at the gun show who are selling parts.
You may need some special tools for assembly. For the AR-15, there is a special barrel wrench and a buffer tube wrench. You can buy combination units as well, which have both functions in one. Other firearms need other special tooling, although most don't require more than one or two tools.
A Final Thought
Building your own ghost gun can be a fun and satisfying project. Don't think you're going to save money this way though. I spent more on my AR-15, than I would have, if I had bought a comparable one in my local gun store. That's mostly because I had to buy the tooling as well. But if I ever decide to make another one, I won't need to buy that tooling again.
If your purpose in doing this is to have guns that the government has no way of knowing about, then be sure to hide them well. Don't put your ghost gun in the gun safe, along with the others. Rather, hide it and some ammunition someplace where nobody is going to be able to find it.
I wrote an article about this, last year, which might give you some ideas.