Are you familiar with the expression "street smarts", or "upping one's street IQ"?
Point being, learning street smarts should rank high on every prepper's "bucket list", at least in this writer's opinion. And if you're asking yourself why, well, the premise of this article is that homeless people, also known as hobos in the past, are born and bred survivalists. I am referring to homeless people as survivalists because living in the streets is not actually living, but surviving, and you can learn a lot of things from survivors.
Especially if you're a prepper, because after all, prepping is about surviving in harsh conditions. It's pretty much self explanatory, right?

I don't know about you, but I have the utmost respect for anyone who struggles (and manages) to survive out there in the "wilderness of the urban jungle" each and every day, using nothing more than his/her wits.
And the philosophy about learning survival skills from homeless folk is that any long term/large scale disaster, natural or otherwise (like a civil war/nuke strike or whatever) may force you and millions of others out in the streets, fighting for your everyday life, having nothing more but your wits and the clothes on your back. To achieve the "hobo state of mind", try to take a break from your (more or less) comfy life and contemplate what would happen/what would you do if confronted with an extreme circumstance, ending up with losing all of your money/savings, including your car/home/relatives/earthly possessions.
There are over 100 million people in the world in this situation currently, hence this is not an unrealistic scenario. It's the way of the world, and poor people are here to stay. Just take a look at the streets of San Francisco or Los Angeles, the tent cities and all that.
Survival Tips and Tricks from Homeless.
The general rule of thumb in a shtf situation can be described as "the hobo's holy trinity" of sorts: stay warm, stay clean and stay sane. As in, don't lose your mind.
Stay warm
being able to maintain your core-temperature in a survival scenario is of utmost importance. If you don't know what I am talking about, consider this: 50 to 80 percent of your calorie intake goes to keeping your core body temperature in normal limits. If you're cold, you'll require more calories, as in more food.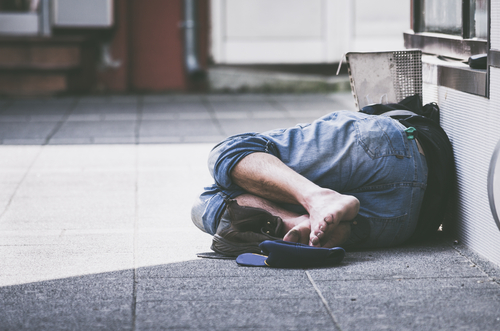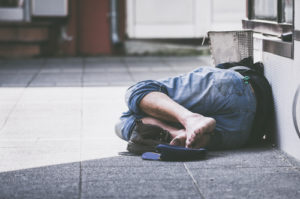 Even if we live in the era of "fake news", newspapers are not just for fake news. Joke aside, you can use newspapers to keep warm in more than one way. For example, newspaper is excellent for getting a fire going, i.e. for extra kindling. Moreover, one of the most important survival lessons to be learned from homeless people is that newspaper makes for awesome bedding and/or insulation. You've seen those poor people sleeping on park benches, covered in newspaper? At first sight, covering oneself with newspaper may not seem like a great idea.
However, if you use newspaper to cover your body while you're sleeping, and, most importantly, in the same time you stuff your clothing full with the same stuff, you'll be able to stay warm even in cold weather. If there's no newspaper around, napkin or tissue paper is just as good for insulating purposes.
Another thing that you will notice studying how homeless people dress is the layered-clothing thing. Layered clothing is great for survival-purposes, as it comes with numerous uses: first, layered clothing keeps you warm via the same insulating properties described above. Then, clothing has may uses in a survival scenario, ranging from collecting water to bandages, rope or even shelter (the tent/poncho thing). Dressing in layers presents an obvious advantage in terms of adjusting to changes in temperature. If it's too hot, you can remove one or two layers of clothing. If all that you have is a heavy duty winter jacket, you'll have problems with sweating, then freezing from being wet. Having multiple (lighter) layers of clothing that can be removed or added when necessary is the way to go. Also, they will dry quicker too, right? So, choose your "bug out" wardrobe wisely, it may save your life some day.
In wilderness survival scenarios, it's essential to create a layer of insulation between the cold ground and your body when you're sleeping. Cardboard is great for such purposes. A high-tech method for keeping warm at night would be to use a mylar blanket sandwich, i.e. mylar put between 2 regular blankets. For keeping your hands warm during cold nights, you could always improvise a heater from a coffee can, your own portable stove so to speak. Here's a video:
And speaking of keeping warm at night, homeless people are great at finding good places to sleep. Now, the most obvious emergency shelter would be one's car, provided you have one. Also, it would be a good idea to invest in a high quality tent for your bug out bag. Abandoned buildings are the next best thing for emergency shelters, or, worst case scenario, you can DIY your own survival shelter. Here's a video with detailed instructions for an improvised survival shelter. If an unfortunate event forces you to live on the streets, always remember there are shelters for the homeless, where you can sleep at night, at least temporarily.
Another thing I've learned from homeless people is that they're always staying in familiar places. For example, some of them choose to sleep in subways, while others don't. The general idea is, stay where you know, stick to safe/familiar terrain. This advice is particularly good for preppers planning to bug-out in the wild. Do your recon first, as in scout the terrain, see where it's best to camp (near water), see if there are food sources available in the vicinity and so on and so forth. It's always much safer to stick to what you know.
And speaking of surviving in unfamiliar situations/terrain, homeless folk never take their pack off, as one's survival pack is one's lively-hood when SHTF. Homeless people always sleep with one eye open, and with their survival pack strapped, so no one can steal it. Also, homeless people never get too attached to a particular place, and they're always ready to flee at a moment's notice, in thirty seconds flat if they feel the heat around the corner. The name of the game is chess, not checkers, hence always include a contingency/backup plan in case you have to hit the road fast.
Clean look
A clean look boosts one's self confidence, and gives you a more optimistic view of life, even if you're homeless.
Homeless people manage to keep themselves clean (and healthy) by using wet wipes, so always remember to pack baby wet wipes in your emergency survival kit. Another trick to clean yourself properly would be to go to public toilets, where there's free access to running water. Also, you can take a proper hot-shower in city shelters. Staying clean is very important in a survival scenario; for example, even a minor cut can easily get infected if you're dirty, not to mention rashes and blisters which appear due to poor hygiene. Keep in mind that big stores and shopping malls (or McDonalds franchises) also have (free) public restrooms, where you can also use a proper toilet.
This Timeless Collection of Forgotten Wisdom Will Help You Survive!
Homeless people are experts with regard to finding "free food".
You can check local restaurants/fast food establishments for leftovers at the end of the day. The same goes for groceries, where you can get free bread (day-old bread) or even free samples. You can also try churches, as some give away free food, or farmers' markets at the end of the day. Dumpster diving is always a viable last-resort solution. However, in a SHTF survival scenario, I doubt there would be restaurants, malls, groceries or hotels nearby, so you should learn hunting/fishing skills, and also have an emergency survival food stash ready for emergency situations.
Situational awareness
That is the key in any survival scenario, and that's why homeless people are known for keeping an eye opened at all times, even when they sleep (I think I've already mentioned that). Living in the streets is not easy, and you're always vulnerable to theft. And speaking of living in the streets, here's what I've found on an old blog dedicated to homelessness (guide2homelessness.blogspot.com):
There is nothing so bad that it will not pass. If there is one thing the world teaches it is that all things change. If you cannot think of what to do, if you believe that all hope has gone, if you are tired of trying, then pause. Breathe deeply. Do you have any money at all? If you do, spend it on a good meal, even if you are spending every dime. Get a good meal, and sit in a warm place eating it, with friendly people serving it. Eat and enjoy, and think about good things. Think about your favorite color, your best friend when you were in grade school, how flannel feels when you rub it between your fingers. Think about those gold coin chocolates that always made you feel rich even though the chocolate was waxy and tasted like tin. When you were a kid, you had a knack for feeling rich when you had next to nothing.
There is nothing so painful as desperation. Nothing so counterproductive. Now that you are feeling good again, nothing has changed, except you. You are different. Now you can think. Where will you sleep tonight? What will you do tomorrow? Don't focus on what you can't do or haven't got. You have a lot of resources, if only you will recognize them. Try to identify your most pressing problems individually, and find a straight line to a solution. You need a warm place out of the rain? How about a hotel lobby, or a hospital waiting room, or a laundromat, or a bus station, or a fast food restaurant? You need to clean up? That's easy. You need some food? You can fill your belly on less than a dollar's worth of rice.
The point is: keep calm and control your desperation. Fear is the mind-killer. Try to find comfort and even happiness in small things. It's always darkest and coldest just before sunrise. Have you ever noticed how many homeless people have a pet as a companion? Besides having a real friend keeping you company at night (and keeping you warm by the way), a stray pet dog would also protect your stuff from thieves and serve as lookout.
I hope the article helped. If you have ideas or comments, feel free to comment in the dedicated section below.