The Swiss army knife was first developed by the Swiss knife maker Karl Elsener back in 1884 and its intended purpose was to serve the nation's military. Since then, the Swiss army knife has become a standard item for many militaries around the world and also for preppers, survivalists andoutdoor enthusiasts.
The Swiss army knife has achieved an iconic status and nowadays we can safely argue that it's a must-have item in any respectable survival kit.
As a general rule of thumb, a Swiss army knife is much more than a knife; it's a multi-purpose tool, having one or two sharp blades and various other tools like can openers, screw drivers, scissors and many others, depending on the model. The handle is red most of the time, but there are other colors available, all of them having the Wenger/Victorinox cross logo imprinted in the plastic.
Now, if you're a prepper or a survivalist and you want to add a Swiss army knife to your survival kit, you should know the basics of choosing the best tool for the job. That's what we're going to discuss today.
Follow The Purpose And The Budget
The good news is that all good Swiss army knives are made in Switzerland because they chose not  to offshore their manufacturing industry to Taiwan or China. Hence, all the products manufactured by Wenger or Victorinox (they're the original Swiss army knife makers who merged into one company) are top of the line, Swiss-made and, if treated carefully, they will last you for a lifetime.
The first thing you should determine before choosing your Swiss army knife is its intended purpose. What will you use it for? It makes no sense buying a multi-tool just because it looks cool and comes with myriads of features if you're not going to use those features.
Stick with the basics, think about what tools will be of real use for you and don't go for the bulkiest Swiss army knife in the store. The more tools a knife has, the more expensive it will be. It will also be a lot heavier and uncomfortable to carry around.
Think carefully; don't go into a spending frenzy. Sit down and write down the essential tools that you'll need and also the "expandable"/desirable ones that you may want and use the search filters available on the manufacturer's website. In this way, you'll be able to select the proper Swiss army knife to suite your exact needs.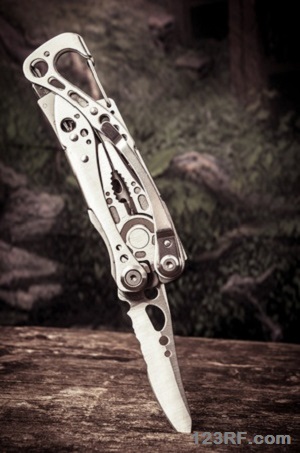 Another thing to keep in mind is  your budget.
Depending on the budget, you can set a standard about the price and the qualities of your knife.
Swiss army knives prices vary a lot and you know the saying: you get what you pay for.
If you choose an expensive Wenger/Victorinox multi-purpose knife, you'll see that what you got is a rugged and reliable piece of hardware with high quality tools and sharp blades that will last you forever.
Generally speaking, more expensive translates into more reliable so if you're going to use your knife frequently, keep that in mind. This is true for  cars, clothes and most everything else, including your new knife so get the most that you can while staying within your budget..
However, if you're not planning to use your Swiss army knife frequently or for heavy duty jobs, it makes no sense to spend a fortune on a gizmo. Keep in mind that the best tool in the world is the one that's adequate for your needs.
If you're the outdoors type and you intend to use your knife for dressing game and heavy duty jobs, you should already know that larger is better, hence you should go for the biggest blade available. There are quite a few options to choose from.
I know that it's hard to decide, but remember that you're the one who will actually use it. Choose carefully. I owned several Victorinox Swiss army knives, both big and small ones, and no matter how hard I pushed them, they never failed me even once.
Still, it makes no sense trying to field dress game with a 2-inch blade unless you don't have other options available so if that's what you're using your knife for, choose appropriately. If we're talking about survival, it makes no sense buying small knives with little scissors, corkscrews or nail files. It's highly unlikely that you'll have to use such things in a survival scenario or out in the bush.
Looking For The Best
An adequate pocket knife, like a Swiss army knife, should fit comfortable in any pocket; i.e. you should not know that it's there. In other words, the best knife should be usable in a survival scenario and yet compact enough to make for an everyday carry without being intrusive.
In a real life survival scenario, the best Swiss army knife should have a large main blade, partially serrated and with a locking mechanism. Another must have feature would be a wire stripper and a wood saw.
The rest is up to you, but these are must-have features in my opinion for a survival folder. Don't choose the largest/bulkiest multi-tool, it will end up in your backpack or in your glove box, not in your pocket.
Another great feature of Swiss army knives is that they are made of high quality materials (stainless steel for the blade and tools/aluminum for the separators/tough plastic in the handle) with impeccable workmanship, hence they require almost no maintenance.
Actually, they come with a lifetime guarantee and a no questions asked return policy. All you'll ever have to do is to sharpen the blades. Fortunately, they are fairly easy to sharpen and they hold an edge pretty well.
In other words, all that you'll really need to do to your Swiss army knife is use it!
Choose well and, as always, be prepared!

This article has been written Chris Black for Survivopedia.