I happen to live in a rather arid region.
The lack of annual rainfall and shortage of readily available groundwater magnify the importance of water in a survival situation. While we all need water to survive, it is much easier to come up with it in an area where there is high rainfall or a lot of streams and rivers to get water from.
Even the subterranean groundwater here has a high salt and mineral content, making it hard to use for drinking and gardening.
As a general rule of thumb, we shouldn't drink sea water (saltwater) for survival. That's because the salt content in seawater is about 35 parts per thousand. By comparison, human blood only has a salinity of 9 parts per thousand. What that means is that with seawater having such a high concentration of salt in it, drinking seawater will actually put salt into our bloodstream, not remove excess salt from it. When the salt level gets high enough, it will kill us.
Hence the old passage of poetry which reads, "Water, water everywhere and not a drop to drink" from Samuel Taylor Coleridge's poem "the Rime of the Ancient Mariner." Sailors have long known that drinking salt water would kill them, even if they didn't understand the science behind it.
Yet today salt water is finding its way into municipal water supplies around the world. The tiny nation of Israel is the world leader in this science of seawater desalination, getting 55 percent of its domestic water from desalination. This has been critical to Israel's modern growth, as the tiny nation is one of the driest on the face of the earth. Even here at home we are jumping on the bandwagon, with over 60 desalination plants in operation or under construction between the various coastal states.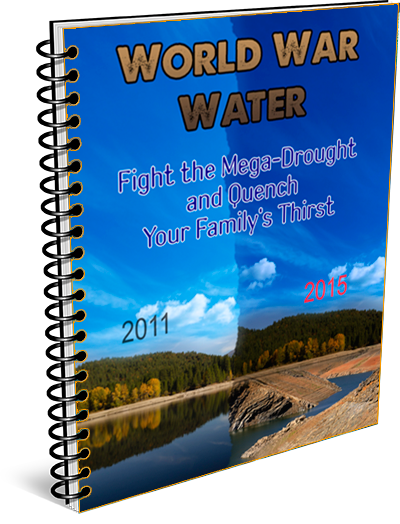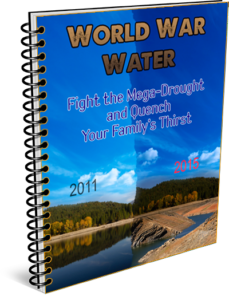 There are two basic ways that these desalination plants work, by reverse osmosis or flash distillation. For our purposes, at this moment, how these plants work isn't as important as the fact that they work. Both technologies are complex enough that they can't be readily reproduced at home, at least not without buying the hardware to build the system and having the electrical power to operate them.
For reference, reverse osmosis water treatment is actually used in a number of homes, as a water purification method. You can buy reverse osmosis water purification units and install them under your kitchen sink, purifying your drinking water. This produces some of the cleanest water you can have in your home, almost as clean as distilled water; which historically is considered to be the cleanest water that can be produced.
The problem with reverse osmosis, from a survival point of view, is that it requires a large amount of electricity for the pumps that pressurize the water passed through the filter elements. So, unless you have the capacity of producing a large amount of electrical power, it is not usable for survival.
However, while neither of these methods of seawater reclamations or seawater desalination is practical in a survival situation; that doesn't mean that we should ignore the idea of seawater desalination altogether. There are other, simpler means of distillation that can be used to make seawater drinkable, which could provide us with a virtually limitless supply of drinking water, if we happen to live close enough to the ocean to take advantage of it.
Basic Distillation
Basic distillation involves heating the water to the point of turning it into vapor, then condensing this water vapor back into a liquid state. Water turns to steam (water vapor) at 212°F (100°C), which is a fairly low temperature, compared to other materials. Other chemicals, minerals, salt and even the dead bodies of bacteria and viruses are left behind, because they don't turn into vapor at that temperature.
Water vapor produced in this manner is then passed through a condenser, cooling the water and turning it back into a liquid. The water captured from the vapor is pure, because any impurities are left behind in the vessel that the water has been heated in.
The still used for this process must be totally sealed, with the exception of the outlet for the product water. If it is not sealed, the water vapor will evaporate, rather than being condensed back into water.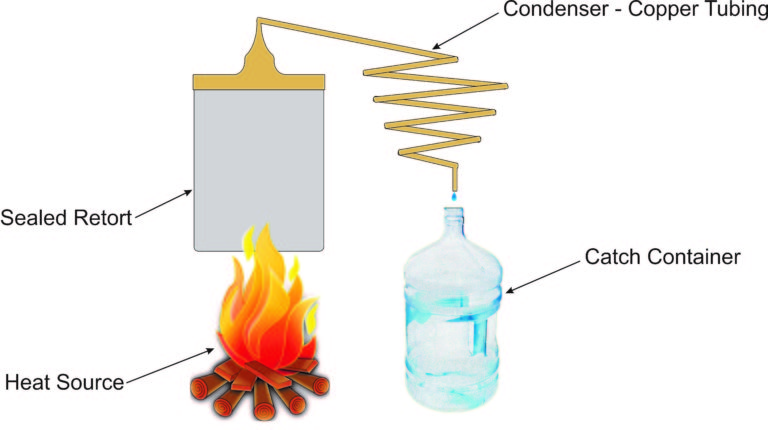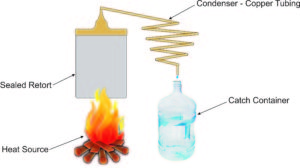 Perhaps the easiest way to build a still is to start out with a pressure cooker or pressure canner. This provides a sealed retort, with a single outlet; the one used to allow steam to escape, regulating the pressure in the pressure cooker. We would need to remove the normal pressure regulator from that point, drill the hole out and thread it for the attachment of a brass fitting, so that we could attach the condenser tubing to it.
Copper tubing is the most common material used for making a condenser, as it is the second best heat conductor in existence. The only material which could perform better is silver, and buying enough silver tubing to make a condenser would be a bit too pricey to be practical.
As you can see in the diagram, the tubing used for the condenser must run in a constant downhill pattern. This is easily accomplished, as copper tubing normally comes packaged in a coil. All you have to do to make it into a condenser is stretch the tubing out so that it becomes a spiral with a constant decent. This makes it so that as the steam condenses back into water, it can flow downhill to the catch container.
At that point, there is no need for the system to be sealed, as there is no water vapor, just liquid water.
Such a system can produce many gallons of water a day, depending on how larger you make it and how well you attend it. The fire or other heat source must be constant and the retort filled with water frequently to replace water that has been distilled.
Solar Distillation
The only problem with a standard still is that you need to constantly replenish the fuel for the fire, so that there is enough heat to boil the water and generate steam. While this might not be a problem in an area which is heavily wooded, it could be a problem in areas where there is little firewood to work with. In such cases, a solar still might be a better option.
The basic operating philosophy behind a solar still is the same as that for a normal fire-powered still, with the exception that sunlight provides the heat. Due to this, the overall design of the still is considerably different.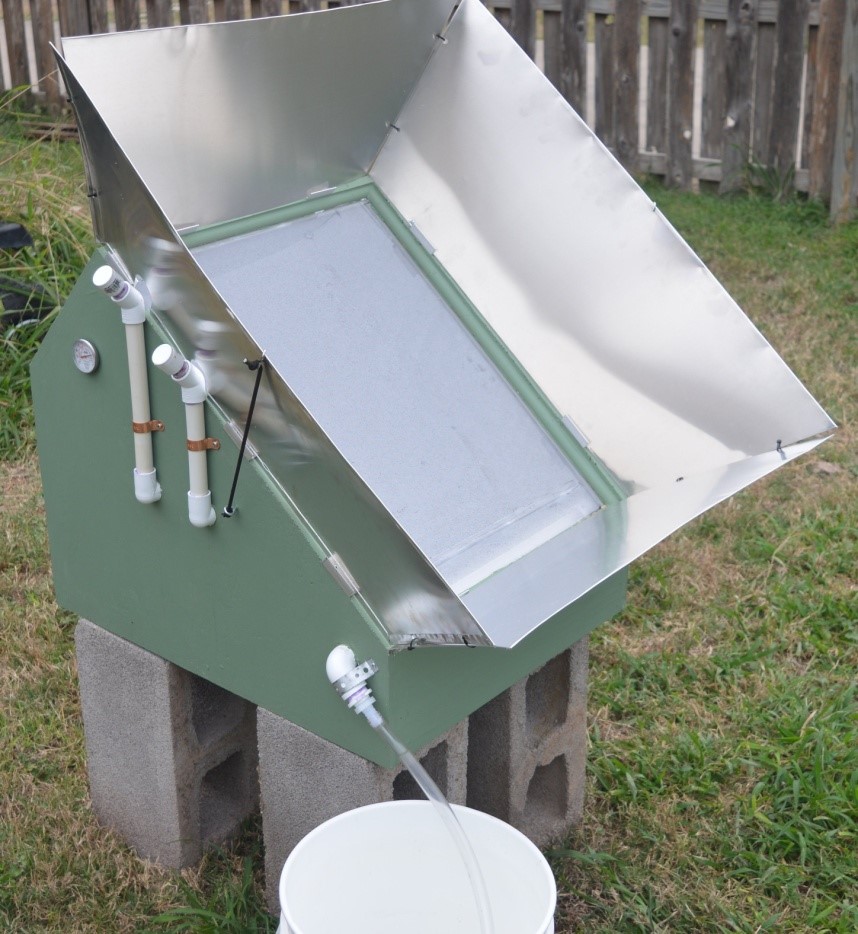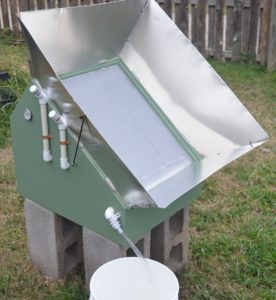 As you can see in this picture, the solar still looks more like a solar oven, than it does the previous still we looked at. The reflectors show on the still above are made of polished aluminum and increase the amount of sunlight entering the cabinet of the still, which is insulated and painted black on the inside, to facilitate absorbing the sunlight and converting it to heat.
Rather than using coiled copper tubing for the condenser, the glass face of the still is the condenser. This is not as efficient as the copper tubing, but it works, as the solar still doesn't produce as much water vapor as the fire-driven still does, due to a lower internal temperature.
That's not to say that this still is unable to be used to produce water for a survival situation. I was able to produce about three liters per day of water from it, with a glass surface of about four square feet (2 ft. x 2 ft.). If I were to enlarge it or use multiple units, the still would produce more water.
There were a couple of problems I had with making this sort of solar still. As you can see in the photo above, the glass top is sloped at about a 45 degree angle. This was increased from the first unit I made, which had a 20 degree slope. But that small a slope didn't work well for causing the condensate to run off the glass, into the catch tube at the bottom. By increasing the angle, I was able to produce more water.
The other problem I had with this design was sealing it properly. It is made predominantly of plywood, which really isn't designed for making moisture-proof cabinets. My first unit quickly started to delaminate from the water vapor. To compensate for that, this unit was thoroughly sealed and painted with a number of coats of paint, before the insulation was installed on the inside. The door (not visible in the picture) had upgraded seals on it. While I would like to leave the door out altogether, that's not practical, as it is necessary to clean the pans out occasionally.
The other thing I did to help with sealing was the addition of the PVC tubes shown on the side. These allow water to be added to the unit, without opening it up and losing the heat inside.
Harvesting Salt
If we're going to be desalinating water to make drinking water, we may as well take advantage of the opportunity to make another valuable commodity as well… salt. During the early years of our country's history, most of the salt used came from salt licks, so named because animals would go there to lick the salt, so that they might have the salt they needed for survival. Today, few of these naturally occurring salt licks still remain and most salt is mined underground.
Sea salt has become highly prized in modern times, as superior to the normal table salt that we eat. The funny thing about this is a percentage of our normal table salt has always been sea salt, produced by evaporating sea water. They are just packaging it differently now and charging a higher price.
In a post-disaster world, salt will once again become highly prized, due to its rarity. Since salt licks are no longer common, most people won't have ready access to salt. Yet consumption of small amounts of salt is essential for survival. So, if we are going to be desalinating seawater to produce drinking water, it only makes sense to produce salt for trade goods as well.
The process of distilling seawater is going to leave us with highly concentrated salt water, regardless of which type of still we use. Ideally, we want to stop the still and remove this water, before all of it dries up. That will help prevent damage to our still. The concentrated saltwater we remove will dry faster, leaving behind salt faster than if we used fresh seawater.
The normal way of harvesting salt from seawater is to capture a shallow pool of seawater along the coast, blocking it off from the tides. This water is then allowed to evaporate and the salt left behind is then harvested.
I've seen this process done in Mexico, in a coastal area just south of South Padre Island. Full evaporation takes about two weeks, leaving behind a thin layer of salt. With our already concentrated saltwater, the process should be even faster.
I haven't seen what happens to that salt, between harvesting it and packaging it, but I've been curious about it. Since the evaporation process happens over a bed of sand, it seems to me that there would be some sand in the resulting salt; although I haven't had the opportunity to check it for that. However, if that's the case, then it would seem to me that the resulting salt would have to be rewetted, the sand separated out and the water to evaporate out again. That's not real efficient.
In order to do this, we're going to need to take the concentrated salt water and spread it out, leaving it sitting in the sun to dry. Rather than doing this over a bed of sand, following the traditional method used in Mexico, it seems to me that children's plastic swimming pools would be just about ideal for drying beds. That would provide us with cleaner salt, as there would be no sand mixed in it.
The other thing I would suggest doing is running the saltwater through a filter, before putting it in the drying beds. Simple coffee filters or something similar would be sufficient for this filter stage. Adding in this step would filter out any solids floating in the water, while allowing the dissolved salt and other minerals to pass through. The resulting salt could be used directly, without any further processing. While the grain of the salt would be larger, like commercial "sea salt," it would still be usable. '
One final point I want to make about this salt is that it would be perfectly safe from any bacteria or other microscopic pathogens. The process of drying the salt means that any bacteria that might be in  the water would be dried as well, killing them and eliminating any danger they might cause.