Are you trying to shave some money off your grocery bill?
Intentionally adding some budget friendly meals to your meal plan can help you do that. And contrary to popular belief, you don't have to eat ramen like a broke college student to cut your grocery bill. You can eat real food that tastes good on a small budget.
Discover the golden days' practice for getting all you can eat food without buying from the supermarket!
You can save money by eating at home, planning simple meals, cooking from scratch, and using recipes that share ingredients. The meals in this post all fit that bill. They also are:
Kid approved
Inexpensive
Free of processed foods
Tasty
Ready to save some money in the kitchen? Let's get started!
Cook a Chicken
The first step for this set of budget friendly meals is to cook a chicken. You can use the meat and broth from this to create five meals for your family.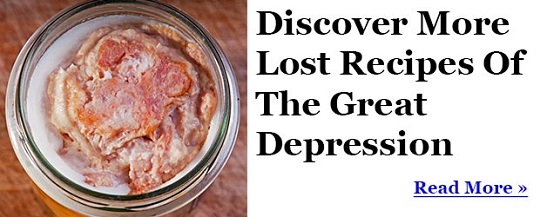 To cook the bird, use your favorite method of cooking:
Roasting
Cooking in the Instant Pot
Cooking in a Crock Pot
Before cooking, add some simple seasoning. I typically stick with pepper, salt, and garlic. Add about a cup of water to keep it from sticking. Then let it cook until done.
Once your chicken is cooked through, let it cool enough so you can handle it easily. Pull as much meat off the bones as you can.
Pour the cooking juices into a jar and put it in the fridge.
Now it's time to make some broth. Put the chicken bones into your Crock Pot or Instant Pot. Completely cover with water and add a splash of apple cider vinegar. Let cook for 90 minutes of high pressure in the Instant Pot, or 10-12 hours in the Crock Pot.
Pour the broth into a jar and put it in the fridge. After it cools, the fat will rise to the top and you can skim it off.
Check your bones. If they aren't flexible and crumbly, you can use them to make another batch. I typically get two batches of broth from one set of chicken bones.
After this prep work, you now have plenty of chicken meat and broth to use in the following four meals.
1. Creamy Chicken Enchiladas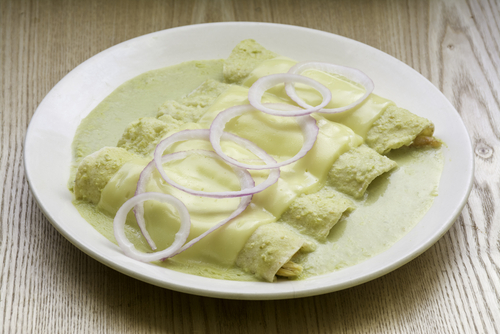 These creamy enchiladas come together quickly and reheat well.
8 flour tortillas
1 cup cooked, shredded chicken
2 cups shredded cheese, divided
1 cup sour cream
1 tablespoon taco seasoning
In a bowl, combine the chicken with 1 cup of shredded cheese and sour cream. Stir in the taco seasoning.
Spread 2 tablespoons of this mixture down the middle of a tortilla. Roll up and place in a pan. Repeat with remaining tortillas.
Sprinkle the rest of the cheese over the top. Cover the pan with foil and bake at 350 degrees Fahrenheit for thirty minutes, or until heated through.
Serve with a cooked vegetable or side salad.
2. White Bean Chili
It takes a little time for the flavors to simmer together, but this chili is worth the wait.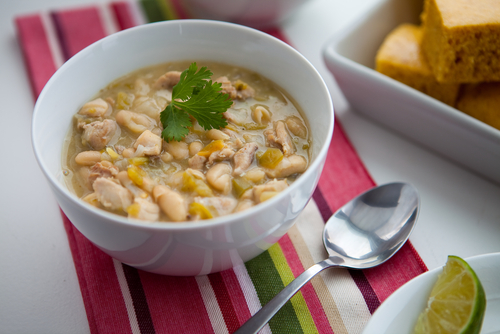 1-pound dried Navy beans
Water
5 cups chicken broth
4 tablespoons butter
2 cloves garlic, crushed
1 medium onion, chopped
1 8 oz can green chilis
1 cup cooked, shredded chicken
1 tablespoon cumin
1 tablespoon oregano
1 pinch red pepper flakes
Salt and pepper to taste
Sour cream (as topping – optional)
Shredded Cheddar cheese (as topping – optional)
Rinse your beans and pick out any stones. Place them in a pot and cover with warm water. Cover with a lid and let soak overnight. Then, drain and rinse the beans.
Put the beans back in the pot with the chicken broth. Bring to a boil over high heat.
While the beans cook, heat butter in a large frying pan.
Add the garlic, onions, and green chili. Saute for five minutes.
Add the chicken, cumin, oregano, and red pepper flakes. Stir well.
Add the chicken mixture to the pot with the beans. Reduce heat to low and cook for 1-2 hours, stirring occasionally.
Serve with cheese and sour cream if desired.
3. Chicken Noodle Soup
There's nothing like a tasty batch of chicken noodle soup to warm you up on a cool winter day.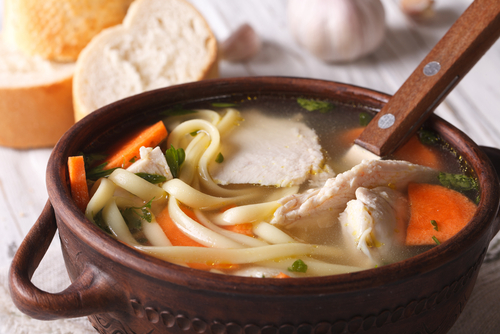 Chicken broth
1 cup shredded chicken
3 carrots, chopped
1 large onion, chopped
2 stalks celery, chopped
3 cups small, dry pasta
2 tablespoons butter
Salt, pepper, and garlic powder to taste
Sautee the celery, onion, and carrots in the butter for a few minutes in your soup pot. Add salt, pepper, and garlic.
Stir in 8 cups of the chicken broth you made from your chicken bones.
Let this simmer at least a half hour. I think it tastes better if it simmers for an hour or two, but if I'm in a hurry I stop it after a half an hour.
In a separate pot, cook pasta according to package directions. When they're done, drain them.  Add to your soup.
Stir in chicken. Heat through and serve.
4. Egg Fried Rice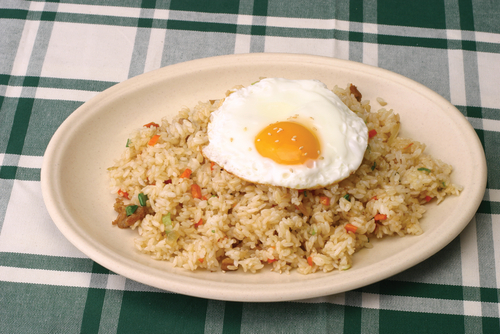 You're going to use some broth, and any remaining chicken in this dish.
2 cups rice
4 cups chicken broth (add water if you don't have enough)
4 tablespoons butter, divided
1 tablespoon olive oil
4 eggs
1 small bag frozen peas
2 tablespoons soy sauce
Any chicken you have left (1/2 to 1 cup)
Cook rice in broth to increase nutrients and flavor. I prefer to do this the day before, so I'm working with cold rice for this recipe. You can use freshly cooked rice if necessary.
Melt 2 tablespoons butter in a large frying pan. Gently scramble the eggs. Remove from pan before they get super firm.
Melt the remaining butter in the pan. Add the olive oil. Heat your rice in this pan. As it warms, add all the peas. Add the soy sauce. Mix well. Stir in the chicken and eggs. Heat through and serve.
Use Some Hamburger
You may tire of eating only chicken-based recipes, so now it's time to switch to ground beef. It's one of the most inexpensive cuts of beef, and if you raise your own cow you'll have plenty of hamburger to use.
5. Korean Beef Bowl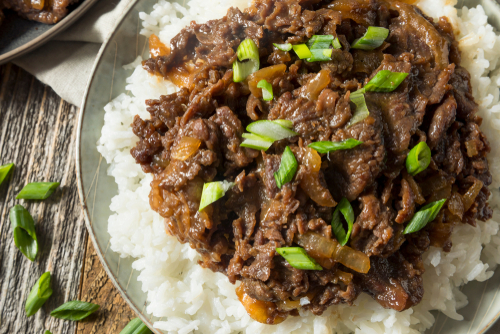 This is one of my family's favorites. We enjoy this meal at least once a month.
3 cups rice, cooked
1-pound hamburger
3 garlic cloves,
1 tablespoon olive oil
¼ cup soy sauce
¼ cup brown sugar, packed
3 cloves garlic, minced
½ teaspoon crushed red pepper flakes
¼ teaspoon ground ginger
In a small bowl, mix the brown sugar, soy sauce, red pepper flakes, and ginger.
Heat olive oil in a large frying pan over medium high heat. Add garlic and cook and stir for 1 minute. Add the hamburger. Cook until done, breaking up large pieces as it cooks. Drain the fat.
Stir soy sauce mixture into the hamburger. Serve over cooked rice. Peas or broccoli make a nice side dish.
6. Hamburger Macaroni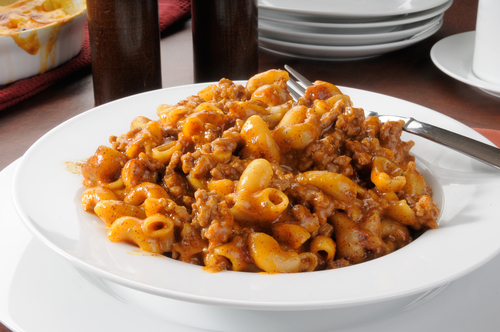 A quick homemade macaroni dish.
1 large onion, chopped
2 cloves garlic, minced
1 tablespoon olive oil
1-pound hamburger
1 16 oz can stewed tomatoes
16 oz water
8 oz elbow macaroni, uncooked
Salt and pepper to taste
Sautee onions and garlic in olive oil in a large frying pan until translucent. Add the hamburger and cook until brown. Add remaining ingredients.
Cook for 15-20 minutes on medium low, until noodles are tender. Serve with bread and a salad.
7. Cheeseburger Pie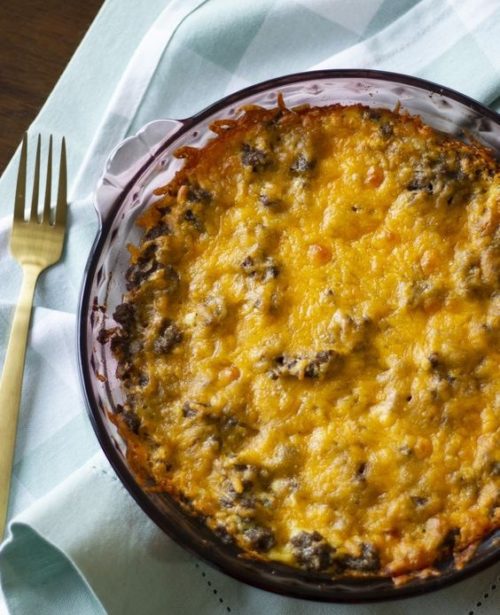 It's like a cheeseburger, only in a casserole!
1-pound hamburger
1 large onion, chopped
Salt and pepper to taste
1 cup shredded Cheddar cheese
2 cups all-purpose flour (250g)
1 Tablespoon baking powder
1 Tablespoon granulated sugar
1 teaspoon salt
6 Tablespoons unsalted butter, cold
1 cup whole milk
Heat oven to 400 degrees Fahrenheit. Grease a 9-inch square pan.
In a large frying pan, brown hamburger with onion, salt, and pepper. Remove from heat and sprinkle with the cheese.
While hamburger browns, mix up the biscuit mix for the top. In a large bowl, combine flour, baking powder, sugar, and salt. Mix well.
Use a grater and grate the butter into the flour mixture. Cut in the pieces until it resembles coarse crumbs.
Add milk, stirring just until combined.
Put cheesy hamburger mix into prepared pan. Spread the biscuit mix over the top. Bake for 25 minutes, until a knife inserted in the center comes out clean.
What Are Your Favorite Budget Friendly Meals?
This post didn't begin to cover all of the delicious, inexpensive meals there are. They're just a few of the ones my family enjoys regularly that help use keep our grocery bill in check.
What are your favorite budget friendly meals? Please share in the comments.
P.S. Because I think everybody should know about how to take care of themselves, I share several of my recipes in my book, Forgotten Lessons of Yesterday, along with many other skills that I was fortunate enough to learn from them. It's a diverse collection of some of my most valued skills, and I'm proud to share them, as well as the free special reports that expand on what the book has to offer.
Check it out – I didn't mean for this to turn into a shameless plug, but I'm passionate about these skills and want to share them with everybody!