If you want to get into a lively discussion at your local shooting range, just start talking about some gun being the best there is.
Everyone has their opinion on this subject, and the more they've shot, the more likely they are to have very firmly set opinions. Not only that, but they're sure to be very vocal in making those opinions known.
Each shooter who joins that discussion is going to throw another gun into the pot. While there might be some agreement that certain guns are superior to the majority of what's sold out there, it's unlikely that you'll ever find consensus on one best gun.
Part of that is because each shooter will be thinking about "best" in regards to the kind of shooting they do. One might be thinking about hunting small game, while another is thinking about a self-defense firearm. Each will be right in their own regard, but that won't make their choice superior to someone else's in the way that they want to use it.

Let's face it; there is no one best gun on the market.
Different guns are designed for different purposes, and everything about their design, from the caliber to the optics, reflected that purpose. But when you try to take that same firearm and use it for something else, it might stink.
This makes it so that selecting a gun to be your personal survival gun is largely a process of making compromises. How you see the various survival priorities and how you plan on getting through a survival scenario is going to affect the choices that you make. Hopefully, we'll all make the right ones.
But then there's the other problem; buying those guns.
Quality firearms aren't cheap by any standard, and often, the most popular models are also the most expensive. But there are often equivalents out there, often very similar equivalents, which will work fine, but at a lower price. Those may very well be the guns that you and I need to buy, in order to build up our survival arsenal.
Pistol
It seems to me that everyone needs to start out their survival arsenal with a good sidearm. Pistols are useless for hunting, as well as any other long-range shooting. They serve one purpose and one purpose only: self-defense. Considering that many survival tasks will require you setting your long-arm aside, it only makes sense to carry a pistol at all times.
Best Survival Pistol – Glock 17 – 9mm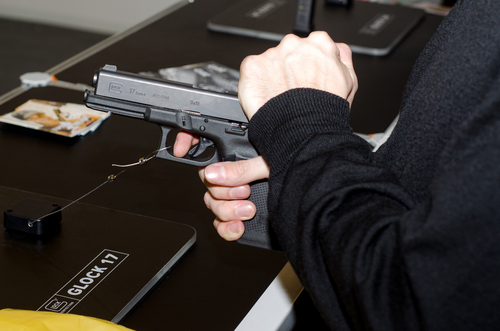 It's really hard to pick a best pistol, with all the various calibers and models available to us today. Personally, I'm a .45 man, having learned to shoot with the Army Colt 1911. But, while I have a personal 1911 in my collection, that's not my survival pistol. I've selected a Glock 17 for that.
There are two major reasons why I've selected a Glock 17 for my survival pistol. The first is Glock's reputation. If you want a good, serviceable pistol, which will not jam, Glock is for you. They might take a little getting used to, but once you do, you'll be convinced too. Besides, the Glock is highly customizable, which I like, as I'm the kind of guy who likes tricking out my guns to make them more usable.
But which Glock to carry for survival? I narrowed it down to the Glock 17, because it is a full-sized 9mm Luger. Considering that 9mm is the most popular pistol caliber in the world today, there will be a better chance of coming up with 9mm ammo in a post-disaster world, than any other caliber.
Alternative – Canik TP9 SFx – 9mm
You've probably never heard of this one, but if you're looking for a really great 9mm pistol, take a good look at this. It's from Turkey, of all places, but this is a very well designed gun. One of the nicest things about it is that the slide is designed so that you can grip it just about anywhere to rack it. It also comes with an 18 round magazine, which gives you one more round of capacity over the Glock 17. The only problem may be getting spare parts, so you'll want to stock up on those, before the apocalypse comes.
Tactical Shotgun
There's nothing that beats a short-barreled shotgun for close work, not even the best of pistols. Soldiers in both World Wars and Vietnam preferred the Trench Gun over just about anything, assuming they could get their hands on one.  If you've got to defend your home from multiple attackers, this is the way to go.
Best Tactical Shotgun – KelTec KSG Bullpup Shotgun – 12 gauge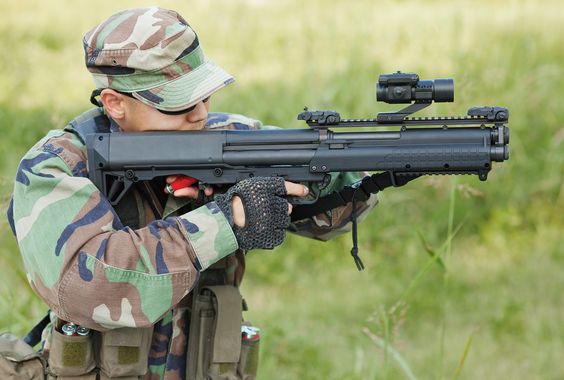 I was instantly impressed when KelTec came out with their KSG shotgun. As far as I'm concerned, this was the first shotgun ever built, with tactical considerations in mind. The bulpup design allows for an overall length of only 26.1 inches, and that's with an 18.5 inch barrel, keeping it legal, without having to get the ATF tax stamp. Their "tactical" model is only 21.5 inches long, but it only has a 13.5 inch barrel, meaning that you have to jump through hoops of red tape to buy one.
The other outstanding thing about this shotgun is the dual magazine, allowing you to load a total of 17 rounds. This allows you to load both buckshot and slugs, without having to worry about remembering what order you loaded them in. A simple switch, conveniently located near the pistol grip, allows you to switch back and forth between the two magazines, putting out an incredible amount of firepower.
A top-mounted rail allows the installation of optics, showing that KelTec realizes that a tactical shotgun isn't just a point and shoot weapon, but that it can and should actually be aimed.
Alternative – Standard Manufacturing DP-12
It's easy to think that Standard Manufacturing developed the DP-12 simply to compete with the KSG, but in reality, they solved a few problems that the KSG has. Specifically, it's an easier gun to shoot, which comes complete with a good but pad and a cheek rest that the KSG doesn't have. While being a bit demanding to shoot (actually both models are), the visible magazine and other features make up for it, as well as the lower price.
Hunting Rifle
Every survivalist needs a good hunting rifle. While not all that effective for home defense, a good survival rifle is going to help put food on the table, especially if you have to bug out. In the rare case that you actually need a sniper rifle, a hunting rifle with a good scope on it is going to take care of that need as well.
Speaking of scopes, a lot of people spend a lot on their hunting rifle, but then cut corners on the scope. Don't do that; a good scope is just as important as a good rifle. You're going to need that, in order to make every shot count.
Best Hunting Rifle – Remington 700 – .308 Caliber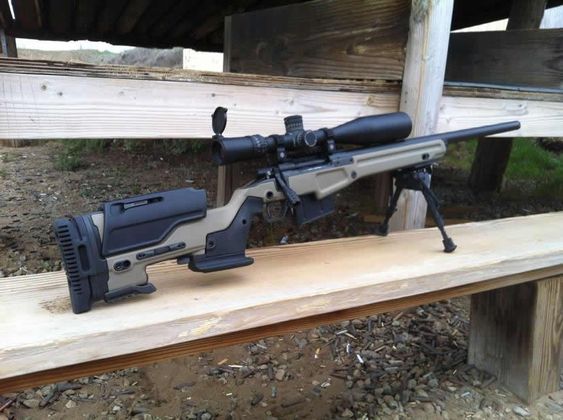 If there is ever a hunting rifle which is going to gain consensus as the best there is, it has to be the Remington 700. First marketed in 1962, this rifle is not only a favorite of hunters, but has been used by the US Army as a sniper rifle as well. The simple design, coupled with quality workmanship, provides a reliable, accurate rifle for any need.
There are actually several different models of rifles in the Remington 700 "family," as well as several different calibers. I've selected the .308 caliber because it is a common one, also known as 7.62 x 51 mm or 7.62 NATO. This is a powerful enough round for big game hunting, as well as being common enough that it should be available in a post-disaster world.
Alternative – Howa 1500 Varmint
While I personally own a Remington 700, if I was looking for a lower-cost alternative, I'd go for the Howa 1500. This gun is available in the same .308 caliber as the Remington 700. It's also very similar to the Remington in many other key areas, but it comes with a lower price tag, making it a great option to buy for your survival arsenal.
"Survival Rifle"
Sorry, but I've always gotten a bit of a laugh out of "survival rifles." That's not because they are .22 caliber, but because I can't really see any reason to carry a rifle that has to be assembled any time I want to use it. chances are, I'd need it while it was disassembled and not be ready for the shot I need.
Best Survival Rifle – Henry Arms AR-7 – .22LR Caliber
The Henry AR-7 has the reputation of being the best rifle in this small category. While there aren't many contenders for that title, the Henry takes the prize. Originally designed by ArmaLite, the same people who created the AR-15, this design has passed through a number of hands, before finally being acquired by Henry Arms. They cleaned up the design and have made it a success.
What's so great about this rifle is that it is so compact. Everything stores in the stock, making a package which is just 16.5 inches long and weighs only 3.5 pounds. If you need something to put in a backpack or hide under the back seat of your car, this rifle will do the trick. It is highly reliable and amazingly accurate for a rifle that is designed to break down and assemble easily.
Alternative – Crickett Single Shot Synthetic – .22LR Caliber
While the Henry AR-7 is an excellent rifle, you have to realize that you're paying a lot of extra money just to have it break down and fit inside the stock. Personally, I just can't see where that is all that useful, unless I'm looking for something I want to be able to hide; but that's what pistols are for.
I'd much rather put my money into something like the Crickett Single Shot Synthetic, Bolt-action rifle. As a bolt action, it is highly reliable and accurate. Plus, it's a whole lot cheaper. Overall weight is a half pound lighter, and the overall assembled length is half an inch shorter. Carrying this gun along, for shooting small game, really wouldn't be an issue, even if you're carrying another long gun.
Home-defense Rifle
The AR-15 has gained the lead as the best and most popular sporting rifle on the market. It is also widely considered to be the best home defense rifle, as well as the best overall survival rifle. The sheer versatility of the AR-15 makes it an essential in anyone's survival arsenal.
Best AR-15 – Daniel Defense DDM4 V7 0 – 5.56mm NATO Caliber
It's difficult to pick the best AR-15 out there with so many models to choose from. My personal one is a custom-built AR-15 that has the features and options that I want. But if I was to buy one off-the-shelf, I'd probably pick this model from Daniel Defense. The main reason is their reputation for reliability.
This particular AR-15 comes with a full-length 15" full-floating rail, flash supperssor, mid-length gas impingement system and a cold-hammer forged 16" barrel. A nice combination of features. Of course, the optics are not included; but that's normal for AR-15s, as the first place any owner wants to customize is their optics. I especially like the long rail system, as it allows for the attachment of any number of accessories.
Alternate – Mossberg MMR AR-15 Tactical – 5.56mm NATO Caliber
I'm a big fan of Mossberg, mostly for their tactical shotguns. My personal shotgun, which is a Mossberg 500, has been heavily modified, like most of my firearms. But what I really like about it is the reliability. Mossberg is used by many law enforcement agencies, because they know they can count on it, when they need to.
The MMR AR-15 Tactical comes in at an amazingly low price, considering what it is. Unlike many other low-price AR-15s, this one has a quad rail, allowing you to install whatever optics you want. It uses a direct impingement gas system and comes with the iron sights installed. An amazing buy for the money.
But for all of this, you should read Simple Gun Hacks That Will Instantly Double Your Accuracy from Decorated Green Beret!