I'm away from home this week and as per usual (at least, usual for me), I left home prepared for emergencies.
This is something I've done for years, regardless of whether I'm traveling on business, going to a convention, visiting family or going on vacation. Last I checked, disasters didn't take vacations, so going on a trip, even if it is for vacation, without being prepared isn't all that good an idea.
Of course, the question is, how prepared are you going to go? Maybe a better question is, how prepared can you go? It seems there are always limitations on what we can manage to do; limits caused by how we are traveling.

The worst limitation is when traveling by airplane; but even traveling by car can be rather limiting if you're not careful. Loading a whole family and their luggage into a car can be bad enough; trying to find space for emergency and survival gear just might turn a bad situation into an outright mutiny, especially if they find out that you're telling them they can't take something, just so that you can use that space to take a toolbox or survival kit.
I've always handled this by making those items a standard part of the vehicle's gear, just like the spare tire. Since it's always there, it's not like I'm taking space away that might otherwise be used for luggage. Rather, I'm not letting them empty out space that's already in use. It's a subtle difference, but a useful one.
My Vehicle's Basic Emergency Load
Regardless of what vehicle we're talking about, all of my vehicles have a basic load of emergency gear. I try to keep all of them prepared to deal with basic emergencies, even vehicles that I don't regularly drive. About the only difference is that my vehicle, the one I drive regularly, has even more.
Basic Emergency Gear in All Vehicles:
Basic emergency tools – I always have a tool kit in each vehicle, which consists of a socket set and ratchet, open end wrenches, pliers, screwdrivers, jumper cables and fix-a-flat.
Vehicle fluids – A can of oil, gallon of water, power steering fluid and brake fluid. The water is clean, in case we need to use it as drinking water.
Trauma first-aid kit – All vehicles have a trauma first-aid kit of my own manufacture. Basically I build this on what I feel I would need to deal with a gunshot wound or broken bone. While that may not be enough to deal with all situations, it's enough for most.
Weather protection – It's always nice to have an old blanket in the car; I like the old wool Army blankets for this. A rain poncho and an umbrella are useful too.
Flashlight – Always useful.
Survival kit – This is the hard part. I'll talk about this more below.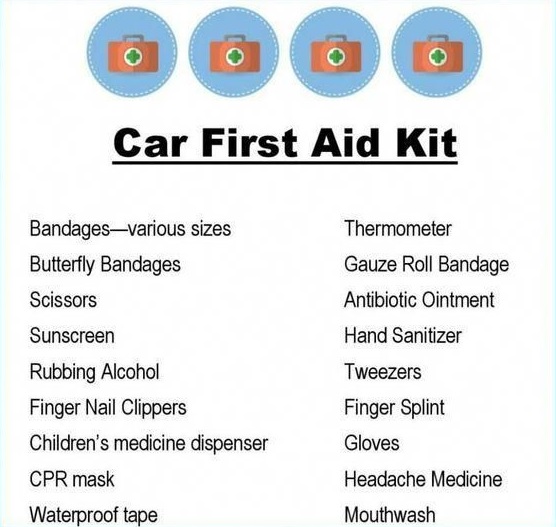 In addition to all that, my personal vehicle also has:
Mini air compressor
More tools for vehicle repairs
Tow strap
More extensive first-aid kit
Of course, if we're traveling by air, none of this does any good, as the vehicle's basic load gets left behind. In that case, all we're really bringing along is survival kits of one sort or another. So the real issue isn't the emergency gear that's intended to take care of vehicle emergencies or even the first-aid kit; it's what sort of survival gear are you taking along?
Packing for Survival
Packing a survival kit when you're going on vacation may seem a bit extreme to some; but the reality is that there are a lot of situations where that survival gear might come in handy. Every year there are people who die or suffer great hardship, while on vacation, because they don't travel prepared.
What was that cruise ship that lost power and was adrift for a few days before anyone could get there? Actually, there have been a few of them. Some have been bad enough that the plumbing was backed up and sewage was running down the walls. Others left the people without drinking water. Still others turned into stifling hot ovens, when the air conditioners couldn't be used.
Then there are people who get lost in the woods, end up with hypothermia or suffer severe accidents while on vacation. The reality is there are lots of dangers out there and going on vacation doesn't get you away from them, it often takes you right into them.
But that's not the only reason to carry a survival kit along. The other reason is to take care of those annoying day-to-day problems which happen while traveling. I can't count how many times I've gotten into my kit because I needed to open a can of food, needed a spork, had to light a candle or needed a quick needle and thread to repair what I was planning on wearing. Life's full of those situations, so we might as well be ready.
It's amazing how many of the things we carry for survival can be useful for other things as well; just dealing with the vagrancies of life. Having the means of dealing with those things can make the difference between a minor annoyance on your trip and a problem that's serious enough to destroy it.
What kind of kit do you need?
Personally, I have three basic different levels of kits that I might use for travel; the same three levels of kits that I might use for other things. They are:
Survival kit – About the size of a thick paperback book, this has all of the absolute essentials for survival.
EDC bag – My favorite kit for traveling, this is housed in a cross-body bag and contains a more complete survival kit, as well as emergency food, a small first-aid kit and a number of other useful devices to help with day-to-day problems, such as phone chargers, a small sewing kit, stamps, scissors and safety pins.
Go bag – This is essentially a bug out bag, even though I don't call it that. It is contained in a tactical backpack and has all the gear I need for surviving an extended period of time, as well as several days worth of food and the means to fish and trap additional food. I pretty much always bring this with me, when traveling by car.
One of the keys here is that my EDC bag and Go bag aren't built just for survival, but rather to deal with any sort of emergency I might encounter. So, while my Go bag would work fine as a bug out bag, it also contains a number of things that most people wouldn't bother carrying in their bug out bag. That's because I've expanded the definition to include any other sort of difficulty, emergency or problem I might encounter.
The point is to make sure I have whatever I might need to deal with whatever problem I might encounter; not just have what I need to have in order to survive. I want to be able to eliminate problems, so that I can enjoy my trip. That's a bit more extensive definition than just survival. So, these kits also include:
Faucet keys – for getting water from public or commercial buildings
Breath mints and chewing gum – because they are always nice to have
Sewing kit – clothing isn't particular about when it tears
Safety pins – ditto
Spare glasses – I can't see well without mine, so I always want a spare pair on hand
Prescription medicines – because I need to take them daily
Over the counter medicines – I'm ready for anything from diarrhea to allergies
Rain poncho – always a useful thing to have on hand
Pen, pencil & paper – never know when you need to take a note or leave one
Eraser – to go with the pencil
Phone chargers & recharge battery – it seems like the time you need it the most, is the time you don't have it
Extension cord – yes, I really do carry this around; you'd be amazed how useful they can be when traveling
Protractor – for use in making resections on topographical maps
Emergency money – nice to have a stash if you lose your wallet
Laminated emergency phone numbers – nobody seems to carry real phone numbers anymore; but they're invaluable if your phone dies
Latex gloves – for handling messy stuff
There are probably a few other things I'm missing from this list, especially in the case of my Go bag. The point is that I add just about anything I can think of, which will help me solve a problem. Since I am not using this as a bug out bag, I'm not as concerned about weight as most people. So I can get away with adding those extra things; and as you can see, none of them are very big or heavy.
This Timeless Collection of Forgotten Wisdom Will Help You Survive!
Granted, taking my EDC bag along when I'm traveling by air means that a good chunk of my suitcase is taken up by it. But I've got a big suitcase, so that's not a problem. Besides, I'm a man, so I usually have plenty of space left over anyway. My wife might not have so much.
If I'm not traveling by car and I have any way to do so, I will also carry a trauma first-aid kit. The kits I make are built into a shave kit, because it gives me lots of dividers for organizing things. My Go bag already has these items, but my EDC bag does not. So I like to bring it along, if I can.
You never know when you're going to encounter someone who has an accident. Even if I don't need it for me and my family, but can help someone else, it's worth it.
In a way, this is nothing more than taking the basic concepts of prepping and applying them in another area. As I said, I'm not just looking at survival here; but also dealing with life's other problems. Doesn't it make sense to be prepared for them as well? Won't it make that trip more pleasant, rather than having it ruined by some problem you're not ready for?