Combat Meets Urban Survival!
The TOPS Knives C.U.T. 4.0 comes from Joshua Swanagon, who is no stranger to TOPS. He designed the Backwoods Skinner for TOPS years ago, influenced by the Alaskan Ulu knife. His C.U.T. 4.0 is a dual-purpose knife suitable for self-defense, urban, and wilderness survival. C.U.T. is the acronym for Combat Utility Tool!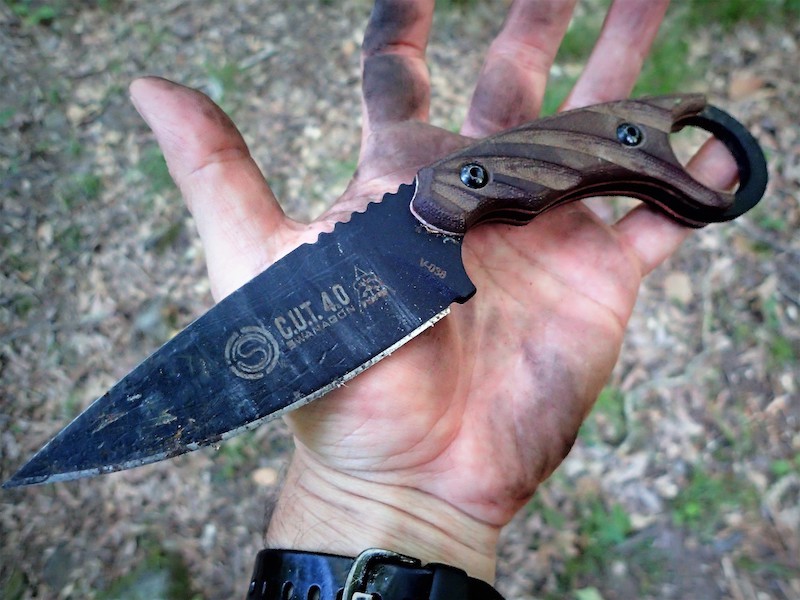 Idaho Made
TOPS Knives has collaborated with experts and professionals in various fields to put their years of experience forward and design knives for them. This roster of designers includes firefighters, martial arts practitioners, military, search, and rescue personnel, hunters, law enforcement, survival practitioners, trackers, and various professional outdoorsmen.
It is amazing how approximately 24 years ago, a new American knife company exploded onto the scene with black-coated, heavy-duty knives with saw-backs called the Steel Eagle. I knew I just had to have one. TOPS Knives is based in Idaho Falls, Idaho, headed by President Leo Espinoza and general manager Craig Powell. They have been in the game since 1998 and are going strong.
Making the C.U.T.
The knife features black traction coated 1095 carbon steel, with a Rockwell hardness between 56-58. The handle scales are tan Micarta with a unique pattern. I've heard Joshua call it a sunburst pattern, but it seems like TOPS has it officially listed as the Dragonfly Tread pattern.The actual cutting edge is 4-inches long, hence the 4.0 name. Joshua went with a saber grind, which gives the knife some nice lines, and V-grind for the edge. The C.U.T. 4.0 has a total length of 8 ½-inches, with a 4 1/8-inch long blade, full tang construction, and 3/16-inch thick stock.
Taken from Joshua's extensive martial arts background, the curved handle and ring of a karambit design were used on the C.U.T. 4.0 to provide superior comfort during combative use. This knife style is known as kerambit in its native Indonesia. It is called the karambit in the Philippines and most Western countries. The karambit style knife is held with the blade pointing downward from the bottom of the fist, usually curving forwards but occasionally backward. While it is primarily used in a slashing or hooking motion, karambit with a finger ring is also used to punch the opponent with the finger ring. The flexibility of striking methods makes it very useful in self-defense situations. The finger guard makes it difficult to disarm and allows the knife to be maneuvered in the fingers without losing the grip. The ring is large enough to accommodate a thick work glove or cold weather gloves during winter. The oversized ring also makes a good hammering surface, both to hammer with and strike this area with a mallet or chunk of wood to hammer the blade into something.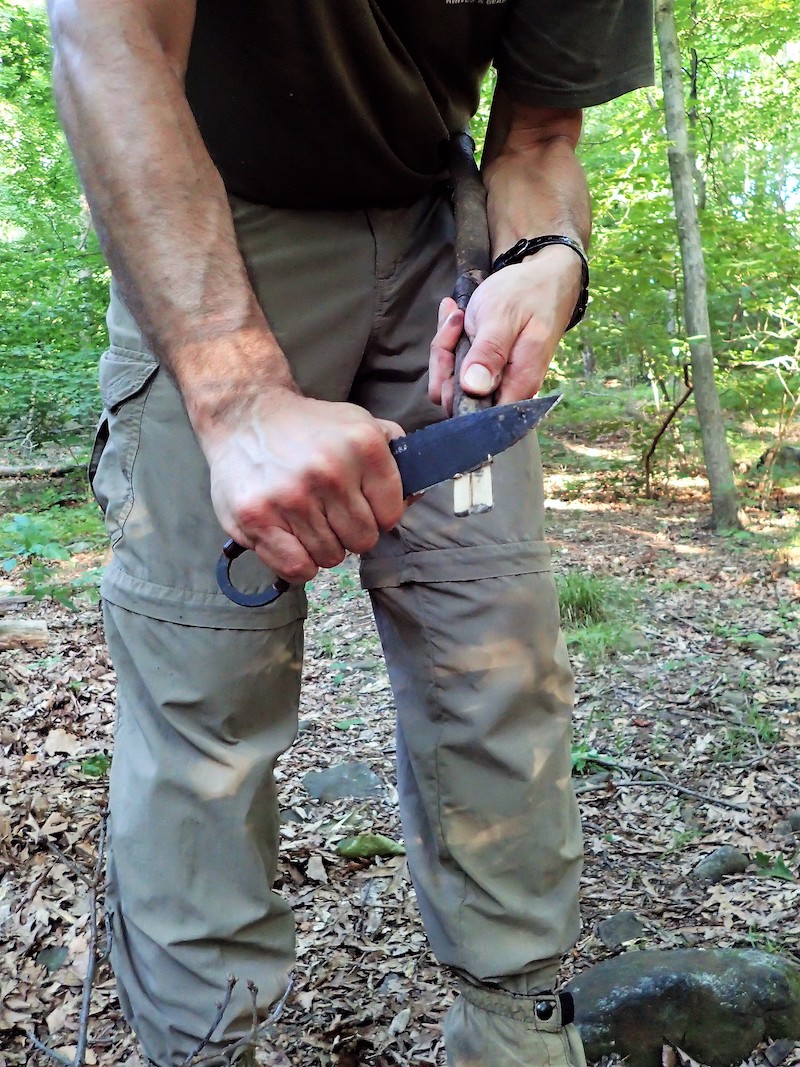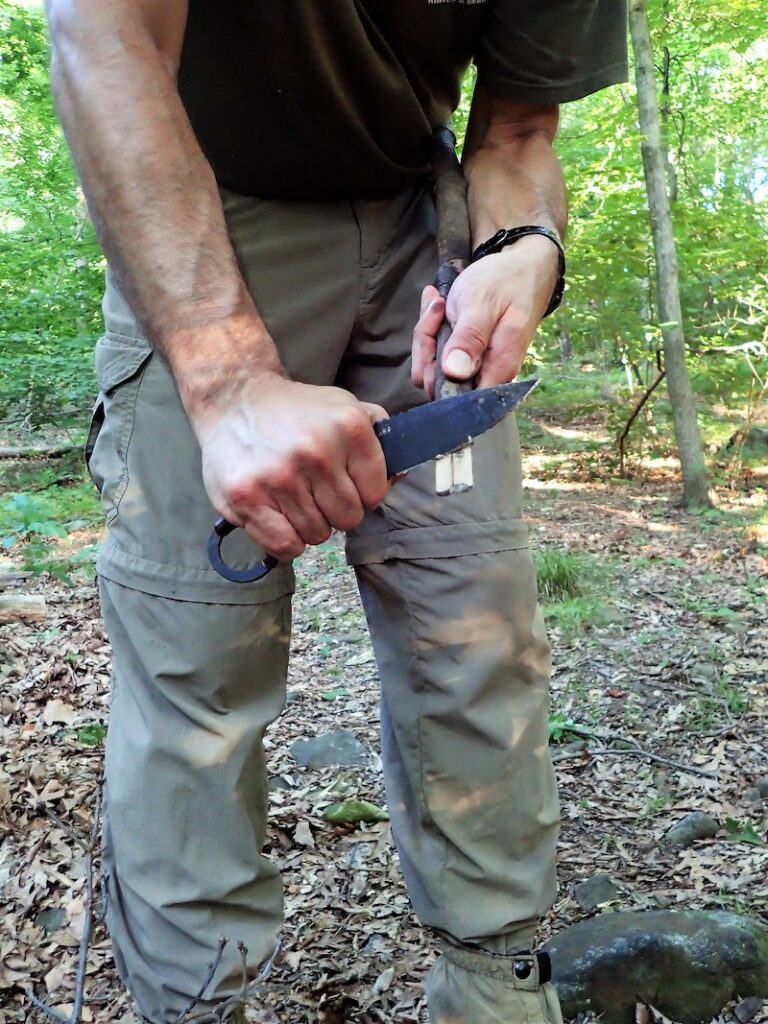 The sheath features one-way directional snaps that can only be opened in one direction, called, Pull-The-DOT. The sheath is set up from the factory for scout carry (horizontally), where it can be deployed in a reverse grip or cross draw position. However, the sheath system allows for many different carry styles and is made from Kydex. The total weight is 9 ounces with the sheath and 6.3 ounces for the knife.
Combat and Urban Survival
One of the main features that stood out to me was the knife's sharp point. It just screams to be stabbed into something. Towards the tip, there is a nice taper, which aids in penetration as the 3/16 inch-thick steel gradually gets thinner, resulting in a sharper, yet strong point. It was designed to pierce through heavy clothing and body armor, so I took advantage of this opportunity when I found an old ammo canister in the woods. I stabbed it through as hard as I could, then used a piece of wood to baton the back of the knife (pommel) on the ring part of the handle to really drive it in. I gave it a few aggressive tugs in all directions to see that would happen. Most people would cringe at this, but I knew better; besides—it's a TOPS!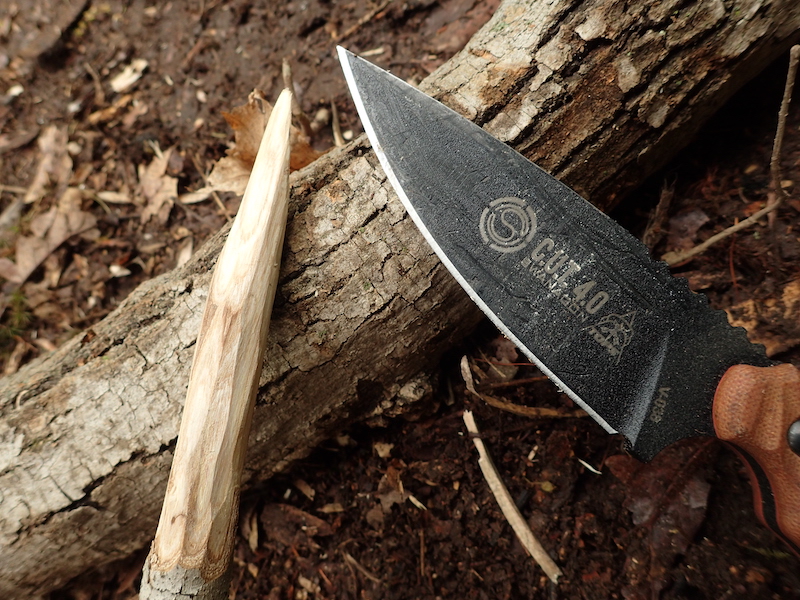 The next test was more in the realm of urban survival as I got a metal coffee can to make a wood-burning hobo stove. I cut a triangular section out of it using the C.U.T. 4.0; this was harsh and grueling, more for me than the knife. I used many different grips to get through and cut the correct angles. All were pretty secure in my hand due to the dragonfly handle pattern and, more than usual, aggressive jimping, which I normally don't care much for on a knife. After quite the undertaking, I wanted to see how the edge would fare on a few more survival tasks like making tinder and kindling for the hobo stove, in addition to carving a simple point on a hardwood stick. After the abuse the edge took, I was curious myself. As I suspected, the initial sharpness of the edge was gone, mainly due to the metal cutting of the hobo stove and ammo can I pounded the blade through. However, the edge geometry made the next task easy and painless. I made a few feather sticks from dead maple because the woods were saturated from heavy rain. First, some thicker feathers for kindling and some very fine shavings for tinder. The knife performed well and was also used to strike the Ferro rod. I put a point on a piece of maple for some pilot stick digging while I was setting up a cooking rig. Putting a point on a stick is a simple yet useful practice for making stakes, roasting sticks, and a self-defense spear. A few minutes in and out of coals will draw out the moisture and naturally harden it. All this was done before sharpening it at all.

Field Verdict
The black coating did a great job protecting the blade from the elements as it was initially left out of the sheath, completely exposed to rain and humidity. I put it back inside the sheath a few days later but didn't take it out of the camp. At the end of the testing phase, the knife had lost a very small amount of the tip from the metal ammo canister, and the edge had a few places where it had suffered some microchipping, which could be expected from this kind of abuse. However, this is what it's designed to do—hard work. The relatively medium Rockwell hardness helps when touching up these minor flesh wounds. After light sharpening with a Smith's fine diamond steel, you'd be hard-pressed to find any traces of it being pounded or cutting through metal, except for the scratches and wear marks on the coating, which I like. It says, "I was used hard!" Besides, this is a hard use tool, and it acted accordingly!
Behind the Design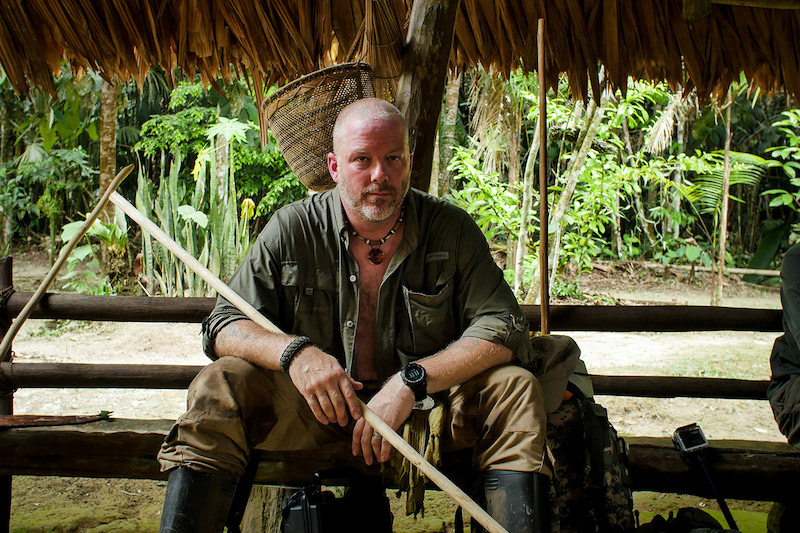 Joshua Swanagon has studied survival in both urban and wilderness environments in Colorado and Michigan for most of his life while also adding experience in harsher terrains abroad. Over the years, he has utilized his experience and years of diverse martial arts and combatives training, as well as real-world application, as a self-defense/combatives instructor, published freelance writer, and Field Editor for various leading magazines – in the fields of knives, survival, self-defense, and tactical subject matters. Joshua also utilized his years of experience as a field editor and Subject Matter Expert for Knives Illustrated Magazine and Knife & Gear Society. He is now the Digital Editor for Personal Defense World Magazine (PersonalDefenseWorld.com).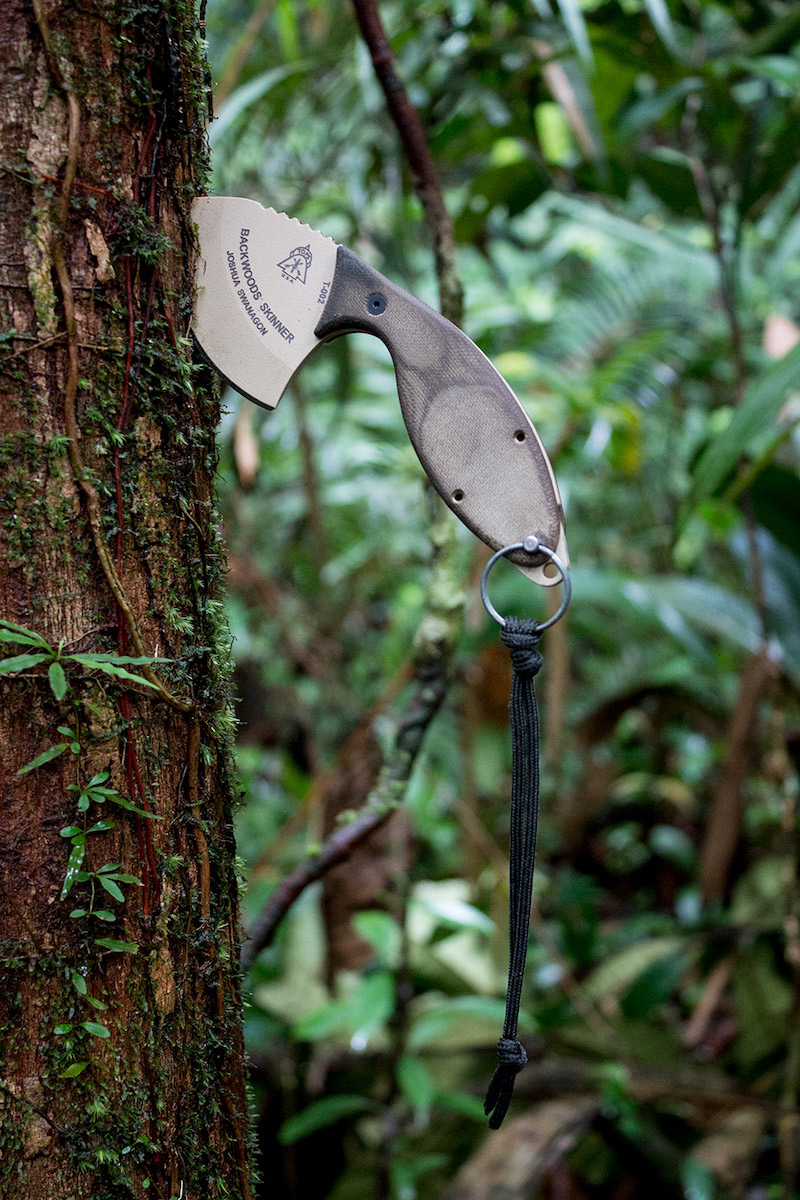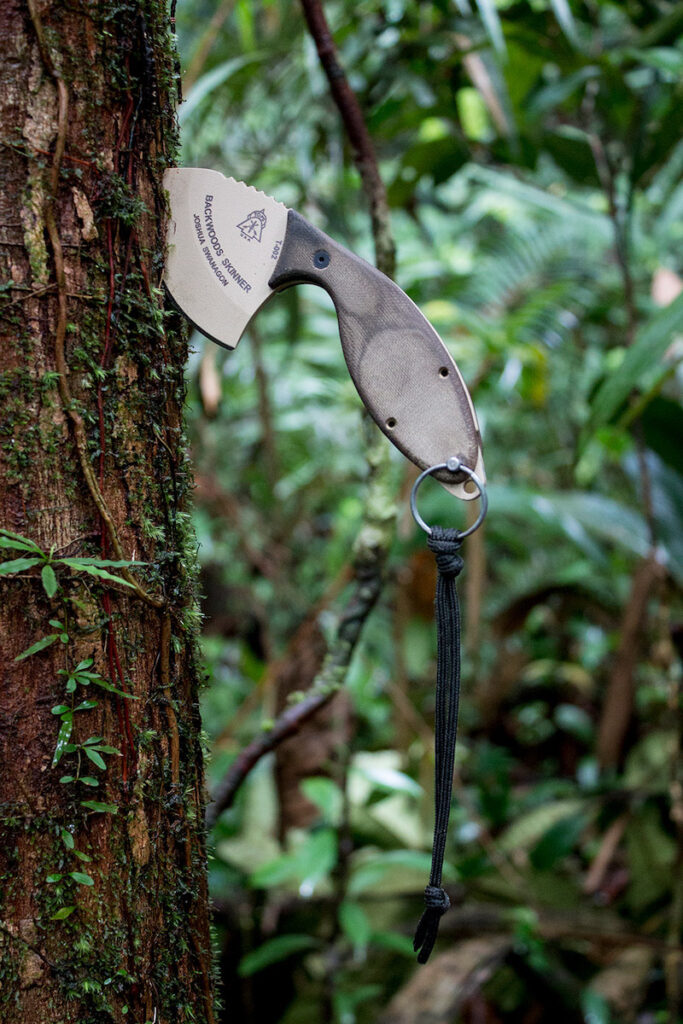 Having known Joshua Swanagon for several years, I asked him what other tools he would team the C.U.T. up within the real world. Joshua said, "For self-defense, I would pair a good, concealed pistol with the C.U.T. as it would be the backup for weapon retention, etc. For field use, I am a fan of a modified Nessmuck trio. So, I like to pair the CUT with a saw and an axe/tomahawk for field use. As with any knife, I also like to always have a small sharpener in my kit so I can service my knives when necessary, even if I am in the field."
Regarding what prompted him to design the C.U.T. for TOPS Knives, he said, "The CUT was the result of my love of both self-defense and the outdoors. I am a fan of the karambit, but they are not very useful in the field. The truth is, most people never really use their knives for self-defense or combat. This includes almost every single military and special forces personnel I have spoken with over the years. When I asked them what they use their knives for, almost every single one said the same thing, "opening packages, general fieldwork, and other menial tasks." So, I wanted a good knife that military and law enforcement could adopt that would work well for both field and combat use. It had to excel in both.
Conclusion
I can see how the TOPS C.U.T. 4.0 would fit in with martial arts enthusiasts, law enforcement, military, escape & evasion, survival practitioners, or the great outdoors. Joshua put a lot of time into his design, and TOPS Knives did a great job executing it. I am looking forward to the next design Joshua comes up with, and I sure hope it's a TOPS Knife!
The author pounded the C.U.T. 4.0 into a metal ammo can with the help of a wooden baton. The knife pierced deep into the canister with minimal edge damage.

For urban survival, the author made a hobo stove with the help of the C.U.T. 4.0 to pierce through the metal coffee can and cut an opening.

A heavy wooden maul was used to pound the pommel ring into the wood to 'chunk out' fuel pieces.
Sources
TOPS Knives