When the words "emergency childbirth" come to mind, you may think of old television shows where mom is in labor in the bathroom while her older child is coached with step-by-step childbirth instructions by a 911 operator.
While these scenarios do happen, they are few and far between.
Either way, if you are an expectant mother, the possibility of this happening to you has probably crossed your mind. First of all, as a mother who has given birth to 4 children naturally, let me tell you that the likelihood of an emergency childbirth situation happening to you is very low. Second, let me assure you that should childbirth happen this quickly, it's usually indicative of everything going well (unless the baby is not at full term).
3 Second SEAL Test Will Tell You If You'll Survive A SHTF Situation
If you're already in the pushing stage of labor, and trying to decide whether to jump in the car and frantically speed to the hospital or birthing center, versus delivering the baby at home, the safest choice is to stay home. (especially, if you, the mother are at home without another adult! Please don't make the foolish decision to try driving while in labor!)
The dangerous possibilities of being killed or injured in an accident, especially while speeding, vastly outweighs any possible danger of a medically unattended childbirth. Also, you are running the risk of your baby being born in the car before you arrive at your destination. Even with another adult, the accompanying person will be driving and won't be able to assist with the childbirth.
Women planning to deliver at a hospital or birthing center often fear rapid, sudden labor or rush hour traffic preventing them from reaching their destination on time. Women planning to give birth at home often fear that their midwife or husband won't arrive in time to assist. Regardless of where you choose to give birth, talk to your doctor or midwife about your fears. They are familiar with these concerns and will give you a few easy to follow instructions that will help calm your nerves in the unlikely event that this happens
What to Do In an Emergency Childbirth Situation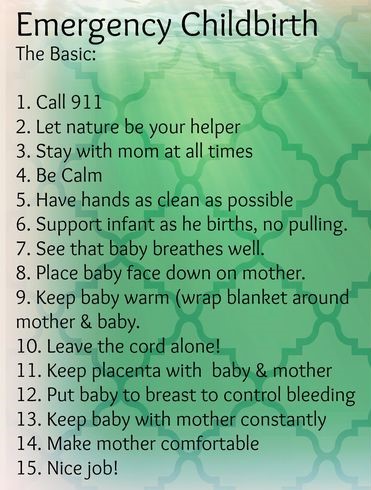 Medical professionals are trained through instructions that read more as a guidelines of what not to do. This is because natural childbirth is an extremely normal event; a woman's body instinctively knows what to do.
First, don't panic.
Remain calm so you can focus on the birth, even if you are giving birth alone.
If you are able, call 911, and your doctor or midwife. If you are driving, safely pull over and turn on your hazard lights. Do not speed. Do not attempt to continue driving. You're much safer giving birth in the car while it's completely stopped!
If you are attending the birth, gently remind the mother to pant, or to only push gently with each contraction.
When you begin to see the baby's head, gently place your hand on the head to give it support. Remind the mother to continue to pant during this stage to help avoid tearing. If you're giving birth alone, simply place your hands over your baby's head as best as you can.
Never pull on your baby's head or their body! Let your body and baby do the work. Your body will gently guide your baby out. Use caution. Babies are slippery!
When the full head of the baby is out, stroke gently downward on the nose to help expel excess mucus and the amniotic fluid.
After baby is fully delivered, lay baby on mom's bare skin, with baby's head positioned slightly lower than its body (to continue draining mucus and fluid). Cover both mom and baby with clean, dry towels or blankets.
DO NOT cut the cord. Baby can safely stay attached to the umbilical cord indefinitely. Medical personnel will arrive with proper clamps and the sterile equipment needed for this. However, if you absolutely must cut the umbilical cord, first, dip scissors thoroughly in rubbing alcohol. DO NOT attempt to cut the umbilical cord without clamping it or tying it close to the baby first.
Clean, new dental floss or a soft piece of sterilized string can be used to tie the cord. Never pull on the cord.
Normally, mom can push a couple more times to safely expel the placenta. DO NOT attempt to pull on the umbilical cord to remove the placenta. Sometimes it helps for mom to get up and squat or sit on the toilet to help deliver the placenta. Once the placenta is delivered, place it in a bowl or other sterile container and save it for medical attendants to examine. If it doesn't come out, wait for medical help to arrive and assist.
Mom should either massage her own uterus, or let an attending person help do this for her. Mom's uterus should be considerably smaller once baby is born. The uterus should feel like a hard lump inside of her abdomen. If the placenta is still not out, massaging the uterus may help it to expel. It the placenta has delivered, uterus massage will help minimize bleeding. After the placenta is delivered, mom's uterus should reduce to approximately the size of a grapefruit.
Keep mom and baby comfortable and safe until medical help arrives, or until you can reach the chosen birthing center or hospital.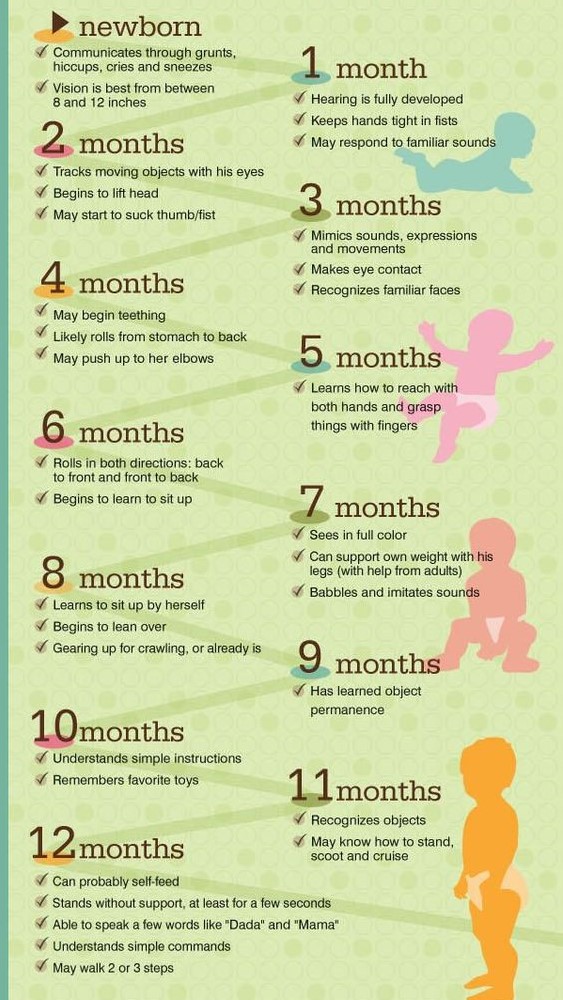 What if baby is breech?
If delivery begins and a leg, foot, or bottom appears instead of baby's head, or if the umbilical cord begins to come out first, home delivery should not be attempted. Mom should instead get into "knee-to-chest" position (kneeling on her knees with the upper part of her body scrunched down — to lower the likelihood of a pinched umbilical cord) and get to the hospital as fast as possible. The baby has to continue receiving oxygen through the umbilical cord until baby is born and breathing on their own. With breech presentation or umbilical cord prolapse, baby's health or life could be in danger. Breech births and cord prolapse situations require immediate medical attention and a possible cesarean section delivery.
In prolapse or breech situations, baby has a better chance of survival when another person gently pushes against baby by holding baby back. With cord prolapse this keeps the baby's head or other presenting body part weight off the umbilical cord so blood will continue to flow through it. With breech presentation, this keeps baby from being delivered without medical attention.
If a breech birth is happening so fast that baby cannot be held back, mom should attempt to push baby out as quickly as she can. Instruct mom to stand up or squat, so gravity will help baby be born quicker. If baby is still not coming out quick enough, the attending person should reach inside mom's vagina, find baby's mouth, and make an available air passageway so baby can begin to breathe. It is also sometimes helpful for the attending person to apply firm downward pressure on mom's uterus to help get baby out.
As soon as baby is delivered to where the cord is attached, you have about 5 minutes to completely get baby out safely. Do not tightly grasp or pull hard on baby as this causes more damage than breech birth.
While the thought of attending a breech delivery sounds frightening, remember that the likelihood of this happening is very low. 98-99% of babies present at birth, head down. Breech presentation is usually discovered during routine prenatal care and birthing attendants usually make arrangements for mother to be in the hospital plenty of time before delivery. Also a presenting leg, foot,or bottom is not as firm as a head. Therefore, breech babies typically require longer, slower labors than head down babies, giving the mom plenty of time to get to the hospital.
When you call 911, you need to give them plenty of information to help you. They will want to know how far along the pregnancy is, your location, and what you are witnessing. If you have someone with you, or you're physically able to reach the door, unlock it. The emergency dispatcher on the phone will most likely remain on the line with you to help talk you through the birthing process if baby winds up being delivered prior to the arrival of emergency assistance.
In his book Emergency Birth, Dr. Gregory White, says, "When in doubt, do nothing." This is the best advice available. Remember to remain calm and do what needs to be done to stay safe.