No matter where you go in the world, rape is about hate and power games, not attraction or love for women.
Unfortunately, we also live in a society where there are not enough consequences for rape, even when the perpetrator is caught.
Surviving a rape, or attempted rape is not an easy task, however knowing what to do is a move in the right direction.
5 Rape Risk Situations
Most women have been taught that it is not safe to travel alone, unarmed, or in places where criminals are apt to be looking for sex. Unfortunately, there are many situations that women don't talk about that are just as likely to result in being raped.
In some of these instances, even if you excel in situation awareness and self defense, or you are armed, it may not be possible to avoid being raped.  If we are to stop the rape culture, we must speak out about these hidden victims and  also make suitable changes to the punishment options for rape.
Date Rape – As the name implies, women that wind up victims of this type of rape know their attackers.  Situation awareness may or may not work to stop this type of rape because the attacker may use drugs or other means to prevent escape.
If you are planning to have a meal during a date, you can use special color changing nail polish or other cosmetics that will change color if a date rape drug is in your food or beverages.  While not all drugs will be detected, you can still avoid some of the more common drugs.
You are Under Age – Both boys and girls can be molested or sodomized in a way that mimics sexual intercourse, if not outright raped in accordance with legal definition.  Depending on the age of the child, they may or may not know that they have been violated or that the person that hurt them is a predator.
Never assume that a child is safe just because they are with family, or the parents and siblings seem like "good people".  Teachers, friends,  and other family members need to watch for signs of abuse such as a sudden change in personality.
Age inappropriate interest or touching of their own or other people's genitals or private areas should also be a flag for immediate referral for gynecological, medical, and psychological screening.
All children old enough to know "good touch/bad touch" should also be encouraged to report any behavior they feel uncomfortable with to the principal of their school, a doctor, or someone else neutral to the situation they are dealing with.
Being in a Gun Free Zone or Section 8 Housing – While gun grabbers won't admit it, women and children in Section 8 housing are in constant danger because the residents are not allowed to own or carry guns for the purpose of self defense.
These houses are so dangerous, apartments are routinely broken into and the residents raped, murdered, and robbed with impunity.  Every woman in Section 8 housing should be marching  across the nation demanding expanded gun rights on the same dates as the students marching and demanding increased gun control.
We must remember, women's lives also matter, and in this case, women must also march for their lives and the sanctity of their bodies.
You Have a Stalker – There are many different degrees of stalking.  In some cases, you may never receive so much as a phone call or other communication before the person comes out of hiding and attacks.  Situation awareness can go a long way to helping you stave off this kind of rapist.
Bear in mind, however, stalkers that intend to rape may spend a good bit of time getting to know your body language, habits, and daily routine.  Sadly, even if you do go to a gun range and carry a concealed weapon, your stalker may still try to attack.
Aside from increasing gun rights for women, and expanding the times when it is suitable for women to fire guns, anti-stalking laws must also be strengthened.  This includes locking stalkers up as if they have already committed a serious physical crime, and then forcing them into lifelong psychiatric care.
Job Related Coercion – As we have learned from the #MeToo movement, this is one of the most insidious forms of rape.  Saying "yes" for the sake of paycheck or holding a job is not yes. Having intercourse with a woman on these terms is still an act of depravity and a dominance game that should have no place in a professional setting, let alone anywhere else in society.
Women that have been raped as a result of job related coercion need to step forward and reveal as much information as possible within their local communities.  Even if the statute of limitations is expired, it may still prevent another women from being abused by the same man, or others in the company that think this kind of behavior is appropriate.
In addition, if you speak out, women that are currently in the situation may be able to prove their case and gain legal relief from their rapist.
How to Avoid Escalating to Rape
Many rape survivors that saw their attackers can tell you that they had a sense that something wasn't right from the very beginning.  If you have any doubts about a stranger, or even someone that you know, it is best to stay away from them, or make sure you are never alone with them.
Once you reach a point where that naggy feeling crosses into awareness that the situation itself is suspicious, it is time to start taking evasive actions. Here are some things you can do to try and avoid rape.
Situation Awareness – No matter where you are or who you are with, you should always know what is going on around you. Use window reflections to spot people that may be trying to stay in your blindspots. Do not be ashamed to casually scan everything around you, including taking a look back.
Stopping to cross the street, or preparing to cross the street can also give you a chance to look around without it being obvious.  You should always be scanning for predators and fully prepared to defend yourself.
If you sense someone is watching you, or you feel unsafe, get into a store or other public place where it will be harder to nab you.
When you are in a spot where you cannot get to a store, take out your cell phone and get a picture of the person.  Next, simply call someone.  Do not hesitate to speak loudly and give the other person a description of the person you think is going to cause a problem.
You can also say you got a picture of the person and have already sent it to their email, or say something else that will make the person know you are watching and they will be caught if something happens to you.  It is very important to say the picture has already been sent to a place where it has been seen, and cannot be deleted.
Otherwise, your potential attacker may decide he cannot back off because he needs to get to your phone and destroy the evidence of stalking or other malicious behavior.
Control Your Body Language – contrary to popular belief, rapists aren't looking for a well dressed woman or one that appears to be scantily clad. In fact, they really don't care what you are wearing. Instead, like any other criminal, they are looking for an easy target.
This includes women that aren't really paying attention, or ones that seem unable to defend themselves.  You should always project a sense of confidence and a willingness to defend yourself. While you should not go so far as to look like you will punch every man in sight, you must still give the impression that you are confident, strong, and alert.
Know When to Draw and Use a Weapon – The moment you feel you are in danger, there is a temptation to draw a weapon. No matter whether you have a knife, gun, mace, or taser, do not reveal the weapon until you are ready to draw it and strike.
Depending on the kind of weapon you observe being carried by your attacker, this distance can be anywhere from a few yards (closing and carrying a gun, knife, bat, or other possible striking weapon) to 5 feet (no weapon observed).  Contrary to popular belief, brandishing a weapon is not likely to stop a rapist.
You will have to commit to using the weapon if you draw it. Unless the potential rapists turns and runs away, do not hesitate to attack with everything you have in you.
Defense Tactics and Tools
In one sense, whatever deters a rapist can be seen as a viable defense tactic or weapon.  You should feel comfortable with what you choose to use, and committed to use it to the fullest force possible.  Here are some skills you can develop and items to keep onhand:
Useful Weapons – even though guns are an important anti-rape tool, you should always have at least one or more backup weapons.  This includes pepper spray, a knife, a taser, and the keys on your keychain.  You should also keep your fingernails at a serviceable length.
I have personally found that 1/8" to 1/4" nails are best.  Nails that are longer than ¼ inch can break or flip backwards when you need them to be at their strongest.  Aside from being painful, you won't be able to gouge eyes or do anything else to harm your attacker.
Nails shorter than 1/8" simply don't gouge deep enough, especially if you manage to get your nails onto the criminal's bare scrotum.
Self Defense Classes – these are very important for helping you learn effective body language and what to look for in a potential attack situation.  Self defense classes will also give you a chance to learn and practice important moves such as breaking a stranglehold, kicking, rolling, and punching maneuvers.
Video First Seen On: IDF Training
Vital Areas to Target – A great deal will depend on the weapon you are using and what the attacker is wearing. If you pulled a gun, aim and fire at your attacker's center of mass.  If you have to fire a second time, aim slightly higher.
When using a knife, go for any exposed skin, or through the thinnest garment.  Next, go for the throat, face, and eyes unless you have good access to the abdomen or other area that will bleed well.  Pepper spray, mace, and other sprayable weapons should always be aimed at your attackers face and eyes.
Smaller devices such as fingernail files, keys, and your nails are always best directed at the attacker's eyes, behind the jaws, neck, and any exposed skin.  In addition, if the attacker has his pants off and you have, or can get one of your hands free, do not hesitate to sink your nails deep into the attackers penis or scrotum and try to tear the genitals right off.
If possible, dig upward near the inner thigh to inflict as much pain as possible.  Alternatively, if you cannot get your arms free, try to maneuver one of your legs so that you can jam your foot into the attacker's genitals.
When actively fending off a rapist, sadly, our laws do not not allow women to kill.  Unless you can prove you were afraid for your  life, you may wind up being prosecuted for, at a minimum, manslaughter.
Make sure that you know the laws in your locality, and make sure that you practice all defensive moves so that you can have as much confidence as possible.  You will also need to include adrenaline management training so that you do not wind up losing control of yourself and are unable to stop your own attack once the threat has been sufficiently neutralized.
Last Ditch Efforts and the Decision to Survive
No matter how hard you fought, or how you got into the situation, rape may be inevitable.  That moment of knowing is easily one of the worst you will ever face; not just because it is in your awareness, but because it is a shared knowing with your attacker.
Every rape victim, regardless of their age or gender, will come to their own answer in that moment about whether they would rather live or die.  And just as sadly, that decision will not be up to you alone, but up to your attacker.
Once your attacker has gotten to a point where you are unable to stop them, they aren't necessarily able to stop themselves.  Since they are still looking for control and dominance, you can try to break through their delusion by laughing as loud and hard as you can.
It may cost your life, or it may just shock them long enough for you to make a last ditch effort to escape.  If you are committed to dieing during a rape, this last ditch move can, in fact, cause your attacker to kill you either before or after the rape.
It can also save your life if you are just as determined to kill your attacker any chance you get.  Do not underestimate the power of your own body once you break through the fear and are committed.
#MeToo and What About You?
Picking up the pieces after surviving a rape is difficult in a society where women and children are not encouraged to speak out, and when they do, the law's response is insufficient at best.  Here are some things every woman should advocate for, as well as every man that cares about the women in his life:
Demand increased gun rights and training for women – rape is carried out by people seeking dominance and control over someone they have no right to exert this kind of authority over. Guns, on the other hand, are the ultimate symbol of power.
When a woman has a gun and is trained to use it, she is on par with every man that wants to hurt her.  This is why gun control, which serves to interfere with any woman's intent to own and use a gun is a flagrant and abusive endorsement of the rape culture.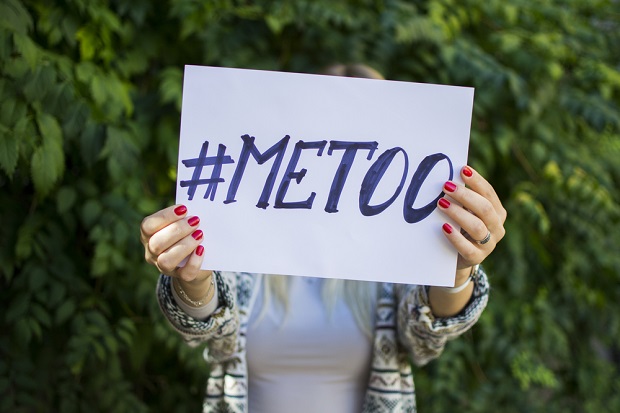 ©shutterstock.com
Not only should all women have the option to own a gun without permission from a largely male driven government, women should be able to use a lesser standard for when to fire.  Instead of just firing when there is a tangible fear for loss of life, women should be allowed to legally fire and kill when they feel threatened in any way, shape, or form.
This is the best and fastest way to deter rapists, domestic violence, and ensure that women achieve suitable equality and keep it under the law.
Demand justice – When women are raped, they are encouraged to go to the emergency room and seek treatment. This includes trying to get samples of semen, blood, or other bodily materials that may have come from the rapist.
Sadly, the infamous "rape kit" is only the beginning of a long, heartbreaking process through the "justice" system. In some cases, the rape kits may not be processed for weeks, months, or even years while the rapist remains free.  Now is the time to gather together and march for justice, and to demand increased resources to prosecute rapists.
Demand the right to kill rapists in action – this is the most important right that women today must fight for. If a woman successfully staves off a rapist, she should not be expected to simply let him get away and wait for the police to capture him.
Rather, every woman and child (if they are able) should have the legal right to fight the rapist until that criminal is dead.  As noted above, protest must be vigorous and men in government must be made to change the laws to favor women.
Demand castration for rapists – While Islamic culture has its share of bad points, they do allow for men who rape to be castrated.  Quite frankly, I can think of no better punishment for a man that uses his penis the wrong way.
We must advocate for physical (not mere chemical) castration of convicted male rapists.  In addition, it would be a good thing if the woman who is raped could wield the scalpel (with doctor supervision).
Even though the legal definition for rape is very specific, the ways in which non-consensual intercourse occur are not always easy to define or prove.  Typically, the criminal will use all kinds of excuses including "she wanted it", "she needed to be taught a lesson", or "she was dressed for  the occasion".
While we are all familiar with these excuses, they can sometimes mask our understanding of what rape really is and what makes it so popular in modern culture.
Whenever you look at an excuse for rape, it is best to define it as a non-consensual sexual act carried out by a pervert (regardless of gender) seeking dominance and control over someone they perceive as weaker than themselves.
Once we look at rape for what it really is, it becomes clear why gun control encourages, endorses, and magnifies the rape culture.  It also becomes easier to figure out what makes you a higher risk of being victimized, what to do if you wind up in this situation, how best to survive it, and how to go on with your life.