When it comes to prepping, people are usually obsessed with storing food and ammo like they're going to ban then tomorrow.
Basically, 90% of all preppers I know are all about storing canned beans and .22 ammo. Boxes of it. Okay, I don't have anything against storing ammo, as I am of the opinion that following a major SHTF event, ammo will be more valuable than gold. At least in extreme cases. After all, you can't eat gold, or hunt your food with. Not to mention self-defense and things like that. Okay, maybe you can hit someone with a gold-bar and knock him out cold, but I wouldn't recommend hoarding gold for self defense.
Joke aside, today's article is about survival fuel.
Yes, you got that right: in a survival scenario, food should be regarded more as a fuel than as a food, and your disaster supplies should contain high-quality (as in nutrient dense) foods. Just like a racing car requires high octane fuels, one's body would do way better with survival fuels in a crisis situation, compared to, let's say someone surviving on canned beans and stuff like that. Again, I must tell you, I have nothing against canned beans, and I am aware of the fact that people store this stuff enthusiastically.
My point being, not all survival foods are created equal.
Moreover, in a survival situation, you should try to provide your body with the most nutrient dense foods possible. High quality food, referred to as survival fuel, will make all the difference in the world when it comes to helping you get through an ordeal with flying colors. Being well nourished during a crisis would keep your spirits high, along with your strength and stamina. Look at this in terms of optimism and strength, compared to being barely capable of functioning. On beans, that is. You see where this is going? You are what you eat, and in a survival situation, you'll not be able to be all you can be if you don't provide the adequate fuel to your inner engine.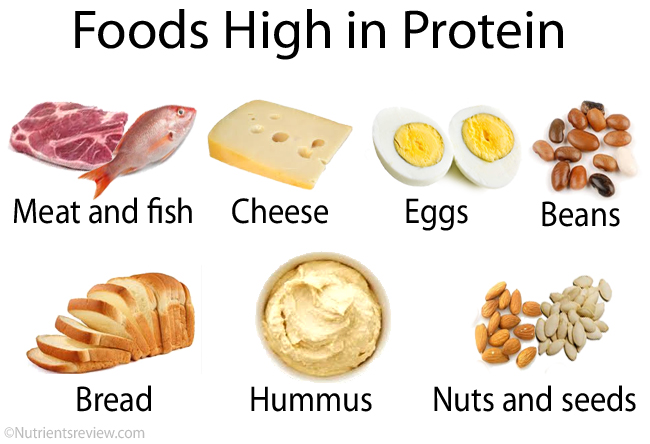 The first thing you must learn about survival fuel is that your body needs protein, especially in a crisis scenario, when there's a lot of stress (both physical and mental) involved. Protein is the building block for our muscles, and it sustains cellular growth on a molecular level. To make a long story short, protein is essential for one's general well being. Just ask a professional athlete about his or her protein intake.
Now, the good news is that you can get plenty of protein from both meat and veggies.
However, only meat/eggs/dairy (animal products) contain all the eight essential amino-acids (the building blocks of protein) the body cannot produce on its own, hence they must be provided by our food-intake. These eight essential amino-acids are leucine, isoleucine, methionine, lysine, threonine, phenylalanine, valine and tryptophan. Don't worry, you don't have to remember them all.
Now, the best sources for high quality protein, which means those which contain essential amino-acids, are meat, dairy, poultry, fish/seafood, nuts and oats. I never recommend soy, as I don't regard soy to be proper halal for humans, as in soy it's not fit for human consumption. Soy is very toxic in its natural state, hence soy foods must be processed (via chemical engineering mostly) in order to be rendered safe to eat by humans. Processing aside, soy is a well-known estrogen mimicker and it will mess up one's endocrine system.
Moving along with our story, protein makes for the ideal survival fuel, as it builds muscle and aids with tissue-repair, while preventing you from eating too much, as it gives you that sensation of satiety, unlike empty calories. Okay, you'll also need carbohydrates to function properly, along with your protein, carbs which can be acquired from potatoes from example, or from rice (brown rice is better than white rice, as it's less processed and has more minerals) or the infamous canned beans.
However, carb rich foods like potatoes and rice are mostly empty calories, and they can give you a quick energy boost, but that's not enough. Adequate protein intake also speeds up your metabolism, which is excellent in survival scenarios where you cannot exercise much, not get out, i.e. it prevents weigh-gain due to a lack of physical activity. Carb-rich foods are the opposite, i.e. they promote weight gain, and depress you both physically and mentally if eaten (exclusively) long-term.
During colder months, you'll require an extra protein intake than usual (the body needs more fuel to create internal heat), so consider prepping with foods rich in protein. The obvious question is, okay Chris, what are those? Glad you asked.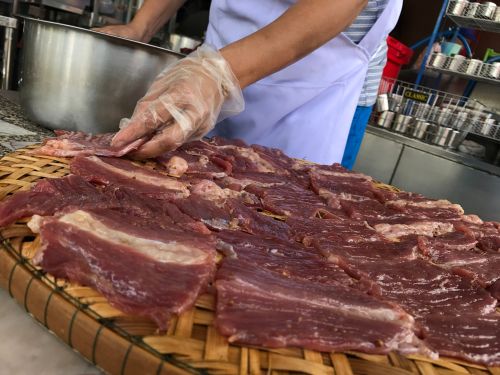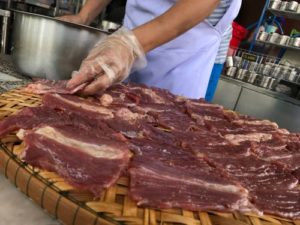 To begin with, there's the always popular beef jerky. It's easy to DIY, lasts for ever if done properly, it's tasty and incredibly nutritious. One ounce of smoked/cured jerky will provide 12 grams of high quality protein, which is quite a lot of survival-fuel "pound for pound", especially if you're going to burn up energy in a stressful environment. Keep in mind that the recommended daily intake of protein for (sedentary) men is 56 grams, and for women is 46 grams.
However, in a stressful situation, you'll require way more than that if you want to be on top of your game. Protein is king for survival, and you should consider at least 1.6 grams of protein per kg, while 2.2 grams per kg is ideal, especially if you're going to be physically active.
Nuts (almonds, peanuts, cashews, walnuts) also make for excellent survival fuel, as they're easy to store, protein rich and nutrient dense. Besides adequate amounts of protein, they're rich in healthy fats and minerals. It's no wonder they're an integral part of the hugely popular paleo-diet.
Now, let's look at "canned proteins", every prepper's dream. The best protein rich pre-cooked/ready to eat survival foods that have long shelf lives, at least in this writer's opinion, are represented by canned sardines, canned tuna, canned herring, canned salmon and, why not, canned chicken or beef. Canned sardines, herring, tuna and chicken are also dirt cheap (especially if you buy them in bulk) and incredibly nutritious. One can live for ever on a sardines-only diet, or so I've heard. Or was it polar bears? Or maybe seals, I can't remember.
However, fatty fish are incredibly nutrient dense foods, and also very healthy. Also, sardines have a crazy shelf-life, compared to salmon or tuna. Which are also way more expensive, especially salmon. PS: stay away from "farmed fish", they're not good for your health.
Protein powder and fruit/granola power bars would make for an interesting addition to one's survival pantry, as they make for awesome survival fuel for emergencies, especially when you need a quick energy boost.
Oh, I almost forgot about pemmican, the classic "native" survival food, which consists of a melange of fruit and dehydrated meat. It's worth mentioning that pemmican is incredibly nutrient dense (it's referred to as a super-food by many), and also has a way longer shelf life than jerky. There are stories about people surviving for months and months on a pemmican-only diet. In good health, that is. And that's why pemmican makes for the ultimate survival food, that can resist indefinitely sans refrigeration, provided it's prepared properly.
Check this out: How To Make Pemmican, The Ultimate Survival Food (Video)
Finally, since you'll also require carbs to function properly, I'd recommend you to store dried fruits, as they make for excellent sources of carbohydrates and simple sugars. I am talking about dried prunes, apricots, figs, cranberries, and raisins. Boxed cereals are also good sources of quick-carbs, and they also have long shelf lives, which makes them ideal for long-term storage.
I hope the article helped. And I hope you'll try to DIY pemmican for your survival stash, eat a little bit and tell us how you liked it in the dedicated comments section below.