Coming July 28-30th, the Ready Summit will feature training from experts in first aid, food storage, water treatment and storage, emergency planning and kits, food preservation, solar energy solutions, home and personal defense and security and of course radio and emergency communications.
It's going to be epic!
Our mission is to help Hundreds of Thousands of Families get prepared without breaking the bank, without buying useless but most importantly, by giving you access to world class instruction, resources and recurring and advanced training.
Normally all of this would be a few thousand dollars in course fees to get access to these experts. Thankfully, through the Ready Summit platform, and for a limited time, it's only $97 per year for full access, which include all of the following: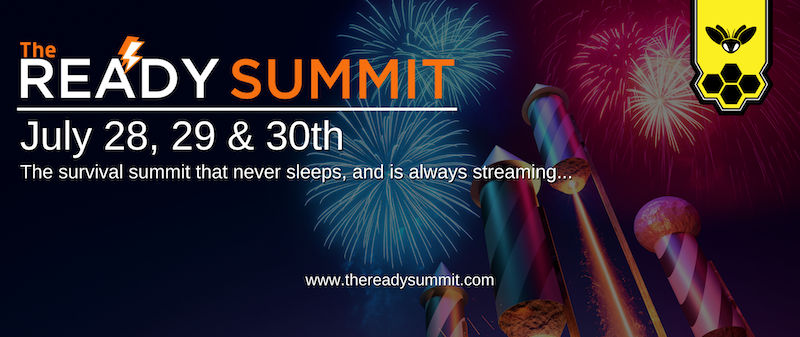 USE COUPON CODE "SURVIVOPEDIA" FOR 10% OFF
What Do You Get?
Six Ready Summit's for the price of one. Every two months we host a new summit
Free download guides, worksheets, and instructionals
Live weekly discussions and Q&A's
Community network – chat with everyone on the platform
Price lock – never worry if the price goes up, stay active, and your price is locked.
Additional Instructionals, Courses and events uploaded monthly.
Event Replay's available the Monday following the Summit.
In this, our inaugural event, we are offering everyone a chance to save BIG. The initial price for all of this is $97 instead of the normal price of $197 which goes into effect August 1st.
Our event will include the following courses and a few more that we are finalizing now.
Preparedness for Beginners – Overview, Planning and Assessment
Food Storage Masterclass
Water Storage and Purification
Off grid cooking methods and instructional
Food Preservation – Canning
Home Security and Self Defense
First Aid Basics for Prepping
Radio and Emergency Communications
Instructors and Speakers