It looks like Global Warming (it's a religion of sorts, hence the capital letters) is on its winter break, as we've already faced harsh winter-conditions in certain parts of North America and Europe, long before the astronomical-winter kicked in.
The thing about astronomical-winter is that it officially starts on December 21st. Scientifically speaking, it's still autumn, and what an autumn this is… But we're digressing. One of the best things about winter is snow, especially if you're a kid. Arguably, snow is the best thing ever invented by God, since, I don't know, sandy beaches and pina coladas.
How would You Survive a Blizzard if Trapped in your Vehicle?
This is a good question by any means, as most of us spend a considerable amount of time in our cars. As I've told you in the beginning, winter came early this year in the US, and the same stands true for the last couple of years, when we were hit by tons of snow and cold-waves, not to mention blizzard conditions in many regions. Heavy snowfall working together with strong winds is a recipe for disaster, especially if you're unprepared for this kind of meteorological event.
And considering the fact that many people in the US are commuters, and blizzards are known for affecting thousands and thousands of miles of roads, ranging from twisty mountain roads to highways and what not, getting stuck in your vehicle doesn't sound like a far fetched theory, at least in this writer's opinion. Our tax-money are generally spent on useless (and seemingly perpetual) wars in the Middle East, not to mention Too Big to Fail/corporate bail-outs, but from time to time, Uncle Sam does something good with our tax dollars, i.e. you can get pretty accurate weather forecasts courtesy of the met-office.
Yes, technology is pretty cool, but meteorologists are known for getting it wrong from time to time. The idea is that they can't make accurate predictions, even on short term, and that includes the actual amount of snow that's going to hit a certain area, not to mention wind speeds (goes to blizzard) or the particular areas where ice and snow will accumulate the most. And yes, that means you'll have to prepare for the worst, provided you don't live in California or Florida.
To make a long story short, let's dig deeper into the fine-details of surviving a blizzard if trapped inside your vehicle. Everything depends on gear in this case, i.e. the quality/quantity of your EDC emergency kit (I hope you have one of those in your car. If not, you should put one together ASAP), together with a little bit of season-adjusted maintenance.
To begin with, with winter upon us, it would be a great idea to first winterize your car, then your personal gear, and finally, your EDC emergency-kit.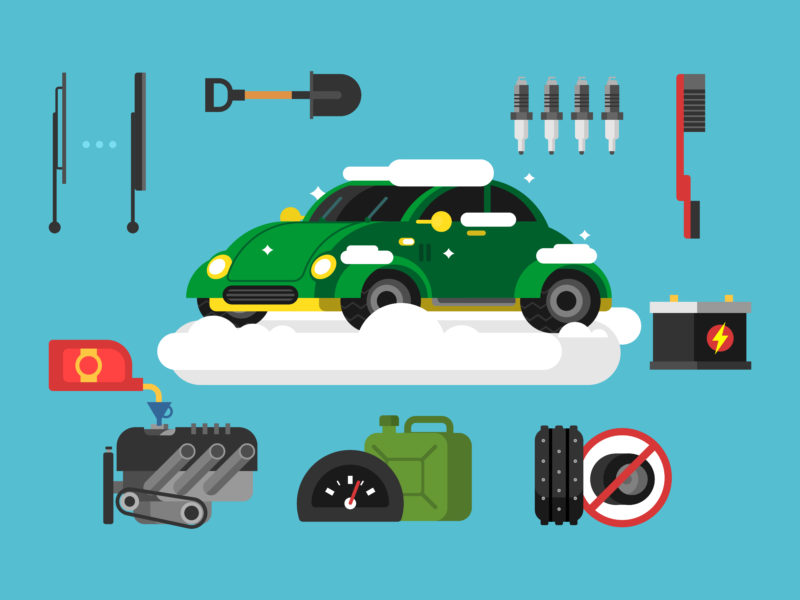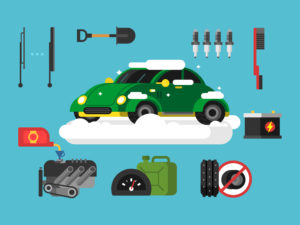 Starting with Your Car
You should check out and eventually change if necessary the essential fluids in your car before the temperature drops, including the oil, the cooling liquid (radiator) and the windshield washing liquid. All these must be properly winterized. Also, don't forget to get your tires and your battery checked. With regard to tires, the best idea would be to use dedicated winter tires, or at least all-season tires, provided there's enough tread left to last you for the remaining 3-4 months of winter, and also check out the DOT to make sure they're not too old. As rubber ages, it loses its properties, hence traction on snow/ice will be gone baby, gone. Regardless of how much tread is left on your tires, if they're older than 5 years, you should consider replacing them.
Traction mats and tire chains would be a nice addition to your blizzard-survival kit, along with tow rope, jumper cables for when battery dies, roadway lights or flares, a shovel (the folding kind, but make sure it's solid), and even a bag of sand (for extra-traction for your tires if you get stuck in the snow and nothing else works). I must emphasize the importance of the tow rope, i.e. you should have a properly rated one, to suit your vehicle's mass.
Personal Gear
Make sure you winterize your EDC kit in your car with extra mylar-blankets, and/or a sleeping bag/a wool blanket. I would suggest you to go for high quality blankets/sleeping bags. Hypothermia is a very serious condition, and you don't want to risk life and limb (literally) by using cheap gear when it comes to surviving a blizzard trapped in your car. Check out your EDC kit and make sure it contains a knife, glow sticks, extra batteries for the obligatory flashlight, matches/BIC lighters, candles, and a metal cup, for melting snow if SHTF. Water is important for survival, yes indeed, especially when it's freezing cold. Cold speeds-up dehydration, check that one out.
High energy foods (calorie/protein bars) and a gallon of water should also be stored inside your car, especially if you're a commuter. Finally, consider packing some extra clothing; at a bear minimum, you should have an extra winter jacket, a hat, gloves and socks. Again, I am talking about quality/water proof winter clothing.
Now, gear aside, here's what to do if blizzard strikes and you're trapped inside your vehicle, somewhere in the middle of nowhere. First, play the CD with Creedence Clearwater Revival, cue Fortunate Son and then: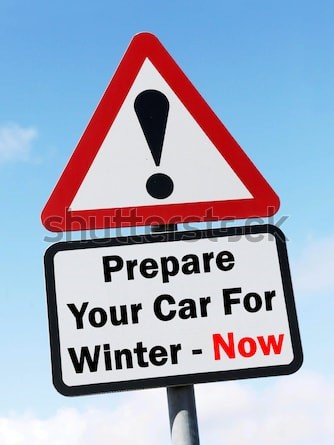 – Keep calm and carry on.
– Stay inside the vehicle, it's much safer and warmer; also, a vehicle is more visible from distance than a person; if you get out in a blizzard and try to find help, you may get lost and die from exposure. And that's not a nice way to go, believe me.
– Don't waste your energy on stupid stuff, just make sure your vehicle is visible, i.e. turn on the emergency lights as you're engine's running, and tie something like a bandanna or something similar, brightly colored preferably, to your roof rack or the antenna. One of those mylar blankets I told you previously could be used as a reflector of sorts if stretched over the roof of the vehicle, provided there are emergency helicopters flying overhead. Or, who knows, Superman, or a friendly alien, of the illegal kind. You can also raise the hood of the car, provided the snow has stopped. Finally, the black plume of smoke from a burning tire (spare tire I mean) can be seen from miles and miles.
– Call 911; yeah, I know, there's probably no signal; however, it would be smart to have a phone-charger in your car, just in case.
– Ration your gas by turning on the engine/heat for 15 minutes every hour or so; as a general rule of thumb, never leave home during the winter without having the tank at least half-full, just in case.
– Use the extra clothing to keep warm for as long as possible without having to turn the engine/heater on, and remember to keep the tail-pipe from getting clogged with snow, thus avoiding carbon monoxide poisoning. It would be smart to have a downwind window cracked open at all times, to let some fresh air in. Your brain requires oxygen to function properly, remember that.
– Even if you stay inside the car, you can prevent muscle stiffening and keep your blood warm and flowing by doing isometric exercises, i.e. moving your arms and legs, clapping/stomping etc; keep in mind that you lose something like forty percent of your body heat through your head. Yes, wear a hat at all times.
– Don't forget to eat/drink from time to time, to keep fueling your body in the battle against cold; however, don't eat too much at once, as the digestive process requires a lot of blood, which means your extremities will get cold.
– If you're not traveling alone, don't underestimate the power of shared body heat.
– Look out for hypothermia, frostbite and carbon monoxide poisoning, if you're stuck in your vehicle for extended periods of time; remember to have a window cracked open at all times, and that would be enough to prevent carbon-monoxide from building up. If you're properly dressed and you keep moving/eating/drinking, as in you're pumped up, fueled and ready to go at all times, you'll be safe.
– Never lose hope, help will come, help is on the way; that's the proper mindset if you're stuck in a blizzard for long periods of time, i.e. stay focused, stay motivated, think positive. Optimism is crucial in "trench warfare survival" situations. Never panic, fear is the mind killer.
I hope the article helped. Let us know your thoughts in the dedicated comments section below. Drive safe and stay safe this winter.