Ideally, those wanting to start carrying concealed should make educated decisions based on their needs and skills.
However, most of them get distracted by the cool gear that comes out every year and often ignore the realistic approach to concealed carry. Along the way, they will make rookie mistakes and the "concealed" factor loses its value.
If you pay close attention to people around you, chances are you will find those carrying concealed firearms. If you have a license to carry handguns in a concealed manner, that doesn't make you invisible to the perceptive eyes of others.

While most of the times you will be spotted by other concealed carriers, there are situations (mostly accidental or involuntary) when you will expose your handgun and all hell will break loose. The last thing you want to deal with is a hysterical soccer mom yelling "Gunman!" in a crowded area. When I attended my first concealed carry class, one of the first things we learned was how and where we can carry concealed.
As a general rule, the training you attend should concentrate and reflect your reality as a civilian carrying a concealed handgun. A good trainer will discuss about your needs and will make you understand you will need to pick the right gun for you even if temptations are everywhere. This means that sometimes you will need to make compromises and sacrificing capacity, accuracy, or stopping power. Going for the bigger and better is not a good option when discussing concealed carry.
Even more, you should stay away from tempting stuff and pick only the right gear for your handgun, the one you actually need. And last but not least, it's all about how you use your head first and make sure you avoid some concealed carry mistakes that seem to have become a pattern.
Concealed carry mistakes to be avoided
1. Wearing inappropriate clothing
This is one of the most common mistakes, and I'm no stranger to it either. At some point, you will wear inappropriate clothes that will reveal your gear. I've noticed this being a common occurrence for fit people. They want to show their bodies, but they fail to consider that tight clothing is not suited for a CCW approach. Every piece of gear that is too tight will create a perfect print of your handgun. Even clothes with a shorted hem are a dead giveaway. You might need to reach something over your head, and the soccer mom mentioned before will notice more than your sculpted body.
If we use common sense and think about the point of CCW, the main idea is to carry a gun undetected and use the element of surprise to your advantage. With that in mind, one should dress accordingly to maximize their lead. When picking up clothes for the day, those items should help you blend in. Nobody should be aware that you are carrying, no matter how much they look at you.
2. Using an inadequate holsters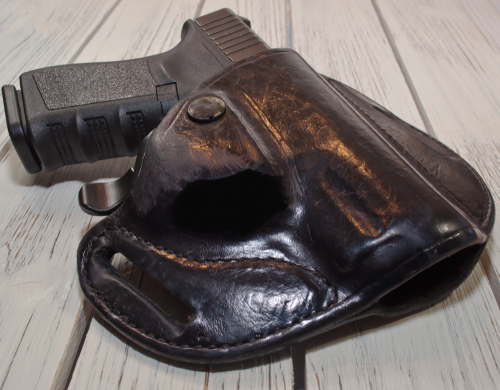 Yeah, this one is another one of the concealed carry mistakes I've experienced. I still have a couple of holsters lying around. When choosing a holster for your CCW, the main thing you should keep in mind is that your gun should always be where you put it and that it should stay there until you reach out for it. A bad combo of bulky holsters and inappropriate clothing will give you a heart attack when reaching for your handgun and not getting it.
As a general rule, every holster you chose for your CCW should completely conceal your firearm, and it should allow you to smoothly and successfully draw your gun from the holster.
With that in mind, it can often be tricky to find the proper holster for your handgun. As you will experience, such an ordeal requires a little bit of research and a lot of trials before picking the holster that works best for you. One mistake you will probably make (just like me) is going online and buying a holster after reading a lot of reviews. Rather than ending up with a cool (but unusable) holster, I recommend you try it before you buy it. This becomes mandatory since not every holster fits properly with your handgun and body type.
Additionally, you should do various drawing and holstering drills with your purchased holster to be sure is the right one for you. Don't forget to try different stances!
3. Public bathrooms and careless carriers
You're probably asking right now; What does a public bathroom have to do with CCW? In fact, it has to do a lot, and it's a common concealed carry mistakes that happens all the time. Folks go in the bathroom stall, they drop their pants and underwear, and that's pretty much all the routine for them. The problem is that some of them don't pay attention to where their inside the waistband holster goes.
Some of them will end up losing their handgun because this drill is a common occurrence everywhere, and they are too distracted to notice other things. Others are much more cautious, and they remove the handgun from their waistband, and they place it in the stall. Even so, some people just leave it there, and they go on about their day.
The bottom line here is that you should always pay attention to where your gun ends up, no matter where you are or what activity you are doing. The last thing you want to deal with is not knowing where your gun is when you are in a vulnerable position.
4. Walking like a string puppet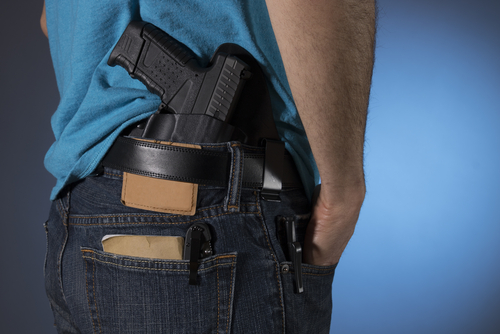 Some people make awkward movements because that's how they are built or they are suffering from some illness, preventing them from moving properly. When it comes to concealed carriers, some of them bend at the knees instead of the waist to avoid printing, and this makes sense if you think about it.
However, walking like a robot with stiff and short moves will tell folks around you that something isn't right about you. Before going out with your CCW, I recommend walking around the house and doing some basic movements just to make sure you can move freely.
You should immediately notice if something doesn't feel right. If that's the case, change your clothes or your holster. Even more, do some bending and/or stretching to check for printing signs. Rather than moving awkward in public and creating unnecessary tension, you should check your clothes and gear before leaving home.
5. Showing what you've got
Nowadays, people are showing off everything they own. It's this crazy rat race that is making people flaunt. Just because you've got a concealed carry badge, that doesn't mean you can flaunt it around or make an arrest. If you are doing so, you are mistaking the principle of concealed carry for something else.
The problem with showing off and doing acts of unnecessary bravery has a lot to do with the "Superman complex" (I recommend reading about it), and it makes people believe they can do justice and save everyone.
Rather than "saving the world," you should use your brain and avoid making a target of yourself. As a quick example, you may at some point, witness an armed robbery. At that time, you will have a strong urge of doing something, and you might feel it inside as the right and "manly" thing to do. Everyone using their head will advise you to double check that instinct of yours before you take matters into your own hands.
Don't get this wrong, I'm not saying here you should ignore the incident or cowardly run away from a developing situation. I just want to make people understand that, in most cases, you can't solve other people' problems and you should understand that your concealed carry is intended to protect yourself and not to enforce the law. You should "do something about it," only if you have proper training and if you know the entire situation will have a positive outcome.
6. Compensation
As said before, people will often choose something that is not suited for their needs. The will pick a gun that it's simply not designed with concealed capabilities in mind. This usually occurs when people go for larger calibres without considering what is actually necessary for them.
Other people will choose all sorts of accessories that hang off their handgun and will eventually end up with a bulky gun. Said handgun will create a noticeable (large) print no matter what they wear or how they move.
The main explanation for this behaviour I think it's of psychological nature. To be more precise, when people are fearful, they will always go for something "bigger and better" and various backups in case their first choice fails them. To avoid this pitfall, people should concentrate on training for various life-threatening scenarios and learn how to act with what they've got. This will dissipate the myth that carrying a gun makes them invulnerable, but at the same time, it will help them gain confidence and discipline.
7. Entering forbidden areas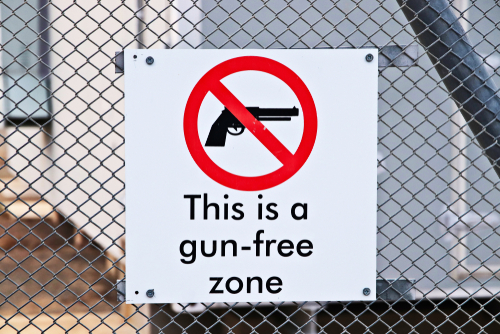 As the anti-gun propaganda continues, there are more gun free zones popping up everywhere since people want to feel safe and avoid the "death tools." One of the concealed carry mistakes that make all of us look bad is people taking their CCW with them everywhere, even in gun free zones.
Now here, the debate is much more complex than writing just a few lines about it. However, my honest opinion is that one should make this "mistake" depending on his or her particular situation. If you live in a community with a low crime rate, you might not need to carry your handgun with you. In fact, this is what it's all about and whether or not you carry your concealed weapon with you depends on where you are going.
Criminals and the bad apples of our society won't give a damn about gun free zones, and they won't avoid such zones just because a sign says so. As for you, a responsible concealed carrier, if you feel that a particular area is not safe, you should avoid that zone altogether. However, if that's not possible and trouble will arise, I honestly believe that the criminal should not be the only one who is armed.
8. Ignoring certain shooting positions
You've got your badge, your handgun, and the proper holster and you know how to use them. However, that's pretty much all for most concealed carriers. One thing often ignored that can get most people in trouble or worse is not learning to use their CCW from various positions, even difficult ones that put them to the challenge. For example, learning to shoot for the underhook hug will prevent your opponent from feeling and reaching your handgun attached to your waist.
My first trainer said something that stuck with me to this day. "If you want to start the CCW journey, you better commit to it and keep your head in the game." This is not something to take lightly, and you need to train regularly if you and to improve your skills. It's an absolute must to try shooting positions that challenge you and make you feel uncomfortable. Regular training will greatly influence the way you react in your daily interactions and when traveling.
A last word
As a general rule, as with everything that is a "sensitive subject," concealed carry requires a lot of common sense, a proper mindset and a certain carrying etiquette. A few of the concealed carry mistakes listed in this article are a common occurrence for some people, and they have turned into a bad habit.
There are some rules we all have to follow and there's no workaround for them if you want to be a responsible concealed carrier. Always remember that using your CCW without a justified reason will get you in a lot of trouble. You will face civil and criminal liability, and even when you are in the right, there's still the possibility of being arrested, indicted or sued in civil court.