In the upcoming article, you're going to discover an utterly-simple shooting system that will double, or even triple your accuracy.
The system requires no special strength, speed, or coordination and works regardless of your age, body condition, or if your favorite weapon is a 9mm or an AR-15. And once you apply it to your training, you'll be ready to face any dangerous situation with the steel-eyed calm confidence of a battle-hardened Green Beret.
Because it's developed around your body's natural reflexes, meaning you'll actually be able to learn in only a few short days what others took years to master.
Why are these techniques special?
These techniques are so powerful and efficient, that until now they were only available for special operations elites like the United States Green Berets, the Navy SEALS, or the Israeli Defense Force – to name a few.
And it took someone on the "inside" to make them available for regular people like you and me.
That someone is Brian Morris. Brian is a weapons and sniper operations expert, and a Green Beret with over 25 years of military and combat experience.
Now in case you don't know, the Green Berets are America's first line of defense around the world. And although their missions are often confused with those of the SEALs or the Army Rangers, the Green Berets are in a league of their own.

You see, I noticed a lot of people claiming to be experts in certain fields without any proof to back that up.
And during the multiple combat tours Brian served across the globe, he "stole" a little bit of shooting knowledge from everyone he met. It's how he uncovered new shooting styles and techniques even US Army instructors don't know. Techniques like:
The "both-lamps-open" doctrine taught and used by Korean Special forces that shows you how to channel your auto-pilot survival instincts and win a few extra lifesaving seconds if you're caught-off guard in a dangerous situation…
Or the down & dirty target drill that can turn even the ultimate greenhorn into an elite shooter almost overnight… this technique alone is a "fail-safe" method for getting pinpoint accuracy, and going from buckshot to bull's-eye on every shot and never wasting a bullet ever again…
Or the technique he "borrowed" from the Israeli Defense Forces – the Instinct Combat Shooting Technique, or simply ICS. And I'm going to let you in on a little secret: Brian even went a step further and enhanced it. That means developing this skill the way he shows it, will feel like it's actually being downloaded directly into your nerves and muscles in an incredibly short time.
What the Instinct Combat Shooting technique is
This procedure is the one the Israeli army bases its advanced marksmanship training program on and it's also the one that sets Israelis apart from all other special forces on the planet.
The ICS method was developed in response to studies showing that when facing a critical situation, a person's nervous system is automatically engaged.
Perhaps you remember how it was during your school years, when at an important exam, you suddenly discovered you only had minutes left, and your hands would suddenly start shaking uncontrollably making it impossible to put down another word.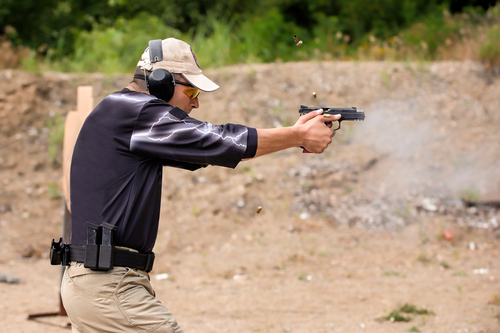 So why does this happen?
To put it simply, it's how we're designed to react when facing a critical situation: our bodies automatically switch to "survival-mode", adrenaline starts pumping., and heart rate skyrockets to somewhere between 150-175 BPM.
Once this happens, we lose control of our small movements of hands and fingers. We also experience loss of near and peripheral vision.
And that's because when we go into "survival-mode", our brain bypasses every non-essential life function. And this is exactly when ICS is most effective.
Turning the Shooting Pocess into a Natural Reflex…
By stopping you from thinking about hitting the target and turning the whole shooting process into one instinctive move.
The purpose of these techniques is to keep you alive in dangerous situations and yet they're unlike anything you'll hear from a regular NRA instructor.
Let me give you just one example of how they do this:
For instance, if you've ever trained with one, you know he tells you to focus on the front sight post or to align the front and rear side aperture and focus on the sight.
And sure, this works like a treat at the range, but in a real-life scenario, the time it takes you to focus on the sight could make the difference between life and death.
So, here's a quick tip for you: next time you shoot a gun, instead of focusing on your sight, try and focus 100% ON YOUR TARGET… and then on the smallest point possible of the target.
You see most NRA instructors nowadays have gotten their license by completing an undeveloped 2-day course.
No wonder the number of so-called certified coaches has skyrocketed recently.
These facts alone should make you wonder:
What is the quality of an instructor's training?
Where did he receive his certifications or knowledge to instruct?
Is he experienced enough to know that what might work for one person will not work for another?
Is this who I want to put in charge of showing me the skills that should save my life?
Given the dangerous times we live in, where terrorist attacks, random shootings, violence and brutality have become part of our everyday lives, can you afford to put you and your family's safety and well-being in the hands of someone who's only experience is shooting paper targets? Criminal activity is at an all-time peak. Home-invaders, looters, psychopaths and thugs are roaming the streets freely…
That's why Brian Morris understood this tsunami of violence that has hit America had no end in sight unless he acted. And he felt it would be irresponsible of him not to share his immense knowledge and experience with those who needed it most… his fellow patriots.
Not a long time ago, Brian went into full "monk-mode" for a couple of weeks.
During this time, he submitted himself to some grueling hours of work sessions with a world-class team of gun nut journalists, editors and producers he hand-picked himself, where he revealed all his closely-held secrets about his new shooting system.
Now, as I said, the members of the team Brian assembled were no rookies, they'd been in the field for decades, and they looked like they'd seen and heard it all.
What they saw was a system that focuses around your body's unconscious movements, which allows you to learn every new skill without any real work or effort.
The system, which Brian named "Spec Ops Shooting: A Green Beret's Guide To Shooting Mastery" can help improve anyone's shooting skills and put them on a fast track to becoming a master marksman with minimum fuss.
But let's take a closer look at what you'll find inside: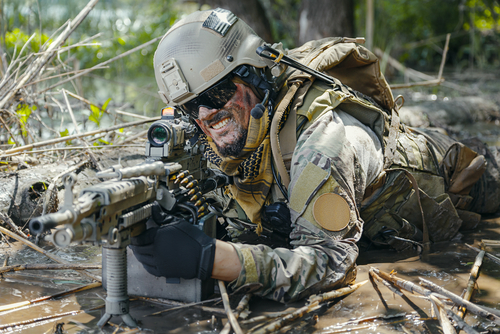 First, Brian will show you how to use the Israeli army signature marksmanship technique – the one method that puts Israeli Special Forces among the best in the world – so you can hit a coin from 50 yards out with ease. Plus, he'll even show you a quick hack you can apply to your training, so you'll actually feel like this skill is being downloaded directly into your nerves and muscles in an incredibly short time.
Right after that, you'll discover one of the closest guarded secrets of expert snipers that will give you laser-like accuracy. This technique is so easy to master that you'll feel like you've secretly known it all along but have failed to take advantage of so far.
Next, you'll find a horrible yet life-saving rule of thumb to follow if you want to keep a clear head and avoid entering panic-mode when facing a dangerous situation – it's one of the key breakthroughs Brian had during his combat tour in Bosnia and one of the reasons why he survived so many close call scenarios…
Furthermore, you'll discover how to maintain flawless accuracy even while in motion. The secret to achieving this is a simple training drill that most instructors consider totally useless and a complete waste of your time.
Then, you'll unearth a hyper advanced aspect of gun training even Army instructors fail to teach. This will give you the ability to sway any situation in your favor… and by learning it, you will feel infinitely more relaxed and confident in your ability to make a quick on-the-spot decision so that you can respond better to high-stress situations.
Plus, you'll discover how to handle a worst-case scenario: an active shooter situation. Your own personal Green Beret instructor will reveal how to crush the disadvantage of being caught a second or two behind the criminal by using your body's reflex movements… and how to conduct yourself in case you're forced to engage the shooter so you avoid being mistaken for him by the police.
Next, you'll get a down & dirty target drill that can turn even the ultimate greenhorn into an elite shooter almost overnight… this alone is a "fail-safe" method for getting pinpoint accuracy. Use it and you'll go from buckshot to bull's-eye on every shot and never waste a bullet ever again.
Additionally if you've ever focused on an object and saw a blurred extra image a couple of inches to the side of the clear one, Brian will reveal how snipers who can hit a target from over 1 mile away exploit this "glitch" to harness unbelievably-devastating accuracy.
And right after that, you'll get to know how you can "expand" your 5 senses, so you see everything happening around you. This trick can virtually grant you almost super-human like ability to predict what will happen next and prepare for it accordingly.
Plus, you'll get leverage secrets known only by Brian Morris himself, that can instantly make your groups go this…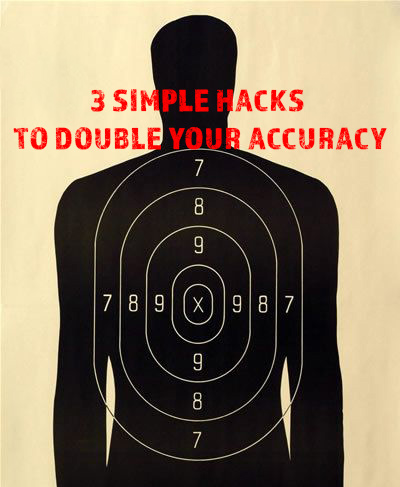 And there's so much more to be found inside the Spec Ops Shooting system, including sensitive details.
Plus, every shooting technique Brian introduces is followed by a detailed training plan to target the development of that specific skill right away. Absolutely nothing has been left out!
You can either choose to develop each skill, one at a time… or you can diversify your training and include multiple routines each targeting different techniques.
As you will see for yourself, what Brian shows you can be mastered in the shortest time humanly possible and yet these essential shooting skills are exactly the ones you could never hope to get out of your everyday instructor.
Here's what Rich Dallas, someone who already saw what the Spec Ops Shooting System is capable of has to say about it:
"I believe this a good sound investment in your personal defense capability. I also believe I am qualified to make this judgment. I'm a former Military Policeman, Expert Infantry Badge Holder, I majored in Criminal Justice and retired as a Licensed Michigan Private Security Guard Contractor and Private Detective. I also completed training as an NRA Pistol Safety Instructor."
Look, you need to realize the information you're about to get was completely unavailable until a short time ago to anyone outside Brian's trusted circle.
So let me ask you this:
What if you had the magical opportunity to effortlessly attain the same shooting skills and know-how that others paid for, by spending years away from their families, in blood, sweat and tears, fighting America's enemies or enduring some of the harshest environments on the planet?
Well, now you can…