Survival "reality shows" would make you think that survival is all about knowing a million ways of turning otherwise useless things into the latest survival gadget.
While those tricks can be useful, survival is actually more about keeping your cool, taking your time to think out your actions, and getting your priorities straight; doing what you need to, before it's too late. A little planning and preparation go a long way towards helping you survive.
This is ever more true when inclement weather sets in.
Surviving on the beach, in the middle of the summer may not being a big deal; but surviving in the woods, when there's no sign of civilization around, is another thing entirely. You've got to survive by your wit and your knowledge, along with whatever you happen to have in your pockets.
For the sake of this article, I'm going to assume that you forgot to bring along a survival kit, for some crazy reason, and all you've got with you is your "walk in the woods EDC."
That should include, at a minimum:
• A good knife
• Water bottle (preferably metal)
• Fire starter
• Compass
I think I should note that I always carry a good knife and a fire starter, as well as a small compass on my key chain, as part of my EDC. While I don't always have a water bottle with me, there are always aluminum water bottles in all my vehicles. I wouldn't leave the car for a walk in the woods, without one.

I also carry concealed, as part of my EDC. So in addition to those items, I'll always have my pistol, along with two spare magazines. While not very useful for hunting, it would give me the means of defending myself from any predators, as well as a means of signaling for help. Three shots, in rapid succession, is the international signal for help.
In today's technologically drive age, you're probably going to have your cell phone with you as well. If you've planned ahead and have it loaded with survival apps and information, that could be useful. But even if it is not, as long as it has power, you can be tracked and located.
First things First – Stop!
There are many reasons why you could be lost in the woods. I got lost once, when one of my companions claimed they knew the way back to camp. Since I was following them, I was foolish enough not to pay enough attention to where we were going, kind of like sitting in the passenger seat, not paying attention to where the driver is taking you. By the time they admitted they were lost, I had no idea of where we were.
As soon as you realize that you're in trouble, the first thing you need to do is stop. It doesn't matter what you're doing or where you are, just stop right there, unless you're trying to cross a stream on a wet slippery log, then you might want to finish crossing first.
There is nothing you can do, which will help your situation, without having a plan of action. Wandering in the woods, hoping you find something, is just going to waste time and energy. Save both by stopping to figure out what's going on.
There are a few key things you need to think about immediately.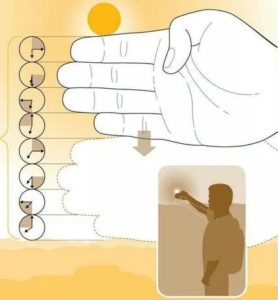 To start with, what time is it? Specifically, how soon is sunset? – You can measure the time until sunset by holding your hand at arm's length. Each finger width that the sun is above the horizon equals roughly 15 minutes. So, if the sun is six fingers above the horizon, you have an hour and a half to get ready for the night. If it is two hours or less until sunset, you need to be thinking about setting up camp, rather than thinking about finding your way out. You're already lost, so what makes you think that another two hours of stumbling around is going to help you all that much Better to use that time to make sure you survive, so that later you can find your way out.
The second thing you need to consider is the weather. How cold is it going to get at night? Is it likely to rain or snow? Are you wet at this time? If you are wet or are likely to get wet, it greatly increases the chances of hypothermia. As you're considering these things, take stock in what you have to work with. Since we're assuming you managed to wander off without a survival kit, that's probably pretty limited. But you're going to have to use whatever you have and what nature provides you in order to survive. You don't have any other option.
Also take a moment to try and figure out how you got to where you are. While you shouldn't try to walk out at night, you want to make sure that you remember any important landmarks or turns you made along the way. That's more likely to happen right then, instead of waiting until the morning to think about it. The very act of remembering them makes the memory stronger, increasing the likelihood that you will remember it again in the morning.
Finally, decide where you are going to set up camp. Ideally, you want to be able to do this without moving very far from where you are. If you do have to move, set up a marker, like a pile of rocks, so that you can find your way back to the exact same spot in the morning. Then, take mental notes about how you get from where you are to where you set up camp.
Establish Your Camp
Your number one survival priority is to maintain your core body temperature. Therefore, you have to establish a camp to see you through the night. More specifically, you need to find or create some sort of temporary shelter, gather enough fuel to see you through the night and start a fire.
Which one of these you do first is mostly a matter of personal opinion. I will normally gather enough fuel to get a fire going and start it first. That way, I'm sure of having a fire. Even if I don't manage to get my shelter finished before the sun goes down, the light from my fire will help me to complete it, as well as keeping me warm while I work.
Don't start your fire until you decide what sort of shelter you are going to build and where you are going to build it. The best place for your fire is a few feet in front of your shelter, so that the heat from the fire can help to warm your shelter. This is more important with an open shelter, like a lean-to, than it is for a closed shelter, like a debris hut. But either way, whatever heat you can get from your fire to warm your shelter, is less that your body has to provide.
Always use extreme caution when starting a fire in the woods. There's a lot of flammable material sitting on the floor of the forest and you don't want it catching fire. Find a flat stone to build it on, build a bed of stones, or clear an area all the way down to the dirt. Your fire will probably still be burning when you go to sleep and the last thing you want is to wake up to find your shelter burning.
If you can, build a reflector behind your fire, so as to reflect more of the heat into your shelter, rather than having it go up in smoke. I like building my fire at the base of a boulder for this purpose, but it isn't always possible to do this. If I can't, I'll try to put together an unmortared, unchinked rock wall. I'll only use logs for it, if I don't have any way of making it out of stone.
Closed shelters are best for cold weather, where you need to trap your body heat inside the shelter. The combination of small size and insulation makes a debris hut ideal for these situations. Open shelters, like lean-tos are best used for shelter from wind and rain, in warmer weather. In either case, build the shelter with its back into the prevailing wind, so that the wind can't blow into the shelter's opening.
One of my favorite shelters in the woods is a large pine tree, assuming I'm in country where I can find pines growing. The pine is unique, in that its branches grow straight out from the trunk, rather than growing up. This means that as the branch grows, it sags towards the ground. The bottom branches of a large pine tree, which are brushing the ground, might attach to the trunk three to four feet above the forest floor. Clearing the dead branches out of that area can provide a very snug shelter, which is well protected from wind and rain.
That shelter can be improved upon by cutting branches from neighboring trees and piling them around the bottom of your chosen shelter, closing any gaps. You can do the same with snow, as well, which is faster than cutting additional branches. Just be careful to keep your fire small, so you don't turn your shelter into a giant flaming beacon.
Settle in for the Night
Now that you've started a fire and built a shelter, you're ready to settle in for the night. Make one last check of your fire and your fuel supply, ensuring that you have enough to see you through. If you don't gather what you can, without wandering out of the light of your fire. You don't need to lose your camp.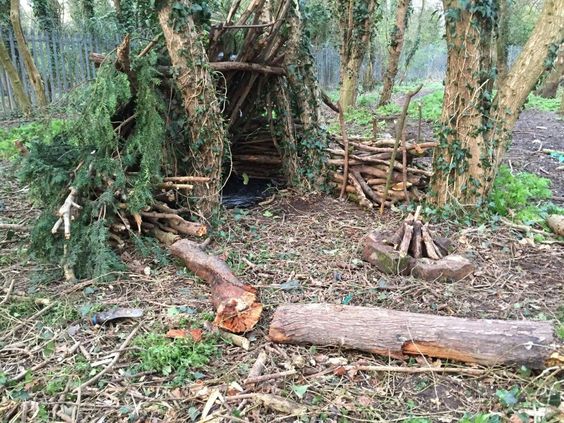 You might notice that I haven't said anything about having a water source yet. As we already discussed, I'm operating under the assumption that you've got at least one water bottle with you. Even if you don't, you can survive overnight without water.
With your camp set up to help you survive the night, it's a good time to check your cell phone. Notice that I waited until this point in time for this activity. Your priority has to be surviving the night, not getting rescued or finding your way out. With only two hours or less until sunset, there wouldn't be time to rescue you, as trying to stage a rescue operation at night would put the rescuers at risk.
But now that you're set for the night, take out your phone and see if you have any signal. See if you can get a GPS fix on your location. Since the GPS doesn't depend on cell-phone signal, you might be able to get a GPS fix, even if you don't have signal. If you can get that information out, it will help rescuers in the morning. Once you know that, you can start contacting people, assuming that you have a signal.
Remember, texting requires less of a signal than calls do. So you're more likely to get through to someone by text, than by a phone call. Either way, your priority is to tell them where you are, that you have shelter for the night and what your plans are for the morning (walk out or needing rescue).
Once you've communicated with whoever, turn your phone off for the night, saving the battery. Tell your contact that you're doing so, so that they don't get worried that they can't call you back. You'll need your phone and all the battery power it has the next day, regardless of what your plans are. The longer you can make that battery last, the better.
The Second Day
Now that you've survived the night, it's time to get out of the woods.
That may mean waiting for rescue or it may mean walking out, depending on the situation. Don't try walking out unless you have been able to figure out where you are, where civilization is and how to get from where you are to where you need to be. There are places where you can walk for days, without finding civilization.
If you don't know where you are or how to get out, you are best off waiting for rescue. Those rescuers may give you some instructions, like walking down to the bottom of the valley you are in. If they do, follow their instructions exactly. If not, stay put, waiting for them!
If you can, establish some sort of signals to contact your rescuers. The most likely is three fires, spaced apart in a row. Placing green boughs on them will create smoke, forming a simple, but widely recognized signal. Keep adding green boughs as long as you can.
Of course, the other option is walking out on your own. To do that, you have to have some idea of where you are and where you need to go. Perhaps you will have figured that out from your mental review of how you got to where you are. You may have found out from looking on the GPS map in your cell phone. Some contact might even have given you directions.
Regardless of what you decide to do, make sure that you tell your contact, if you have someone you are communicating with over your cell phone. Provide them with the best information you can, including compass directions, landmarks and geographic features. If all you can say is that you're crossing a saddle between the two highest mountain peaks you see, than tell them that. It will help anyone who comes looking for you.
In addition to conveying that information, make trail markers and place them along the way you travel. These can either be a small pile of stones, with one stone pointing to the direction you took, or sticks doing the same thing. Either way, it provides others with some guidance as to what you are doing. That should help get you rescued.